Hello Brands & Businesses!
Custom Can Labels on Rolls for Organisations of All Shapes & Sizes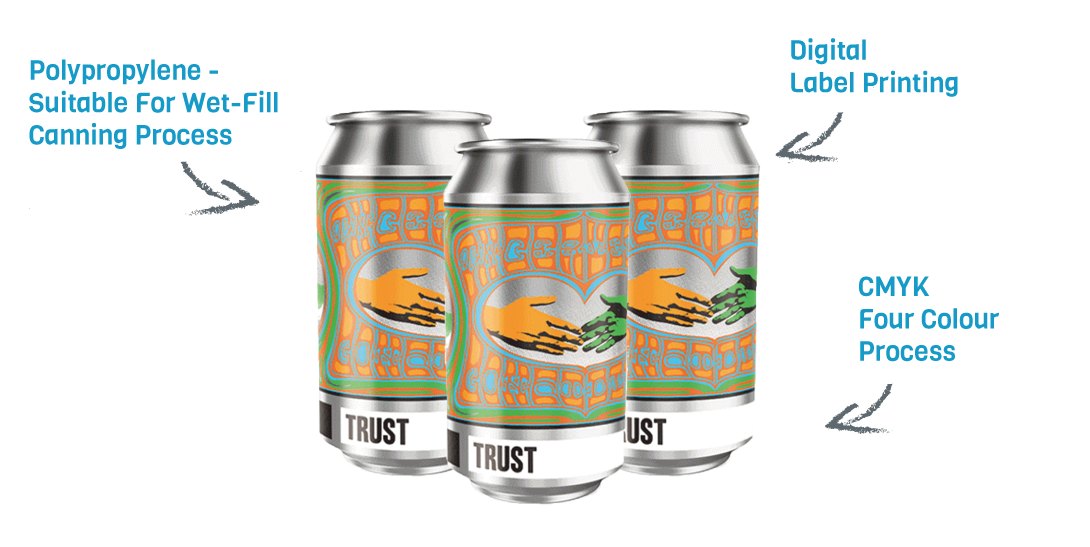 How do Can labels and Bottle Labels Differ?
In terms of print production, there is no real difference between bottle labels or can labels; both are custom printed to the highest-quality, available on a multitude of industry-ready materials and produced on rolls (for either machine or manual application). As with any custom printed product label, what differentiates the label is the size, design and material choice. As to whether the beverage tastes better coming out of a bottle or out of a can… we'll leave that to the experts.
Printing Can Labels vs Printing Cans
Custom printing can labels on rolls can be an extremely cost-effective method of branding your beverages. Printing directly onto cans via a method called screen printing is generally rather expensive for short runs; digital label printing offers a flexible solution.
Combining Printed Cans with Printed Labels
The "problem" with printed labels and beer cans is that the labels can only be applied to the central label panel and not over the "lip" at both the top and bottom of the can. It's therefore a little tricky for brands to create the look of a fully printed can using adhesive labels alone.  A number of the breweries of whom we have worked with have chosen print their brands main messaging and colours on cans; cans that can then ultimately used across the entire product range and then differentiated their brews with multi-versioned label printing on a transparent polypropylene material. By doing so, the brewer benefits from the lower costs per unit when printing cans and the flexibility of digital label printing.
Printing Can Labels; Which Materials are Most Suitable?
Most commonly beverages are filled and cans are labelled via a wet-fill process; this essentially means that when custom labels are applied to cans the conditions are cold and wet. Brand owners should be looking for a material that functions throughout the filling and application process as well as looks great at the point of sale. Our recommendation is polypropylene; this material is fully waterproof and can be applied to cold, wet cans within filling lines.
Polypropylene (PP) Can Labels
Polypropylene is a waterproof, polymeric material that is synonymous with the beverage industry. Polypropylene is available as a white, silver or transparent film; all suitable for high-quality can label printing. White PP film can be used for full colour, high-impact print and graphics. Both the silver and transparent materials can be used to create a "no label" look; these materials can be utilised to simulate the aforementioned screen -printing technology. To achieve vibrant print, we also have the ability to print white, opaque ink on the labels as an undercoat.
Can Labels Size?
As a trusted roll label manufacturer, we produce custom labels to any shape and size and ultimately leave the responsibility of the size of label to the brand owner. The brand owner should decide on the amount of "gap" left by a wrap around label or if the label should overlap itself (can cause issues when applying using a machine). It's also important to ensure that the custom can label does not exceed the label panel and encroach on the tapered element of the can. We work with a number of breweries (beer labels) of varying size and have produced can labels at the following sizes; 330ml- 205x90mm and 440ml -205x120mm.
More Information:
Wine in a Can
A new trend we are seeing in our label requests is for Wine in a Can labels. Getting very popular to take on a picnic or to a festival or to just cut down on portion sizes!  Read more here.
Questions?
We're




here to

help!