Your Advantages with label.co.uk
high-quality digital printing
large selection of materials
fit for all types of packaging
fast delivery
free shipping in (EU & UK)
different types of embossing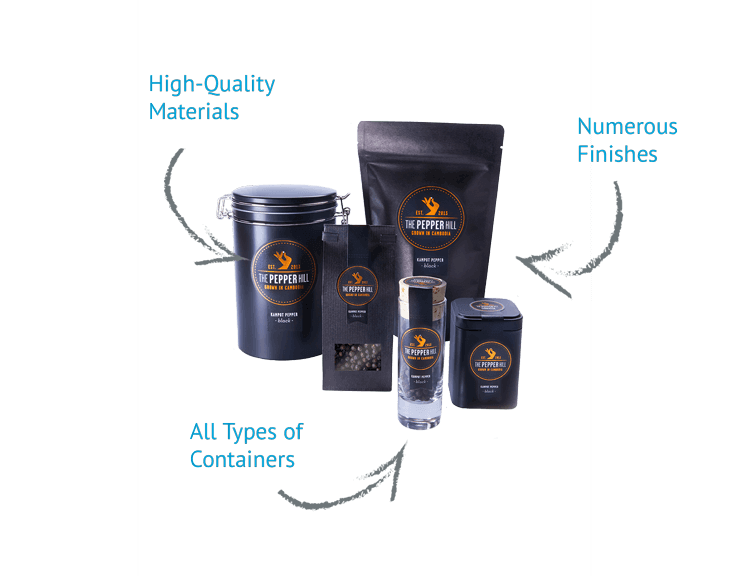 Spice Labels for All Types of Packaging
Whether it's a can, a bag or a shaker – at label.co.uk you can get the right label for any packaging. Choose from more than 15 standard materials and finishes to find what is right for your company's needs. Small labels for smaller packaging are no problem either. As a standard, we print permanently adhesive labels, so reliable and long-lasting adhesion is guaranteed. Would you like a removable label? Then opt for our caustic-soluble labels or our removable film. Sustainable materials are also part of our range.
You can get a first overview of the possibilities with label.co.uk in our free sample book. It contains sample labels, printed on all the materials you can find in our calculator. In addition, the sample labels are finished with hot foil, embossing, and more. It is a means for you to test how the materials might look in combination with your products.
In addition to standard films and papers, we carry many other special materials. Just contact us and we will be happy to offer advice on your options as well as send you further samples on request.
Professional Spice Labels
Label.co.uk is happy to assist you in labelling spices to personalise your products and find the labels best suited to your specific needs. Label.co.uk offers labels fitted to labelling spices and spice jars. When labelling pepper, cinnamon, cloves and co., make sure to comply with the regulations for labelling food and that the following important information is included on the label:
weight in grams
a best-before date
the exact name of the product
contact details of the manufacturer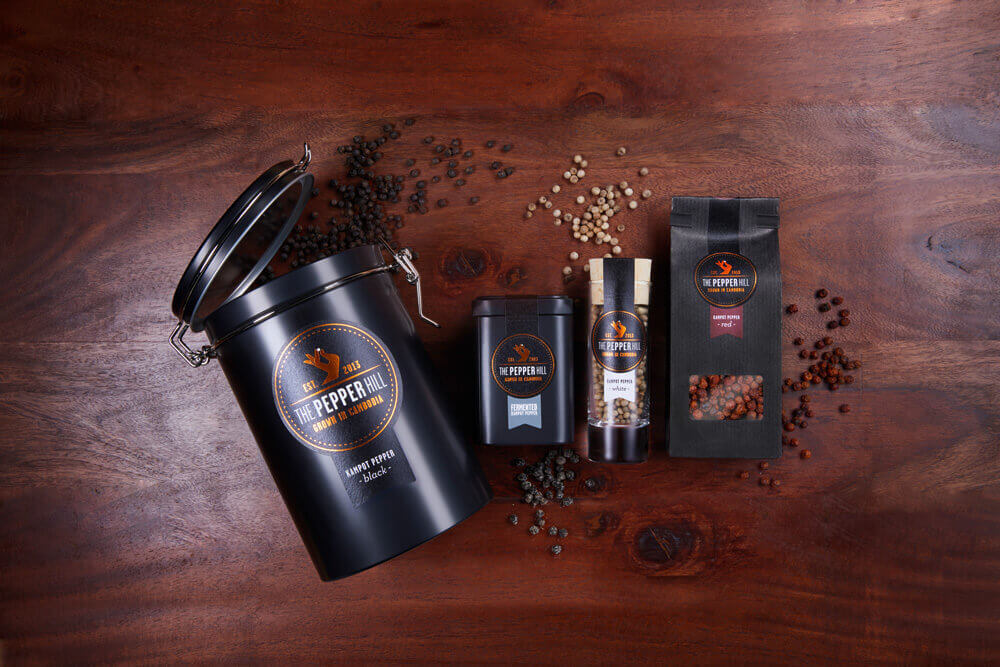 Individually Designed Labels for Spices
Tastes in condiments are just as individual as tastes in packaging design. Label.co.uk has the right material and finishing for your spices. No matter if you prefer a simple design in black and white on high-quality uncoated paper or a colourful, unusual design on a metallic material; at label.co.uk there are no limits to your creativity. You decide which shape you want your label to have, on which material to print it and whether you want an additional finishing.
To make sure that your label looks just the way you imagined it, label.co.uk offers you a test print run. This means we print a small number of labels with your design under authentic printing conditions. Choose from different packages and put material, finishing, and printing quality to the test. >> to the proofing service
Spice Labels Redesigned
Your chilli needs a hot new label? Your vanilla sugar a sweet new design? No problem. We will design your new label!
Our design service is the perfect solution:
If you don't have a label yet and need a design done from scratch, that's not a problem. Simply fill out our design service briefing. Answer questions about your product as well as your wishes and have our professional graphic artists design your label individually according to your specifications. Additionally, we offer to redesign your existing label.
Materials
At label.co.uk we offer you a large variety of materials to print your labels on. It is important to us to meet our customers needs. That's why we have textured papers, films and different sustainable materials for you in stock. If you want to know more about our materials and their features you can look at our material guide or order our free sample book. 
If you want to have your labels produced on a very specific material that you cannot find in our calculator or in our material guide, you can contact us. On request we can order certain materials for you.
Refinements
Because stickers and labels are our specialty we can give your adhesive labels on rolls a luxurious finishing touch. Just choose between our array of different refinements. Whether it's hot foil stamping or a protective varnish: at label.co.uk you can make your labels both robust and elegant at the same time.
Tools and Services
Should you wish to proof your labels before ordering a complete run, you can book our proofing service.
Use our online calculator and calculate the costs of your custom printed labels on roll in real-time.
Our design service is a unique opportunity for you to create a stunning look for your label. The talented designers at label.co.uk are happy to help you implement your ideas!
Questions?
We're




here to

help!