Your Advantages with label.co.uk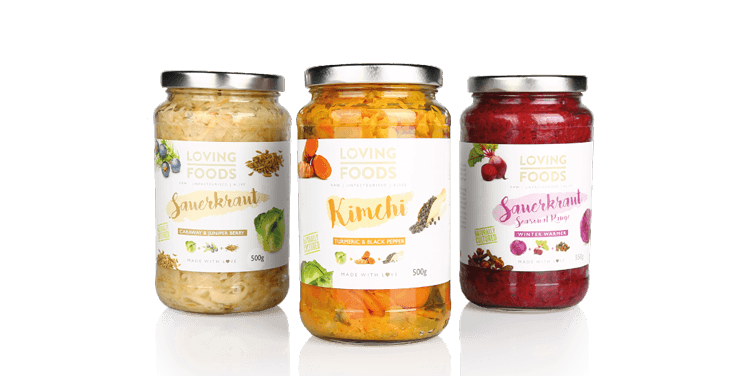 Food Label Printing
Every type of food packaging is either printed on directly or is provided with a corresponding label – e.g. tins and jars. These can be round, square, circular or oval. Adhesive labels are usually used for freshly packaged meat products and the like, which are then marked with details about the contents, quantity and best-before date.
What Is Special about Labels for Food?
Labels for food are generally adhesive stickers such as those we are familiar with from other packaging – bottles, cans and cartons. However, special attention must be paid so the food labelling legislation is not violated. Details on this follow below. If food labels are needed for tins, for example, the printing of the labels is no different from other paper products. The situation is different for food labels on which the price, the quantity or the best-before date are printed subsequently and individually. These labels are coated with a varnish over the entire surface in the final production step to enable subsequent imprinting. We recommend that you order a test print in advance to ensure that the labels can be processed as desired.
Food Labelling Legislation – What to Pay Attention to
The basic prerequisite for food labelling is adherence to the stipulations of legislation, which of course has an impact on the materials and printing processes which can be used. For example, the visible side must not come into contact with the package's contents. Food packaging must also not be printed on the inside. The ink used to print food labels must be able to withstand the effects of the ingredients without affecting or altering the taste, smell or appearance of the food. It follows that food labels must not release any harmful components into the food.
How are Food Labels Applied?
When producing tins and jars, the labels are generally mechanically applied. Adhesive labels for fresh meat packaging with subsequent imprinting are also frequently used as roll labels, these can then be applied either manually by hand or by machine. Self-adhesive roll labels are tried and tested for food labelling and can help you adhere so the food labelling legislation
Materials, Shapes and Printing
As mentioned above, paper is usually used in the production of food labels. However, label.co.uk can also offer you printed films or transparent labels for your packaging labels. Additionally, hot foil, blind and relief embossing are available alongside standard finishing touches such as film lamination and protective varnish.
You have the choice between round, square, circular or a completely personalised shape for your labels, according to your requirements. If you are looking for something unusual, we would be happy to advise you on the options. We print on paper as well as coloured and transparent films of the highest quality using both digital processes and conventional processes. We do not use flexographic printing or Inkjet due to quality considerations.
Freezer-Grade Labels
Not only must freezer labels be resistant to cold, they must also be resistant to moisture to a certain extent, as there will be meltwater or condensation in their vicinity. Generally, freezer labels are manufactured using film or wood-free paper and – given they are labelled when already frozen – a frost-resistant adhesive is applied. They are then suitable for temperatures as low as -20°C. Special food labels are also necessary for food containing oil or food preserved in oil so that product identification can be guaranteed if oil leaks out of the food packaging. If you have any questions on these topics, you are more than welcome to get in contact with our customer service team.
Labels for Oil
Special food labels are also necessary for foodstuffs containing oil or preserved in oil, so that the legibility of the contents displayed on the label is guaranteed even if oil leaks from the food packaging. For this case, we have an oil-repellent material in our range.
If you would like to know more about this or other topics, please feel free to talk to our customer service. If you have any questions about our labels and options, you can reach us Monday to Friday either by phone at 0203 588 1080 or by email at info@label.co.uk.
Quality and Quick Delivery
As you can see, printing labels for food is a little more complex than producing labels destined for other products. Therefore, being adequately informed is crucial. Simply contact us – our team will provide you with comprehensive, competent advice. As professionals for every type of label, we do not compromise on the quality of print processes and the materials used. Whether it's paper, film, coloured or transparent labels, high quality is our primary focus. If you are in a hurry, you can also have the product you require produced within 48 hours using our express service. Of course, you can take an initial look at our materials and finishes at your leisure; simply order our sample book free of charge.
Questions?
You Might also be Interested in:
Tools and Services
Questions?
We're




here to

help!