Advantages:
low printing costs
high printing speeds
low maintenance
Disadvantages:
result fades quickly
turns black after some time
high wear of the printhead
few design options
limited choice of materials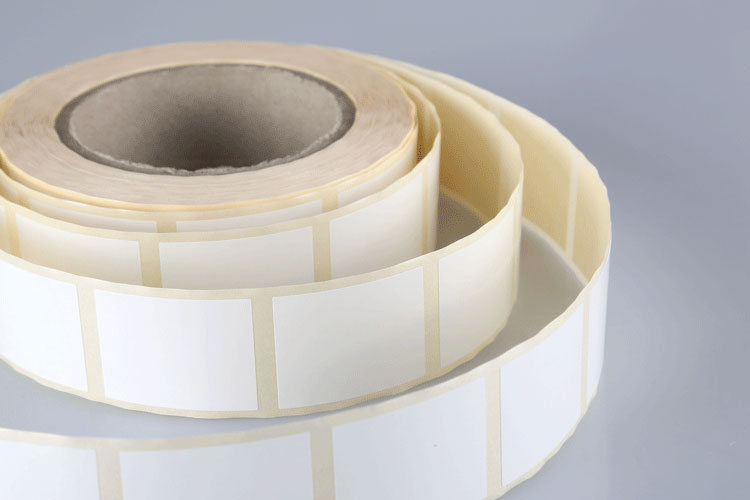 How Does Direct Thermal Printing Work?
The direct thermal printer has a so-called print head. This in turn is equipped with many small heating elements. Direct thermal printing uses a special paper that is infused with colour pigments. The print head moves over the special paper and heats its heat-sensitive surface. At the point where the paper is heated, a chemical reaction takes place. The paper turns black. This is how the desired pattern or writing is created on the paper. Grey tones are very difficult to achieve with this printing method, as it is not easy to control how much heat the print head transfers to the paper at any given point. Unfortunately, colour printing is not possible with direct thermal printing; only monochrome black can be printed.
Where Is this Printing Process Used?
Since direct thermal printed products have low UV resistance, they fade quickly or turn black when exposed to high heat. Therefore, the printed product is not very durable. Direct thermal printing is therefore particularly used where the printed products only need to be legible temporarily, such as for sales slips, admission tickets or parking tickets. To keep the product legible for longer, it should be stored away from light and heat. In addition, only special paper can be used for direct thermal printing, which severely limits the design options of the printout.
Advantages of Thermal Direct Printing
Low printing costs as no ribbons are necessary
High printing speeds
Low maintenance of the printer, as it is relatively simple and contains only a few moving parts that are susceptible to repair.
Disadvantages of Thermal Direct Printing
The special paper is very sensitive to heat and light, therefore the printed product fades quickly or turns black.
High wear of the print head
Few design options, since only single-colour printouts are possible
Low material selection, as only the special paper can be printed on
Difference to Thermal Transfer Printing
A special printer is also needed for thermal transfer printing. In this printing process, the colour of a thermal transfer ribbon is transferred to the paper or label by heat. This printing is particularly suitable for the subsequent application of barcodes or best-before dates on foodstuffs. Colour printing is also possible here, whereas with direct thermal printing only black can be printed. Although only a single-colour print is possible with this printing method, the colour result is much higher quality and longer lasting than with direct thermal printing.
How to Use Direct Thermal Printing
Direct thermal printing is a fast and cost-effective printing process. For labels and stickers that only serve a short-lived purpose and do not need to be legible for years, this process is ideal. Order blank labels at label.co.uk that are suitable for your direct thermal printer. This way you can print your labels quickly and easily at home or in your company.
If you have any questions, simply contact our customer service. You can reach us Monday to Friday by phone at 0 203 588 1080 or by email at info@label.co.uk. We will be happy to advise you!
You Might Also Be Interested in: