Hello Brands & Businesses!
Oil Resistant Labels on Rolls for Organisations of All Shapes & Sizes
Industry-Approved Materials
Any Shape, Any Size Labels
High-Quality Print
Premium Finishing
Multi-Versioned Print Runs
Fast Turnaround
Free UK & EU Delivery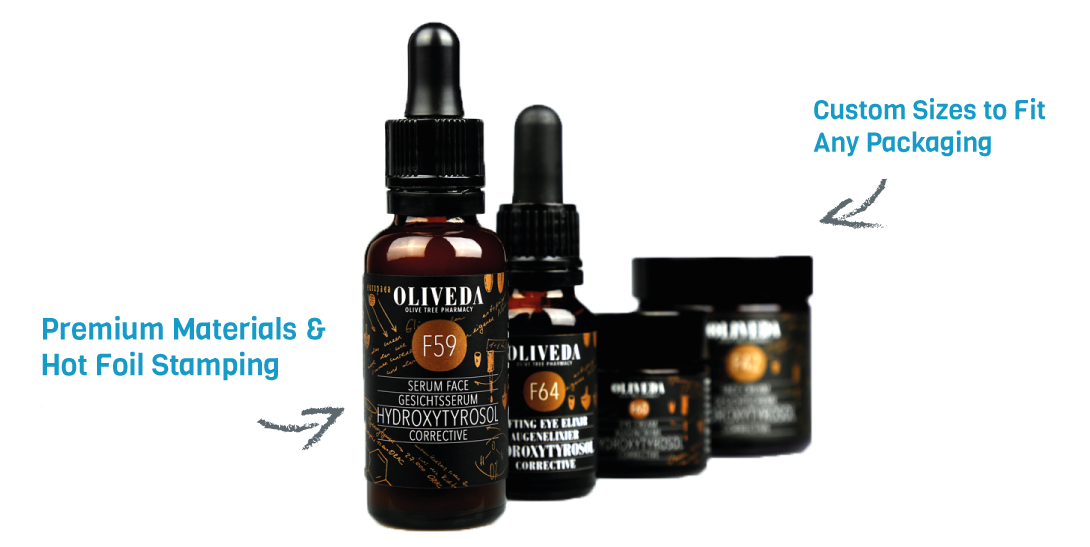 Oil Resistant Labels; Commercial & Household Chemical Industries
Brands operating within the chemical industry tend to use polymeric materials (sometimes referred to as "vinyl") such as polypropylene when labelling their packaging. There is one simple reason for this; polypropylene is water resistant, oil resistant and chemical resistant. For this reason, not only within the chemical industry, polypropylene is used as a standard material across many industries.
Oil Labels on Rolls; The Food Industry
Matt papers are synonymous with the food industry due to their ability to evoke the organic, homemade and premium look generally sought after in this area. What about labels for food stuffs containing oils? It can be a tricky as matt papers like to absorb water and oil – leading to bubbling or staining. In general we would recommend using a polypropylene film for ultimate function, this being said we understand the desires of many brand owners in terms of the final look and feel of their labelling.
Where matt papers are chosen, we recommend finishing the labels with a UV protective varnish; this is a lacquer that will help seal the paper labels and offer an extra element of protection. Above all, we recommend testing as many materials as possible in the environment they are intended to be used. Request a Sample Book here to review our print and finishes as well as test our materials.
Custom Printed Oil Labels; Personal Care & Cosmetics Brands
Where we consider labels for cosmetics and personal care brands, it tends to be a mixture of the two aforementioned scenarios. Generally speaking, we recommend polypropylene materials due to their resistant characteristics; polypropylene materials also tend to be more in line with branding of such products.
For print runs for personal care brands with numerous SKUs, digital label printing makes great sense. Where all labels remain the same shape and size (being used on the same bottle or container for example) then we can print all labels in the same print run. We understand that cosmetics brands often require premium alternatives. Hot foil stamping is a process used to premium add metallic elements to labels; synonymous with luxury goods. Combining such premium finishes with digital label printing allows brand and business owners to access premium label printing at cost-effective prices.
Tools & Resources:
Label artwork always has been and always will be a key part of the label printing process. For business who do not have resources to ensure their artwork is print-ready, we have a range of Artwork Services available.
There are many reasons as to why your business may need to see a press-proof before placing a full custom label order. We've developed a range of cost-effective proofing services.
Standard lead times are 5-7 working days. However, we understand that from time to time businesses require their custom roll labels faster. Our Express Production ensures production within 24-48hrs.
Questions?
We're




here to

help!
Oil Labels Summary:
Polypropylene Recommended
Any Shape, Any Size Labels
Industry & Machine Ready
Custom Roll Sizes
label.co.uk Summary:
Trusted Label Manufacturer
Free UK & EU Delivery
5-7 Working Day Turnaround
B2B Tools & Resources:
Review Print Quality
Test Materials & Adhesives