Your Advantages with label.co.uk
large variety of materials
all shapes and sizes
oil-resistant materials
no fading
multi-versioned print runs
great longevity
free delivery (EU & UK)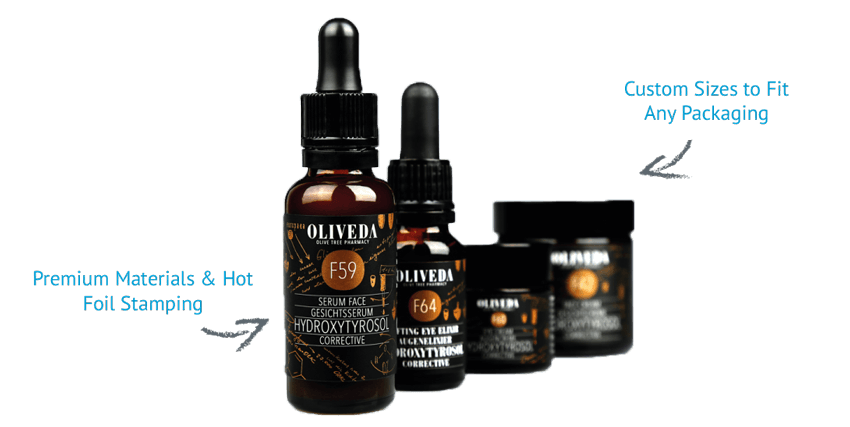 Oil Labels – The Requirements
A label's main tasks:
1. informative character
2. decorative character
3. promotional character
Not only the design of a product and its label are important. Above all, an oil label should also inform the customer about ingredients, filling quantity or manufacturer's information. Labels for oils must therefore meet special requirements: The resistant labels in the chemical and cosmetics industry or in the food industry must be particularly oil-, dirt- and temperature-resistant. Even in an oily, dirty environment, the information on the label must still be clearly legible after some time without looking worn. The use of vinyl labels is recommended for oils, vinegar, cosmetics and chemical products. In contrast to paper labels, these are more resistant and can be easily wiped off without leaving oil stains or dirt on the labels.
Our Materials for Resistant Oil Labels
At label.co.uk we offer a wide range of materials for printing your oil labels. It is important to us to meet the needs of our customers. That's why we stock textured papers, films and various sustainable materials for you. For oils, vinegars, cosmetics or even chemical products, we recommend the use of film labels. They are resistant and can be easily wiped off without leaving oil stains or dirt on the labels. But even if you prefer paper labels, we have the right thing for you. Our premium paper in matt white is also available as an oil-repellent version and is therefore ideal for use with oil labels.
Do you need a specific material? No problem! In addition to our more than 15 standard materials, we have many other special materials in stock or can provide them on request. You can get an initial overview of our material selection, finishing options and print quality with our free sample book. You can simply peel off the pre-cut sample labels and stick them on your product as a test. In this way, you can find out which material is particularly suitable or not at all for your business and application. Make your new labels the best they can be!
If you have not found the right material in our calculator or in our material overview, please contact us. We can order specific materials for you on request.
Finishing Touches for Oil Labels
Both our film labels and our premium paper are ideal for additional finishing. For example, you can opt for a hot foil. It gives your oil labels a particularly elegant appearance. This clearly sets you apart from the competition.
To protect the labels even better, we always recommend applying a protective varnish. The best protection for the labels is achieved with a dirt- and moisture-repellent film lamination. This protects your labels from excessive abrasion, protects them from moisture and gives your product an even more individual design.
Get Your Professional Labels in Only a Few Steps
At label.co.uk you can place your order quickly and conveniently via the Internet. With our calculator, you will know in no time what your adhesive labels will cost and when they will be delivered. And this is how it works:
#1 Enter quantity, number of varieties, material, finishing touches and size in the calculator
#2  In the second step specify your roll assembly and winding direction, roll diameter and shipping address.
#3  Place your order and wait. Within a few working days you will receive your labels. At label.co.uk you can view your order's status any time.
Special Enquiries
Of course, you can contact us if you have further questions. Our team will be happy to advise you on the phone or via email if, for example, you are not sure what embossing, gold foil, silver foil or opaque white are all about or which other finishing options are available for your individual product. Just contact us. We look forward to hearing from you!
You Might also Be Interested in:
Tools & Services
Label artwork always has been and always will be a key part of the label printing process. For businesses who do not have the resources to ensure their artwork is print-ready, we have a range of artwork services available.
If you wish to see a press-proof before placing a full custom label order you can book our proofing services.
In order to review and test our materials & printing quality most comprehensively, we recommend requesting a complimentary sample book or see the list of our standard labels online.
Questions?
We're




here to

help!