Hello Brands & Businesses!
Clear Labels on Rolls for Organisations of All Shapes & Sizes
White Ink Available
Any Shape, Any Size Labels
High-Quality Print
Premium Finishing
Fast Turnaround
Free UK & EU Delivery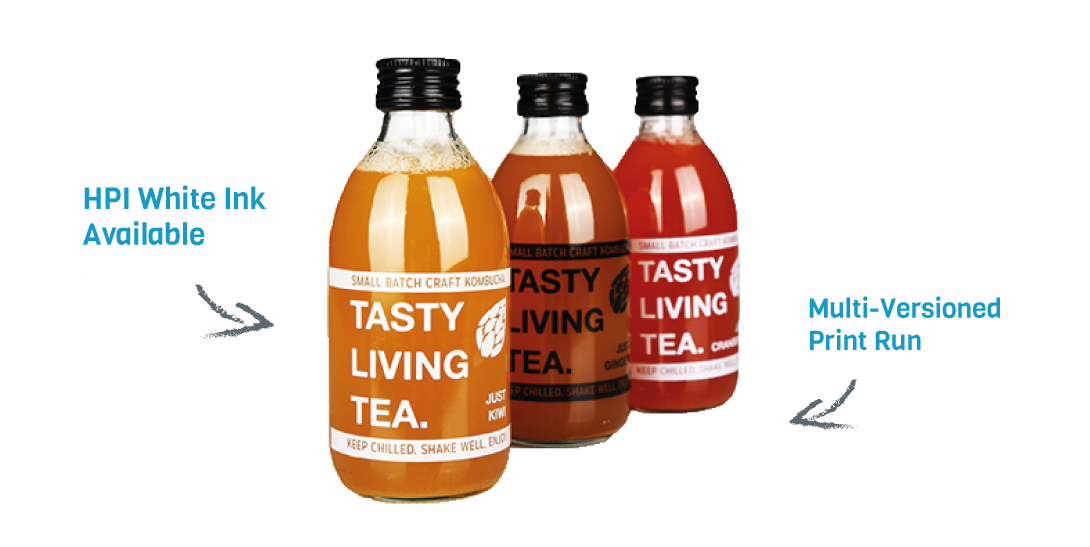 Clear Labels; Custom-Printed Transparent Labels on Rolls
When skilfully positioned, clear labels are an ideal solution for creating striking product packaging; transparent labels also offer greater flexibility, as well as lower entry level costs than traditional screen printing (printing directly onto a bottle or jar); particularly where short to medium print production runs are concerned. The concept of digital label printing and multi-versioned print runs is also available to transparent materials; where all labels remain the same shape and size, different SKUs can all be printed in the same print-run. As a result, digitally printed clear labels are employed by brands and businesses of all shapes and sizes across many industries.
Printing White Ink (and All Other Colours) on Clear Labels
Printing white ink onto transparent labels is a very popular request. To ensure quality, we use a "double-hit" of white ink as standard; white ink printed on top of white ink. Increasing to three and four "hits" can lead to the ink being able to be scratched away from the design/label. White ink can also be utilised, for technical reasons, as a form of "undercoat" on a clear, transparent labels. The white ink undercoat is not seen on the finished, printed labels as it is used behind other colours within the design. Printing a white ink behind other colours avoids them looking translucent; it essentially keeps the printed colours looking as they should, the white ink simulates the effect printing colours onto a white paper material.
Clear Labels; Waterproof & Oil Resistant
Clear labels can only be produced on a select range of materials; we produce clear labels exclusively on transparent polypropylene film. The additional benefits of producing custom printed labels on transparent PP film (sometimes referred to as "vinyl") is that the material is completely waterproof as well as oil and chemical resistant. Where transparent labels are concerned, it's also important to consider the effect of the adhesive element; our adhesive is a permanent, industry-ready clear adhesive. The adhesive will not be seen once the label has been applied.
Transparent Labels & Premium Label Finishing
Printing custom labels on transparent films allows many design and finishing options to brand and business owners. Designers have the option to:
#1 – Experiment with colour transparency
#2 – Experiment with with matt film laminations to create a "frosted" look
#3 – Utilise hot foil stamping
#4 – "Sandwich" print
The No-Label Look
It is important to note that we offer two variations of transparent PP label materials; each with subtle differences and both available in our Online Calculator. If you are looking to create a "no-label" look for your brand and product then these subtle differences become quite important. A truly no-label look is created by printing designs on a "Transparent PP Film 50µm with a PET Carrying Material." It's important to note that as an online label printer, we also offer a "Transparent PP Film 60µm with Glassine Paper Carrying Material."
Why is a PET Carrying Material required for creating a "No-Label" Look?
Although not necessarily apparent to the naked eye, "PET carrying materials" is much "smoother" than a "glassine paper carrying materials." As a result, when removing labels from their roll, whether by machine or manually, the adhesive is far less "disturbed/ruptured." Where glassine paper carrying materials are used, ruptured adhesive will create a slightly visible "milky" layer when the label is applied to a container; the last thing you want to see when a "no-label" look is required.
Good to Know:
The best way of applying roll labels for the no-label look is mechanically, in order to avoid air bubbles and structural formations in the adhesive label. Applying clear labels mechanically allows the user to keep "tension" in the label reasonably high; this cuts the risk of air bubbles dramatically.
We recommend using a UV protective varnish in order to prevent inks being easily scratched away from your finished labels. Generally speaking, where clear labels are concerned, we recommend using a UV protective varnish gloss as this keeps the label looking crystal clear. A UV protective varnish matt can lead to the label looking slightly cloudy in comparison.
We are able to print white ink onto transparent films, however, there are a few small artwork considerations that must be considered. White ink is known as a "spot colour" and should be set up in a different manner to all other colours. Either see our artwork delivery guidelines for more information or review our professional artwork services.
Tools & Resources:
Label artwork always has been and always will be a key part of the label printing process. For business who do not have resources to ensure their artwork is print-ready, we have a range of Artwork Services available.
There are many reasons as to why your business may need to see a press-proof before placing a full custom label order. We've developed a range of cost-effective proofing services.
Standard lead times are 5-7 working days. However, we understand that from time to time businesses require their custom roll labels faster. Our Express Production ensures production within 24-48hrs.
Questions?
We're




here to

help!
Transparent PP Film 50µm (PET Carrier)
No-Label Look
Faster Label Application (Machine)
Not Compatible with Every Labelling Machine
Completely Transparent
Transparent PP Film 60µm (Paper Carrier)
No "No-Label" Look
Standard Label Application (machine)
More Cost-Effective (Printing)
Slightly "Milky" Layer once Applied.
Clear Labels Summary:
White Ink Available
Any Shape, Any Size Labels
Industry & Machine Ready
Custom Roll Sizes
label.co.uk Summary:
Trusted Label Manufacturer
Free UK & EU Delivery
5-7 Working Day Turnaround
B2B Tools & Resources:
Review Print Quality
Test Materials & Adhesives