Hello Brands & Businesses!
Custom Labels on Rolls for Organisations of All Shapes & Sizes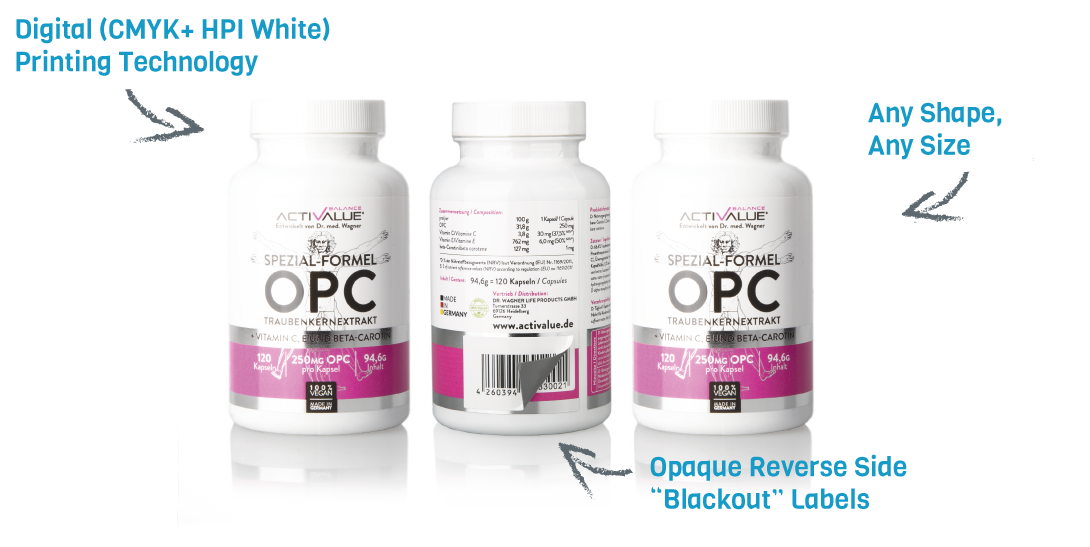 Custom Printed Labels for Over Labelling
Opaque labels are great for correcting mistakes, covering up wrong barcodes or changing prices. Opacity is in the jargon the opposite of transparency, ie a low transparency.
Regular roll-on labels are not suitable for such applications because they are usually too translucent and shimmer through the underlying content.
Opaque self-adhesive labels, on the other hand, are 100% opaque and permanently adhesive. The back of the covering paper labels is coated with a special dark colour so that no content can show through. The new labels are suitable for pasting over colourful backgrounds, pictures and texts.
We can produce labels with barrier layers both on paper and on foils, in matt or glossy as well as with numerous finishes. You can also freely choose the size of the roll cores, roll width of the single rolls as well as the colour and shape of the wound labels. Whether black, white, silver, purple in square, round or individual shape – there are virtually no restrictions on your opaque stickers.
To make sure that everything looks as planned and meets your requirements to 100%, we recommend that you discuss your concerns by phone with our customer service and use an individual proof. So you are on the safe side!
Over Labelling FAQs
Where you require labels to apply to packaging to cover up wrongly printed elements then we are able to offer a specific material with a deep grey adhesive. In comparison to our standard, transparent adhesive, one cannot see through to any degree the label.
Depending on the size of your operation, it is either more cost effective to re-label your products via machine, where in most cases a standard product label can be applied via machine.
For more manual operations, where you have a team able to apply small labels in a specific area of the label then a minimum label size of 20mm x 20mm is generally teh case.
Our specific over labelling material can be printed on within our standard workflows. This means digitally printing your over labelling labels offers no problem. Particularly useful when it's more than one SKU affected by the original error.
Questions?
We're




here to

help!