Hello Brands & Businesses!
Custom Labels on Rolls for Organisations of All Shapes & Sizes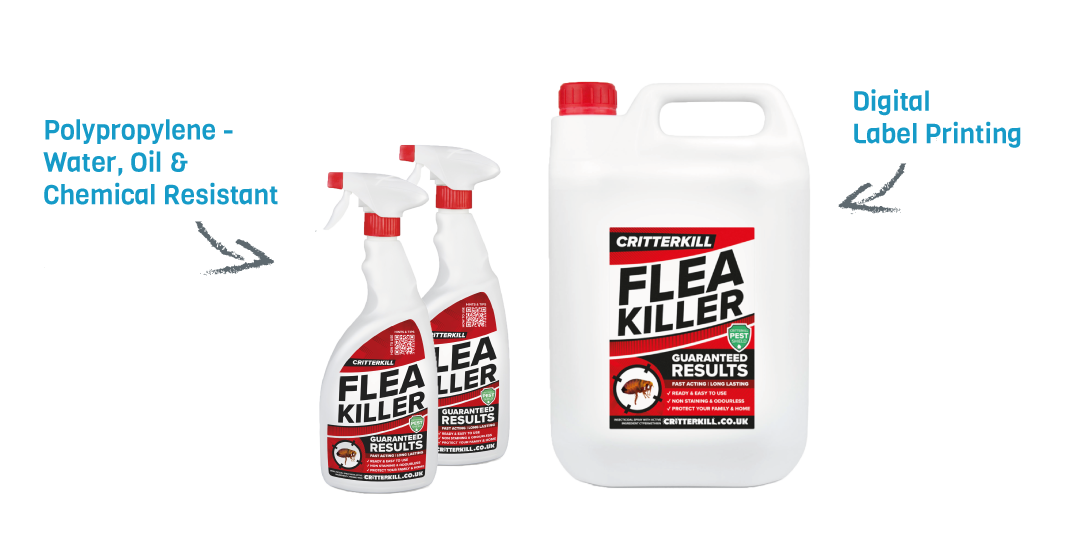 Chemical Labels; Resistant & Waterproof
As a specialist label manufacturer, we understand that labels for chemicals often need to fulfil changing legal requirements – governing which materials are permitted or required, how they must be printed, and which requirements self-adhesive labels must fulfil with regard to adhesion properties.
Label Printing in Accordance with GHS Standards.
For many years, we have been working in the field of labels for chemicals with numerous large and small manufacturers who value our services and have confidence in us. It doesn't matter if the batch is large or small, we will process your label printing for bottles with care, at a reasonable price and always on schedule for the agreed delivery date. If you wish, we can send the labels for chemicals as a roll to your bottler.
Since June 1 2015, the 'Globally Harmonised System of Classification and Labelling of Chemicals', GHS for short, has been in force. The GHS is an internationally agreed programme which was initiated by the United Nations. The GHS standards were created to replace the legislation in place in individual countries and to guarantee standardised identification of hazardous goods. All manufacturers, importers and suppliers of chemical compounds and substances must adhere to these standards.
For us, as a manufacturer of labels, this means that we must supply self-adhesive labels and polypropylene and polyethylene film labels printed with the correct identifications, hazard and safety warnings. We will also print the prescribed GHS pictograms according to the container capacities you determine in the correct minimum sizes.
Labels for Chemicals; Roll Labels
Polypropylene (PP) and polyethylene (PE) roll labels
Labels for chemicals must be resistant to particular stresses so that they remain adhesive and clearly legible for as long as the container is in use. They must not be damaged or destroyed by chemical substances so that it's possible to check at all times what the contents of the respective container are. We print roll labels, self-adhesive labels and film labels made from polypropylene and polyethylene which perfectly fulfil all the requirements of hazardous substance labelling.
Ordering Labels for Chemicals Online Saves Time & Money
As a manufacturer or bottler of chemicals, you will know that the packaging is subject to particularly stringent regulations in order to guarantee the safety of the user. This does not only entail that the material has to be resistant to stresses resulting from exposure to its contents. Label printing must also comply with legislative requirements. Labels for chemicals are generally hazardous substance labels. For this reason, no compromises can be made where quality is concerned. We print durable film labels to your precise requirements.
As you can process your order with us in full, you will save time and money. As a professional manufacturer of labels, we will be delighted to provide you with comprehensive personal advice in advance by telephone on 0203 588 1080 or by email on info@label.co.uk. The delivery can be made directly to your premises or to a bottler you work with. We are entirely open and flexible in this respect. Just give us a call!
What are the next steps?
Do you have any more questions? Would you like us to advise you or are you uncertain how best to implement your project? No problem! We would be delighted to advise you. Email us with your questions or call us directly. You can reach us from Monday to Friday between 9 a.m. and 5 p.m. on 0203 588 1080 or by email on info@label.co.uk. Alternatively, you can also order our sample book free of charge so that you can see the print quality and our materials for yourself or request a test print. In this way, you can be sure that we will stick to our quality commitments and everything will look just as you planned.
Chemical Labels FAQs
Generally speaking, either Polyethylene (PE) or Polypropylene (PP) materials are best suited to household and chemical product labels. Both materials are polymeric and do not absorb water or oil; they are also resistant to most household chemical products.
We produce labels of every shape and size to fit any pack-format. Label artwork should be print-ready and show the custom-shaped cutting tool. We extract the cutting tool data and send to our custom cutting tool manufacturer.
All labels will arrives on rolls to pre-discussed sizes and configurations; ready for either machine or manual application.
All labels will be shrink-wrapped and can be stored for up to 12 months.
Tools & Resources:
Questions?
We're




here to

help!

Chemical Labels Summary:
Any Shape, Any Size Labels
Industry & Machine Ready
Custom Roll Sizes
label.co.uk Summary:
Trusted Label Manufacturer
Free UK & EU Delivery
5-7 Working Day Turnaround