Your Advantages with label.co.uk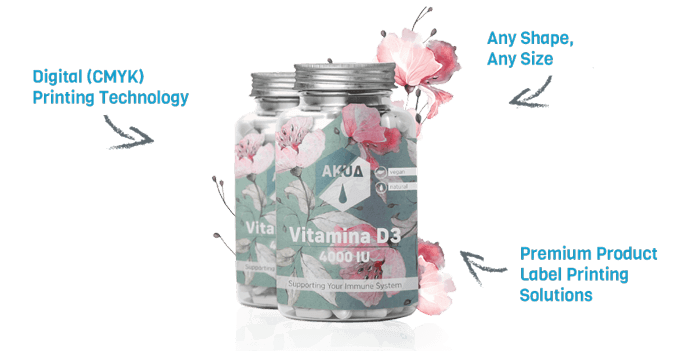 Have Labels Printed: Quickly and in High Quality
Digitally Printed Labels
#1 Invest in Print-Ready Label Artwork
As a standard we use digital printing for your labels. This means that your artwork is transferred directly from the computer to the digital printing machine. We don't need chemical plates, no long lead times, no time-consuming UV curing of the ink. HP Indigo digital offset printing results in reduced waste, lower electricity costs, and less CO2 emissions. Printing on environmentally friendly and FSC-certified materials is also no problem. label.co.uk stands for ecologically producing your labels while having all your needs met!
High-Quality Finishes for Your Labels
Make your label a real eye-catcher: at label.co.uk you can choose from a variety of different finishing options. How about hot foil stamping in gold, silver or bronze, for example? Or a foil lamination to give the label additional protection against moisture? Get creative and take your label to the next level. Because: The first impression on the shelf counts and decides whether a customer buys your product or reaches for the competitor's product.
Labels on Rolls or A4 Sheets
At label.co.uk you have the choice: should your labels be printed on a roll or on an A4 sheet? Depending on which variant you choose, there are of course advantages and disadvantages.
First of all, it is important how you process your labels. If the labels are processed by machine, roll labels are most suitable. When ordering, please pay attention to the correct winding direction and the roll core diameter. This is the only way to ensure trouble-free further processing.
If you glue your labels onto the product by hand, then both our roll labels and our labels on A4 sheets are suitable. Sheet labels can be customised in the same way as roll labels, but are supplied on practical A4 sheets.
We have summarised all the information on the subject of roll labels or A4 sheets for you again on our blog.
Our Services for a Perfect Printing Result
To make ordering your labels as easy as possible and to guarantee a flawless printing result, label.co.uk offers you additional services:
#1 Artwork services – With our artwork services we ensure professional correction and preparation of your printing data. We check, for example, whether bleed and die cutter are correctly applied or whether your images have sufficient resolution. This ensures that your printing data is ideally prepared for printing
#2 Proofing service – Our proofing service allows you to convince yourself of our printing quality and make sure that everything looks as desired in the end. We produce your label design under original production conditions (no simulated proof).
#3 Design service – Would you like to have your existing design revised or do you not yet have a label design? With our design service one of our professional graphic designers will help you design a label according to your specifications and wishes.
#4 Artwork assistant – The artwork assistant is a step-by-step guide to help you create a correct print file. Simply enter the parameters of your label, open and edit the print template in Adobe Illustrator and finally export it as a PDF.
Our Materials
At label.co.uk we offer you a large variety of materials to print your labels on. It is important to us to meet our customers needs. That's why we have textured papers, films and different sustainable materials for you in stock. If you want to know more about our materials and their features you can look at our material guide or order our free sample book. 
If you want to have your labels produced on a very specific material that you cannot find in our calculator or in our material guide, you can contact us. On request we can order certain materials for you.
Finishing Touches
Because stickers and labels are our specialty we can give your adhesive labels on rolls a luxurious finishing touch. Just choose between our array of different refinements. Whether it's hot foil stamping or a protective varnish: at label.co.uk you can make your labels both robust and elegant at the same time.
Online Calculator
Ordering at label.co.uk is very easy thanks to our online calculator. Simply enter the parameters, select the material and finishing touches, determine the shape, and the price for your labels will be displayed immediately. You can then either have the offer sent to you by e-mail or order the labels right away in the next step.
Tools & Resources
Are you worried about complicated customs procedures while buying outside the UK? With label.co.uk you don't have to! We take care of everything! Visit our customs regulations webpage to find all the most important information for you!
If you have questions about the technical aspects of creating correct printing files, take a look at our tutorials. We have composed a collection of videos, texts and images that explain in detail how to create printing data. 
If you need high-quality labels produced in high speed our express production is just right for you.
Questions?
We're




here to

help!