Your Advantages with label.co.uk
real time quotation
ordering online
high-quality printing
numerous papers and foils 
free delivery in UK and EU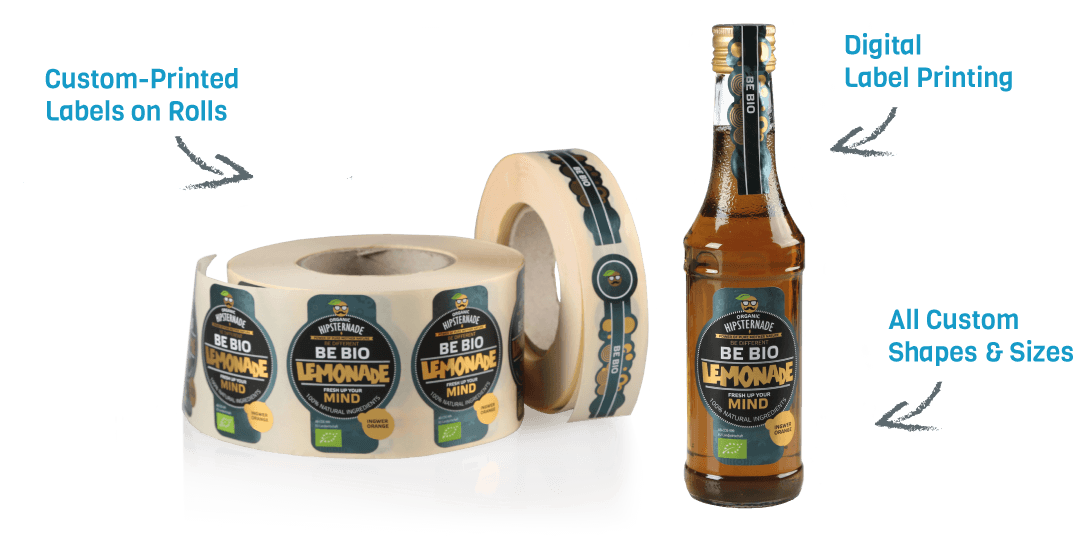 What Are Adhesive Labels?
Adhesive labels are – as the name suggests – self-adhesive labels that are supplied in roll form. This means that they can be applied wither by machine or manually. They enable simple and smooth further processing. You have the option of choosing the winding direction of your labels, as well as various roll core diameters: Choose between 76 mm, 40 mm and 25 mm.
Adhesive labels are often also called stickers, adhesive roll labels, roll labels, adhesive labels, self-adhesive labels or bottle labels. Whether you call them adhesive labels or sticky labels – we are your contact for printing and finishing!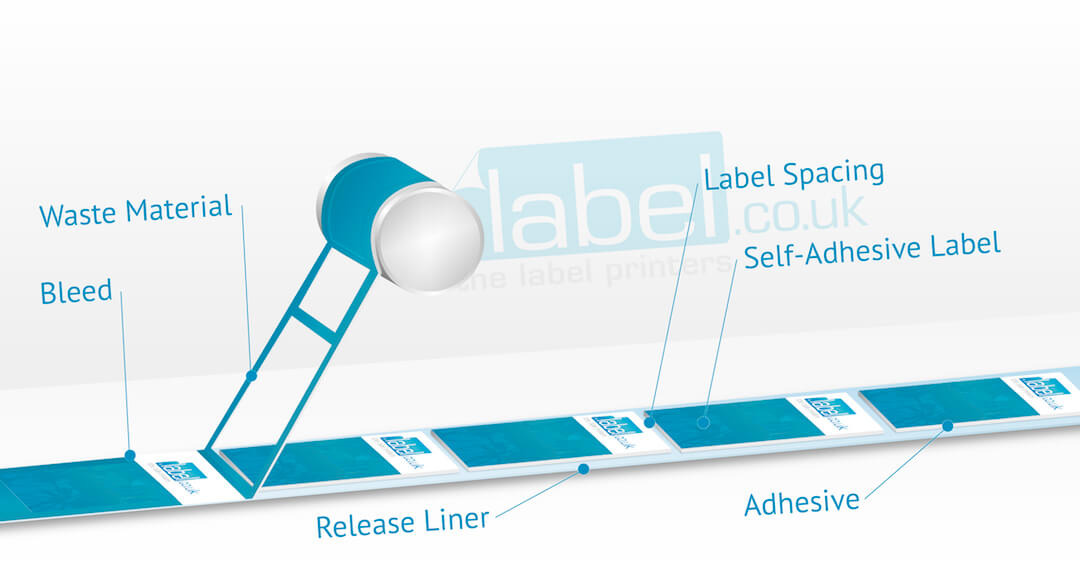 Where and how Are Self-Adhesive Roll Labels Used?
Adhesive labels are basically universally applicable. They are used in particular for labelling bottles, jars, cans, packaging and other containers in a wide range of industries such as the food, chemical, beverage and cosmetics industries. These printed labels are as versatile as the product they are applied to: Adhesive labels simply cut a good figure everywhere.
The further processing of adhesive labels on rolls depends on the circumstances of the respective product. The printed adhesive labels on rolls – roll labels for short – enable both machine processing and manual application. As a label manufacturer, we ensure that your roll labels are wound correctly. And if things have to move fast, we produce your adhesive roll labels by express production within 48 hours.
Production of Your Adhesive Labels
Label.co.uk provides various materials. Adhesive labels made of paper and foil are used particularly frequently. Our customers can select their desired material from all paper types and foils in our free sample book. After consultation, printing on numerous special papers is also possible. On our overview page you can also view our standard materials.
Which Shapes Can Your Labels Have?
When it comes to printing and finishing adhesive labels, there are almost no limits to your imagination. Whether you want to print plain and single-colour labels for the front or back, four-colour printing according to the Euroscale (CMYK) or special colours including metallic tones – at label.co.uk you have complete freedom of choice. If you wish, we can also finish your adhesive labels with hot foil stamping, foil lamination or protective varnish in matt or gloss. We print in the highest quality, no inkjet or flexo printing!
Self-adhesive roll labels are available in all conceivable shapes and formats. In addition to standard shapes such as square, round or oval, you can also design your own individual shapes and creations.
Minimum size: 20 mm width x 20 mm height
Maximum size: 585 mm width x 308 mm height
round
square
individual shape
Which Colours Can You Use to Print Your Self-Adhesive Roll Labels
In printing, we work with the process colours cyan, magenta, yellow and black, CMYK for short. You also have the option of choosing opaque white. In addition, you can specify a Pantone® special colour to achieve special effects. When specifying the Pantone® colour, these are simulated as best as possible. Depending on the colour tone, it is possible to additionally use orange, violet and green to match the original tone as closely as possible. Please note that there is usually no 1:1 match and not all colours can be simulated in digital printing (e.g. metallic tones or neon colours). If you would like to do without colour altogether, we can of course produce blank labels for you.
Finishing Touches – How to Enhance Your Labels
We finish your adhesive labels entirely according to your wishes. Your self-adhesive labels are also available with hot foil stamping in gold, silver and many other colours, with foil lamination or with protective varnish. Adhesive roll labels with hot foil stamping are particularly high-quality due to their gloss and colour intensity. With foil lamination, the adhesive labels are provided with a special protective laminate, which can be applied with a glossy or matt finish. Compared to protective varnish, the lamination is thicker and more resistant. The normal protective varnish covers the label like a protective layer and thus prevents the colours from fading. On our website you will find more information about finishing options for your adhesive labels. Of course, you can also contact our customer service personally. We will be happy to help you! On request, we can also print your labels with relief varnish, blind embossing or partial varnish.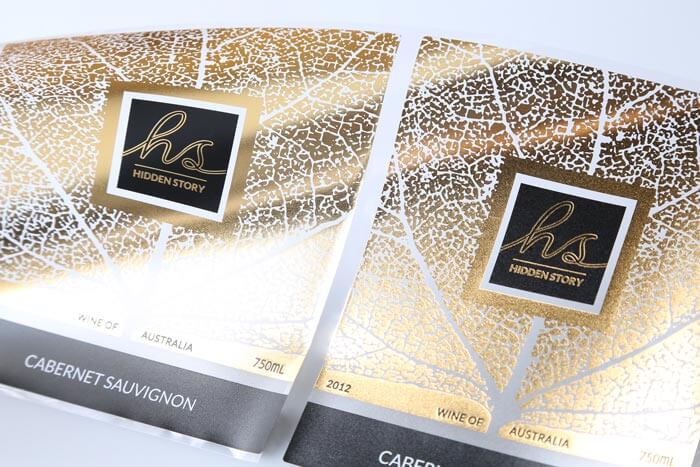 Printing Data
You can create professional printing data that meets our requirements using graphics programmes such as Adobe Illustrator, InDesign or ArtPro. Take a look at the special page on data delivery for more detailed information. As we only use graphic formats, please do not send us Word data, for example. Preferred data format is PDF.
Do You Have Further Questions?
Would you like personal consultation? Or do you need something very specific? Though we are an online printing company, personal advice is also part of our quality standard. We take a lot of time to fulfil our customers' individual wishes – or to point out possibilities on the subject of adhesive labels that you may not yet have considered. Simply contact us. We will be happy to help you!
You can also look at our label gallery to get a first impression of our printed adhesive labels or to collect ideas. There you will find all kinds of high-quality printed labels. Order our free sample book with numerous paper types to get a feel for the materials of your labels. The pre-cut adhesive labels in the sample book serve as examples to test on your own products. Try it out!
What's Next?
Have you selected paper, foil and finishes? Your print data is correctly created? Then use our online calculator to calculate your adhesive labels. Send yourself your calculation as an offer by e-mail and then order conveniently online. There you can choose between standard or express production, define different delivery addresses and specify the winding direction as well as the size of the roll cores for machine processing. After successfully placing your order, you upload your print data directly to the website.
Tools and Services
Our design service is a unique opportunity for you to create a stunning look for your label. The talented designers at label.co.uk are happy to help you implement your ideas!
Are you worried about complicated customs procedures while buying outside the UK? With label.co.uk you don't have to! We take care of everything! Visit our customs regulations webpage to find all the most important information for you!
Questions?
We're




here to

help!