Your Advantages with label.co.uk
fit for all packaging
high-quality
digital printing
high-quality finishes
free in shape, size & design
free shipping (EU and UK)
fast delivery
personal consultation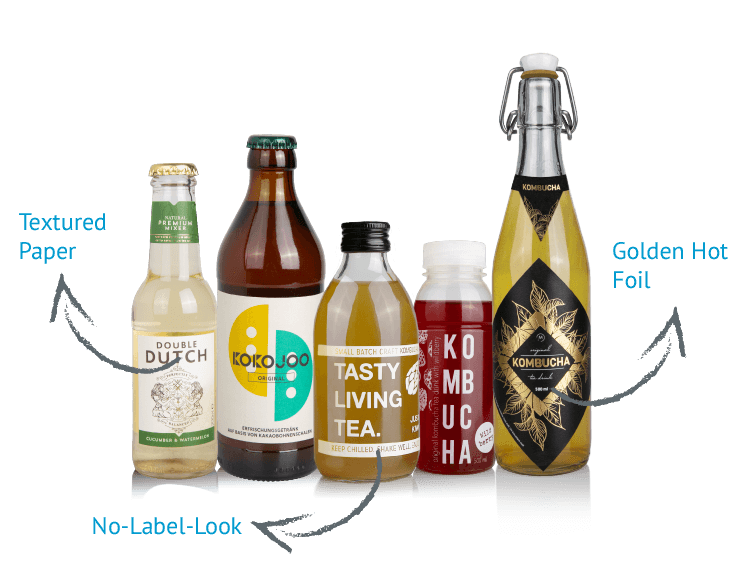 Non-Alcoholic Beverages – A Growing Market
Today's market for non-alcoholic drinks offers much more than classic mineral water or the well-known lemonade: more and more unusual, sometimes even bold flavours are gaining popularity with customers.
It is no longer just pure refreshment that is desired on hot summer days. Juices, smoothies, and kombucha are more in demand than ever. In line with the general health and wellness trend that cuts across all industries, non-alcoholic beverages are becoming increasingly popular, especially among young, health-conscious target groups. These target groups place particular value on a health-conscious diet and lifestyle. Therefore, drinks that actively increase well-being and have purely natural, health-promoting ingredients are particularly popular.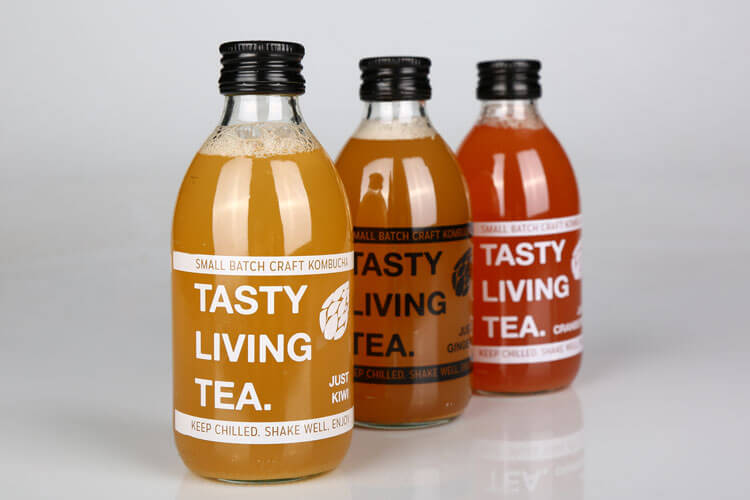 Labels for Non-Alcoholic Beverages
As a professional label printer, we know our way around printing adhesive labels for non-alcoholic drinks. Whether you want to create a new lemonade with an unusual flavour, a sugar-free, freshly squeezed juice, or maybe a healthy ginger shot? In the end it all comes down to appropriate and appealing packaging.
We recommend suitable materials to carry the healthy inside of your product to the outside and to address the right target group. For young, environmentally conscious consumers, sustainability in packaging and labels also plays an increasingly important role. They demand particularly sustainable, in the best case even recyclable materials and packaging solutions. Therefore, sustainable materials such as cotton paper, textured paper, or grass paper are particularly well suited in this case.
A high resistance to moisture is also important especially with beverages. Our robust vinyl labels or an additional film lamination are the best choices here. This way, your label is optimally protected against moisture and abrasion.
Labels for Soda, Juice, and Co. - What to Pay Attention to:
#1 The right material – Choosing the right material for labels in the (non-alcoholic) beverage industry is enormously important. Since beverages often come into contact with moisture, we particularly recommend film labels for this area of application. If you prefer a more natural, classic look, you can of course also opt for paper labels. Here, however, we always propose an additional sealing with protective varnish. This provides a water-repellent surface as well as protection against abrasion for your non-alcoholic drinks' labels.
Our tip: For absolute protection against moisture, we recommend an additional film lamination.
#2 The design – Make your first impression count! The right design is of special importance for success at the point of sale.
Our tips: The perfect label design is a visual highlight, reflects the content, supports its effect, and appeals to the right target group. It also includes the shape of the label. Round, square or completely individual: At label.co.uk we print all shapes and designs according to your ideas and wishes.
#3 Correct print data – A high-quality printing result and satisfied customers are our ultimate goal. In order to be able to process your order as quickly as possible and to ensure flawless production, your printing file needs to meet certain criteria. For this purpose, we have prepared a leaflet where you can find all the exact requirements: Download the leaflet now
Order Labels Online
At label.co.uk, you can order easily and conveniently using the online calculator: enter the parameters of your non-alcoholic beverage labels such as height, width, desired material, shape, and print run. The price for your order will be displayed in real time on the right-hand side of the calculator. Then you can either send this preliminary quote to yourself via email or continue with the order right away. In the following steps, you can configure your rolls so that they match your exact needs. This means you determine the winding direction, the maximum roll diameter, and the maximum number of labels on the roll. This helps you make sure that you can mechanically process the labels for your alcohol free drinks without problems in later steps. In case you have any questions, you will find detailed step-by-step instructions on how to order labels via the calculator on our website.
Digression: The Kombucha Trend
When it comes to trendy non-alcoholic drinks, there is no way around kombucha. Fermented tea doesn't sound very tasty at first. But kombucha contains vitamins and vital substances, which in turn are said to have a positive effect on the functions of your intestine, liver, brain, and metabolism. This drink is therefore very popular, especially among health-conscious consumers.
Our Design Service
You are not certain what you want your label to look like? Or do you already have a rough idea, but lack the know-how to create the print file yourself? No problem! Our label design service is the ideal solution for anyone who needs a completely new label design or wants to update their existing one:
You Might also be Interested in:
Tools and Services
Labels tend to look different in print than they do on-screen. Use our proofing service to make sure that everything looks just the way you want it to.
Look at our guidelines for label design to find all the information you need to make your artwork print-ready. Use our artwork templates and create print-ready artwork.
Our design service is a unique opportunity for you to create a stunning look for your label. The talented designers at label.co.uk are happy to help you implement your ideas!
Questions?
We're




here to

help!