Your Advantages with Digital Printing
brilliant colours and high resolution
quick production times
easy personalisation
low preparation costs
ideal for small print runs
even ink coverage
printing quality on offset level
great price to performance ratio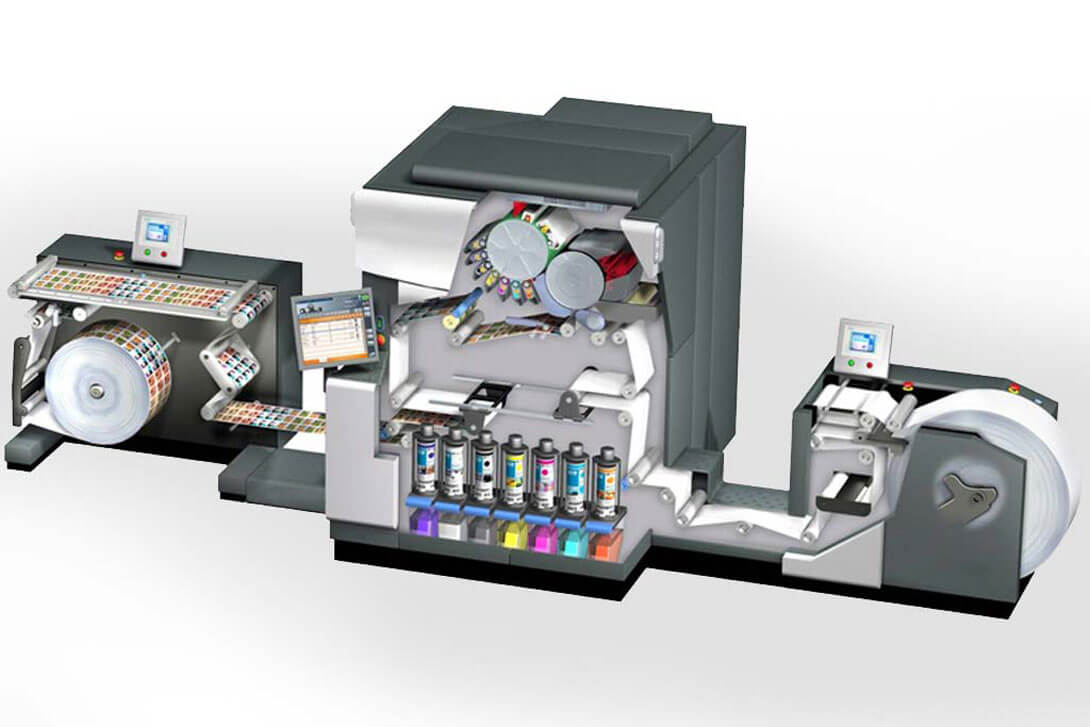 Digitally Printed Labels for Your Products
At label.co.uk, your labels are produced using digital printing. In digital printing, the print file is transferred directly from the computer to the printing machine. Chemically treated printing plates and films are now a thing of the past, because digital printing is a so-called non-impact process (NIP). This means that there is no longer any contact between a static printing form and the substrate on which it is printed.
Today, digital printing achieves almost the same printing quality as classic offset printing, especially in terms of colour brilliance and image sharpness. However, digital printing is much more cost-efficient, especially for short runs and personalisation, because the press does not have to be set up and calibrated in a time-consuming way first, but the print file is sent directly to the press and printing can start immediately. This results in some great advantages for label production:
Summary: Digital Printing
#1 In general, digital printing impresses above all with its short print run- and makeready times.
#2 We print in four colours (CMYK: cyan, magenta, yellow, black key) plus additional special colours. Thanks to the latest technology and automated colour management, the HP Indigo digital presses ensure sharply contoured printing products, high colour accuracy and qualitative consistency for the flawless realisation of your prints and reprints.
#3 Digitally printed labels can be personalised easily and economically – a special feature that can only be achieved with digital printing. Each label can therefore look different and be individualised with names or codes. This allows companies and brand owners to react quickly to trends, to implement marketing campaigns at short notice and to address customers in a very targeted manner.
#4 Digital printing makes short-run and on-demand printing economically viable. Ideal for all customers who need many different varieties or sequential numbering.
#5 Quick changes from one job to the next are no problem. As a result, the presses run more efficiently and there is less waste. Digital printing thus combines creative diversity and maximum print quality with flexibility and efficient production.
Sustainable Printing with HP Indigo
The HP Indigo is the only digital press that has been awarded the GRACol certificate (Certification for proofing). At the same time, the eco-balance of the digital printing inks is also convincing: they can be recycled and fulfil the high requirements of the Nordic Swan Ecolabelling. In addition, hardly any waste is produced in digital printing and no elaborately manufactured and chemically treated printing plates are required. This not only reduces the amount of waste associated with printing plates. The preparation effort and intensive cleaning cycles that normally occur with classic analogue printing are also massively reduced.
The advanced LEP (Liquid Electrophotographic) technology of HP digital presses eliminates many hazardous substances that are commonplace in conventional printing processes such as offset. In addition, no substances of concern, heavy metals or aromatic amines are used.
Special Features of Digital Labels
A feature of digital label printing that has been utilised especially well in both the energy drink and sports nutrition markets is the ability to simulate shiny, metallic effects on self-adhesive labels of custom size. Simulating metallic effects such as gold, silver and bronze on digital labels, in a number of cases, can be a cost-effective alternative to traditional hot foil labels.
Are you looking for labels with sequential numbering? Not a problem for digital printing. The same goes for barcodes and QR-codes!
Producing custom printed labels on transparent films can also be done much more cost-effectively using digital presses. We can print white text and undercoat at the click of a button, so there's no need for expensive plates.
You Might also Be Interested in:
Tools & Services
Our design service is a unique opportunity for you to create a stunning look for your label. The talented designers at label.co.uk are happy to help you implement your ideas!
If you have questions about the technical aspects of creating correct printing files, take a look at our tutorials. We have composed a collection of videos, texts and images that explain in detail how to create printing data.
In order to review and test our materials & print quality most comprehensively, we recommend requesting a complimentary sample book or viewing the list of our standard labels online.
Questions?
We're




here to

help!