Hello Brands & Businesses!
Custom Printed Roll Labels for Organisations of All Shapes & Sizes
Premium-Quality Materials
Any Shape, Any Size Labels
High-Quality Print
Premium Finishing
Fast Turnaround
Free UK & EU Delivery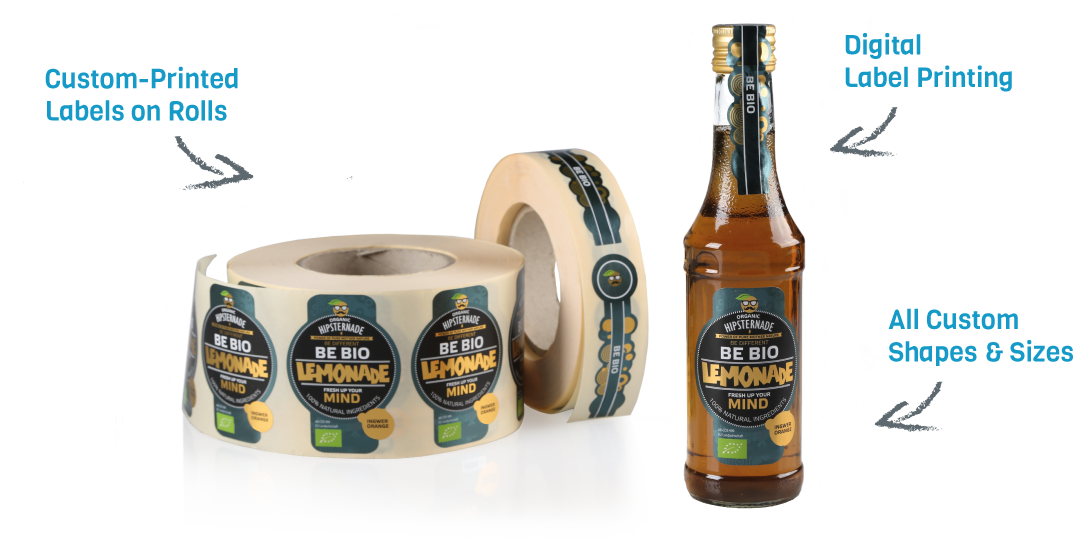 What Kind Of Businesses Use Custom Printed Labels?
As the UK's online roll label manufacturer, we produce custom labels for brands and businesses of all shapes and sizes. Our core business is based around supplying UK-based small to medium-sized enterprises with premium printed product labels and stickers on rolls; that being said digital label printing remains accessible to start-up businesses as well as blue-chip organisations. We regularly ship our self-adhesive across Europe and worldwide.
How Does label.co.uk Print Labels?
We're a label supplier that prints custom labels digitally; a high-quality, flexible method of label printing that can be combined with various embellishments to produce premium, custom-printed labels. Printing labels digitally also allows brands to print multiple designs in one print run; great for brands with a large number of SKUs.
Which Materials are Available for Custom Roll Labels?
We offer a range of industry-ready and FSC certified materials as well as a number of specialist materials and adhesives. Premium matt papers, waterproof films and transparent polypropylene are on stock as standard; request a Sample Book and review our roll label materials and print.
What Sizes are Available?
All labels and stickers are made to order and we offer all shapes and sizes; we do not work from set templates or pre-existing designs. The label's shape and size is determined by the brand owner; all we require is print-ready label artwork and we will manufacture bespoke cutting tools for your brand and packaging.
What Special Finishes are Available?
In addition to a standard UV protective varnish, we also offer a number of premium finishes and embellishments such as film lamination, hot foil stamping and embossing.
How are Roll Labels Applied to Packaging?
Custom printed labels on rolls are oftentimes used in either automated packaging lines (machines) or within teams of operatives at contract service providers applying for manual application.
Application via Machine
If you are to apply your printed roll labels via machine, there are generally three important things to consider; the winding direction, the core size and the outer diameter of the final roll.
#1 Maximum Outer Diameter– Each and every end user that we deliver our custom roll labels to operates a different machine. The key here is to get as many labels on one roll as possible to limit the number of machine set-ups and to ensure the rolls aren't too large so that they fit in the machine.
#2 – Core Size, Inner Diameter– The core is essentially the cardboard tube that your custom printed roll labels are produced on. The core size is important further down the line as this is the element of the roll that will sit on the spool of your application machine. Too large, the roll won't rotate and apply the labels. Too small, the rolls simply wont fit in the machine!
#3 – Winding Direction– The winding direction affects the way that your labels on rolls leave the roll and are applied to your product packaging. This is super important; we don't want the custom printed labels coming off the roll incorrectly.
Manual Application
If you are applying your custom printed labels by hand then there aren't too many things to consider, you're free to simply peel the printed labels from the roll and get sticking! One thing that may be worth considering is the 'number of labels' per roll. We want to be be able to help you and your operatives by keeping the the rolls we send manageable. Our customer service team is more than happy to chat through with you.
Good to Know:
All roll label information should feature within your labelling machine manual.
It's very common within the bottling world for labels to be narrow edge leading.
Our standard core size is 76mm. We also offer 25mm and 40mm tubes.
We can also configure rolls to feature a certain number of labels where necessary.
For longer production runs we are able to offer a number carrying bands, including PET.
Tools & Resources:
Questions?
We're




here to

help!
Roll Labels UK Summary:
Any Shape, Any Size Labels
Industry & Machine Ready
Custom Roll Sizes
label.co.uk Summary:
Trusted Label Manufacturer
Free UK & EU Delivery
5-7 Working Day Turnaround
B2B Tools & Resources:
Review Print Quality
Test Materials & Adhesives