Your Advantages with label.co.uk
great variety of materials
unique sizes and shapes
high-quality digital printing
numerous finishing touches
individual configurations
free delivery UK & EU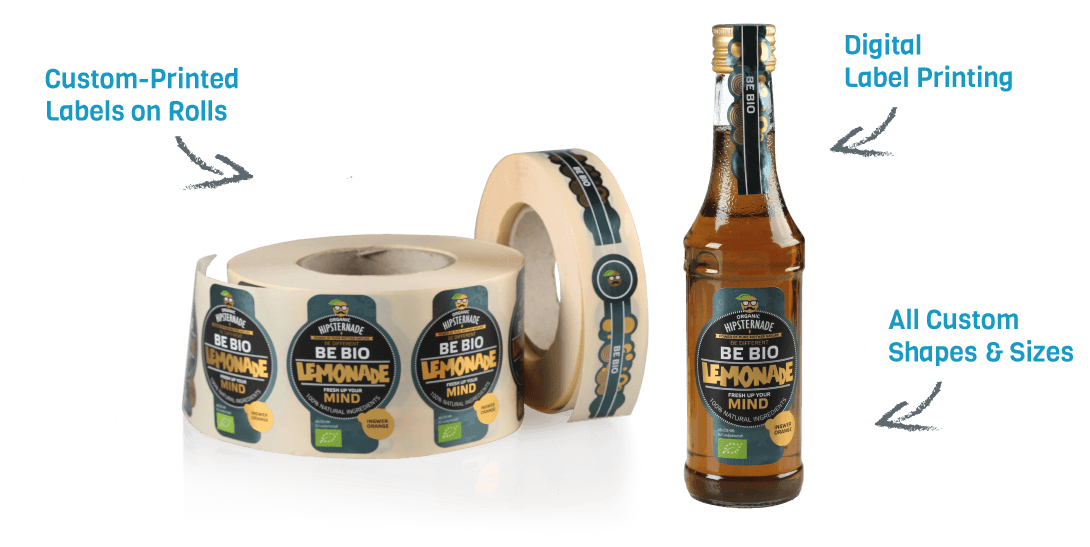 Roll Labels – Functionality and Applications
Roll labels, also known as roll adhesive labels, are self-adhesive labels produced in roll form. This facilitates automated processing, but they are also suitable for manual application. During the ordering process, as a customer, you have the option to specify not only the quantity, material, and finishing but also the winding direction of your roll labels, as well as the roll core diameter, maximum roll diameter, or the number of labels per roll. We can produce your roll labels on roll cores with diameters of 76 mm, 40 mm, or 25 mm. Roll labels are known by various names, such as adhesive labels, sticky labels, stickers, thermal transfer labels, roll adhesive labels, or bottle labels.
Roll labels find applications in various fields. Whether for beverages or food, as product labels in the industrial and retail sectors, or as warning labels on chemical products. The application areas of these labels are as diverse as the choice of terms assigned to them. That's why roll adhesive labels come with different characteristics, ranging from permanently adhesive to removable, with freezer-grade adhesive, opaque or printed on recycled paper. We not only meet your requirements but also cater to your individual preferences when it comes to labels!
Get inspired by our free sample book! And if you need the labels for your cans, bottles, or jars on short notice, our express production is available. For an additional 25% fee, we will produce your labels within 48 hours (from the final approval, excluding shipping).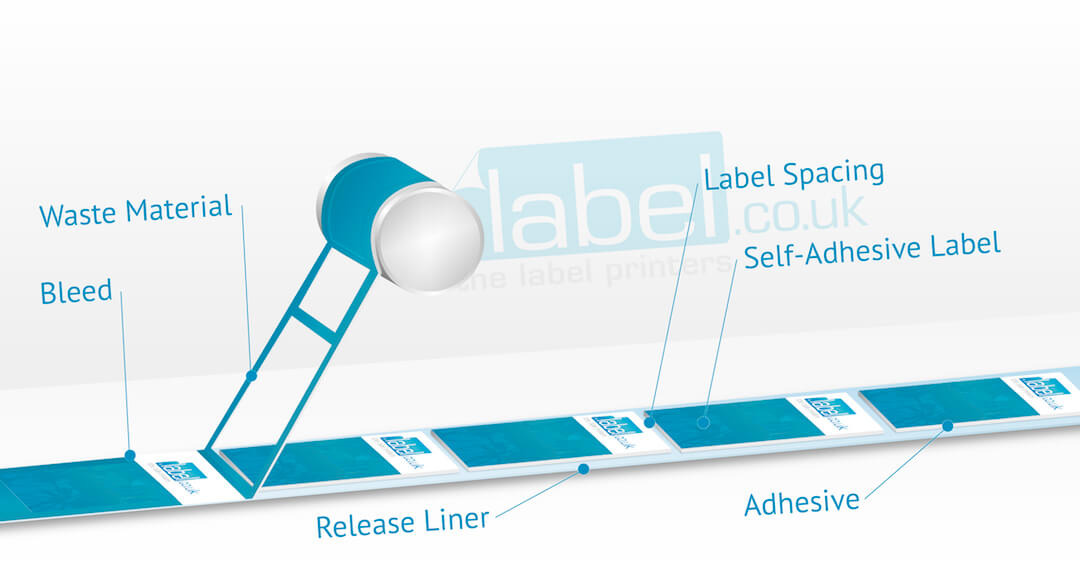 Practical Eye-Catchers
Use self-adhesive roll labels as a more targeted marketing tool. Whether in round, square, or custom shapes, impress potential customers with attractive packaging of your products. Self-adhesive labels are a successful promotional tool that can be used and customised for countless advertising purposes: conveying safety-related information, serving as colorful eye-catchers, or as modern accessories. In addition to traditional labels, we also print personalised labels with EAN codes, embossed labels with gold foil, or labels with a "No Label Look". Self-adhesive labels on rolls can be found on beer bottles, wine bottles, in the food industry, or on elegant cosmetic jars. Take advantage of the numerous possibilities offered to showcase your products perfectly. You determine the colour, format, and finishing.
Of course, at label.co.uk, you also have the option to have your labels printed on A4 sheets. These sheet labels are particularly suitable for small print runs. However, automated processing is not possible with sheet labels, and they must be manually applied to the product.
Material
At label.co.uk we offer you a large variety of materials to print your roll labels on. It is important to us to meet our customers needs. That's why we have textured papers, films and different sustainable materials for you in stock. If you want to know more about our materials and their features you can look at our material guide or order our free sample book. 
If you want to have your labels produced on a very specific material that you cannot find in our calculator or in our material guide, you can contact us. On request we can order certain materials for you.
Finishing Touches
Because stickers and labels are our specialty we can give your adhesive labels on rolls a luxurious finishing touch. Just choose between our array of different refinements. Whether it's hot foil stamping or a protective varnish: at label.co.uk you can make your labels both robust and elegant at the same time.
Adhesives
Depending on where your labels will be used, you will of course also need different adhesive properties. While permanent adhesives are the norm in the cosmetics industry, breweries often want removable labels with non-permanent adhesives. In addition, there are also companies in the food industry, for example, that rely on deep-freeze adhesives.
Permanently adhesive
Removable
Deep-freeze adhesive
What Else?
At label.co.uk you can easily order your self-adhesive roll labels directly online – fast, uncomplicated and free of shipping costs. If you have any questions about the ordering process, you can of course contact our customer service. They will be happy to answer your questions and assist you in word and deed.
In addition to our standard production, our express production is also available to you for a 25% surcharge. Whether this is suitable for your order depends on whether we already have the tools required specifically for your roll labels in house and how high our production volume is at the time. The calculator will tell you by when we can produce your roll labels. In addition to express production, you always have the option of choosing express shipping. If you are not sure whether and how quickly we can produce your labels, simply call us or send us an email. You can reach us Monday to Friday between 9.00 a.m. and 5.00 p.m. on 0203 588 1080 or by email at info@label.co.uk. We will be happy to advise you on your roll labels and look forward to hearing from you!
Digitally Printed Labels in Offset-Quality with HP Indigo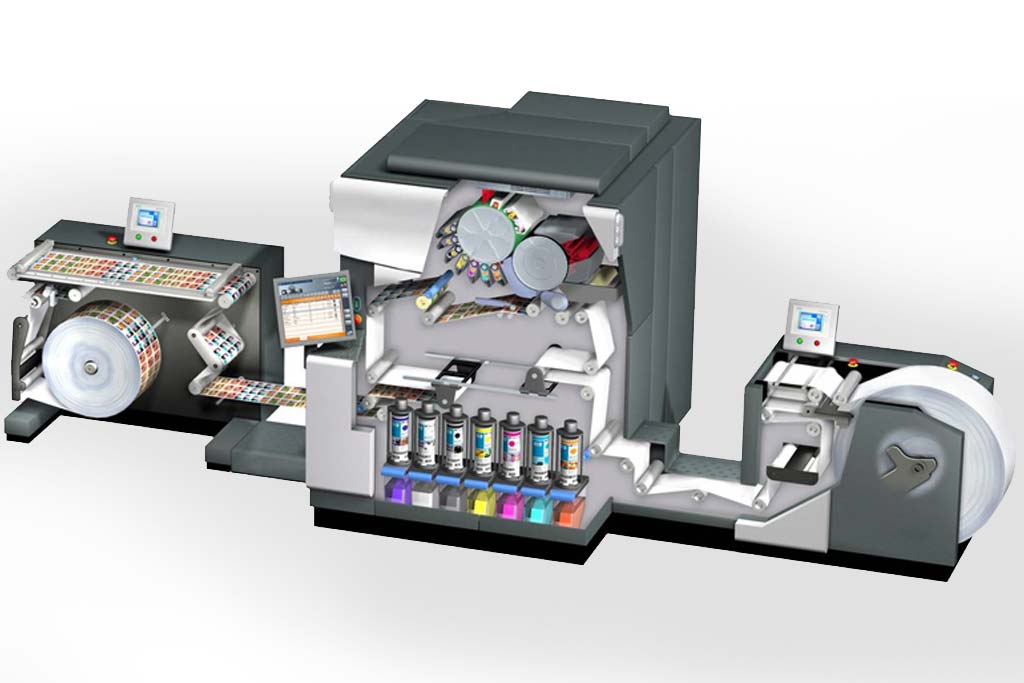 Our HP Indigo digital presses use the latest technology to deliver sharp contours and consistent reprints. HP ElectroInk combines the advantages of electronic ink and liquid ink. The HP Indigo is the only digital press to be GRACol (Certification for proofing) certified. Digital printing in offset quality was long considered a myth, but with the HP Indigo it is now possible to produce digital print products – such as roll labels – in photo quality. In addition to the high quality standards, the eco-balance of the digital printing inks is also convincing. They meet the requirements for Nordic Swan Ecolabellingen and can be recycled. In addition, hardly any waste is produced in digital printing and no complex and chemically treated printing plates are required.
You Might also Be Interested in:
Tools and Services
In order to review and test our materials & print quality most comprehensively, we recommend requesting a complimentary sample book or viewing the list of our standard labels online.
Our design service is a unique opportunity for you to create a stunning look for your label. The talented designers at label.co.uk are happy to help you implement your ideas!
Questions?
We're




here to

help!