Your Advantages with label.co.uk
adhesives for all applications
special adhesives
high-quality materials
best printing quality
friendly customer service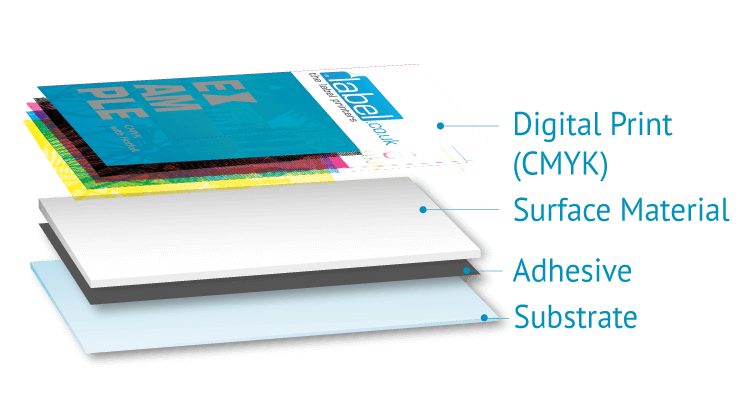 Different Adhesives for Different Applications
The demands on labels can differ immensely depending on the industry and the product. Not only the right material is crucial, but also the adhesive. At label.co.uk you have a large selection of different adhesives. Choose between permanently adhesive, strongly adhesive, removable adhesives or even adhesives for special requirements such as our deep-freeze adhesive.
Label.co.uk offers the right adhesive for every application and every product. Info: All our materials in the calculator are permanently adhesive as a standard. Of course, you can also get many other materials on request – feel free to contact us and we will advise you on which of our materials and adhesives are best suited to your application and product.
Please note: Not every adhesive is available with every material. Special adhesives are only available in combination with certain face materials.
You Can Obtain the Following Adhesives from label.co.uk:
permanently adhering all-purpose adhesive
application temperature: -20°C to +80°C
excellent adhesion to a wide range of substrates
ideally suited for almost every industry and every product
available for various papers and foils
standard for all materials in the calculator (unless otherwise indicated)
can be detached from the product by alkali bath
application temperature: 0°C to +50°C
ideal for labelling beverages
materials with WLA adhesive:
textured paper white WLA
textured paper brilliant white WLA
matt white paper WLA
HGW Premium WLA (glossy paper)
Attention: The removability depends on other factors such as ink, degree of finishing, and storage. Therefore, we cannot guarantee removability.
special wash-off adhesive
can be removed again with water (temperature 65°C to 80°C)
application temperature: -20°C to +60°C
ideal for beverages
materials with water-soluble adhesive:
PP film (transparent)
PET film
particularly strong all-purpose adhesive
application temperature: -20°C to +80°C
ideal for small vessels & vessels with a pronounced curve
materials with strong adhesive:
MC Primecoat (semi-gloss paper)
redetachable universal adhesive
application temperature: -20°C to +80°C
can be removed and repositioned from the substrate without leaving any residue even after a long period of time
materials with easily soluble adhesive:
glossy white PP film
transparent PP film
Raflacoat Plus (semi-glossy paper)
strong, permanent, all-purpose adhesive
application temperature: -40°C to +60°C
can be stuck onto already frozen products
ideal for application in cold environment, wet surface labelling and deep freeze applications
materials with deep freeze adhesive:
HG WHITE Premium (glossy paper)