Your Advantages with label.co.uk
free shipping (EU & UK)
cost-efficient personalisation
individual shapes & colours
suitable for all industries
numerous finishing touches
names, numbering or EAN
order right online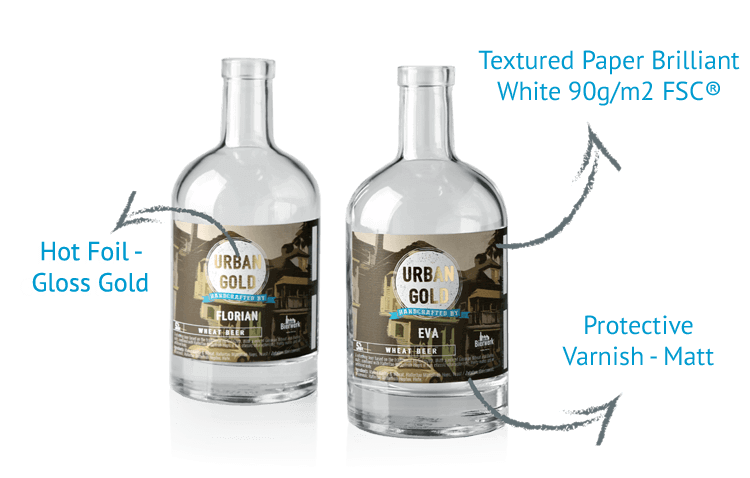 Personalised Labels for the B2B Sector
Personalised and individualised products are not a novelty in terms of effective marketing tools. Companies have long since recognised the possibilities and benefits of this customer approach. Today, products can be designed and adapted to meet specific consumer expectations, thus, addressing the customer directly and individually. If you want to address your customers in a personalised way and convince them of your products, our labels are the perfect means to do so.
Personalisation Is the Trend
The best-known example of personalised bottle labels and different names on products is Coca Cola. Ferrero achieved a similar level of popularity with its Nutella campaign, in which individual labels with names and barcodes also found their ways on the jars of the nut-nougat cream. Other manufacturers now allow customers to individualise their favourite chocolate (Chocri) or muesli (MyMuesli). Brands such as Adidas and Nike have joined the trend to and supply customers with sports shoes with freely chosen designs, colours and patterns.
Types of Personalisation
Thanks to digital printing, products can be personalised easily and in many different ways. We would like to present you with some of the possibilities:
1. Different Names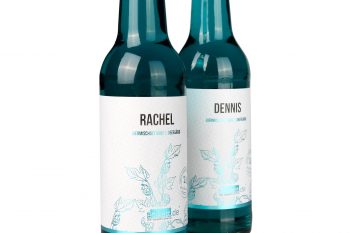 One way to personalise your products is to print a different name on each of them. This is how you prompt a passion for collecting in your customers because who wouldn't like to have a soft drink with their name on it? To implement this technique, we need a list of all names you would like to have on your products, from which we can then generate the individual labels.
2. Barcode/QR Code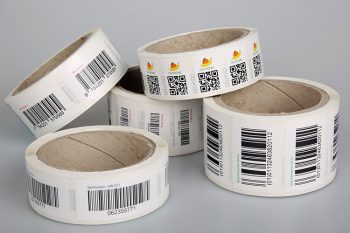 Another option for personalisation on your labels is to apply a special code with individual data to the packaging. You could do this for example in the form of a barcode or a QR code. Scanning this code then takes the customer to a specific web page, plays a video, gives further information about the product, or introduces a special promotion.
3. HP Mosaic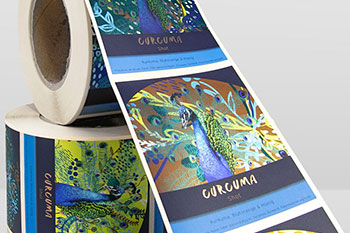 HP Mosaic is a personalisation software that creates varying looks for your labels by generating multiple individual designs based on a fixed base pattern. No two labels are the same! The resulting unique designs allow for an individual customer approach that is fully focused on the product and leaves a strong impression on people.
4. Augmented Reality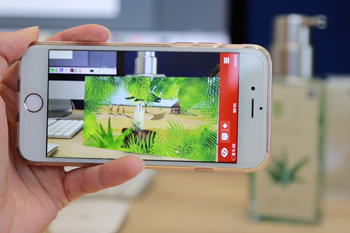 Augmented reality has been one of the top subjects for some time now. This new technology is also becoming more and more popular and finding use in the packaging industry. For instance, labels can be provided with a code (e.g. from Zappar), which can then be scanned with the appropriate app. This way, the customer is taken into another world via augmented reality.
Our Materials
Basically, all products or product packaging can be personalised with an individual label. Be it a bottle or can, wet glue or adhesive roll label. You can freely choose the right material for your personalised label from our variety of papers and foils. Do you want your label to be a real eye-catcher? Then why not choose one of our finishes such as hot foil or blind embossing. Take a look at our material guide and get an overview of our numerous papers and foils. This helps you choose the ideal material for your personalised labels, matching your product and your requirements. If you have any further questions, please contact our customer service. We will be happy to advise you in detail about our materials.
Personalisation for Smaller Print Runs
As specialists for adhesive labels in the B2B sector, our team at label.co.uk, wondered how to implement the concept of personalisation at the lowest cost possible. We wanted to offer this design option to companies that, in contrast to the larger corporations, process smaller runs too. Personalised labels are the ideal solution for customising products quickly and cost-efficiently without paying horrendous prices.
Labels on sheets cannot be personalised by default. If you still require personalised labels on sheets, the order is created as a classic roll label – in the format of a sheet – and then manually cut into individual sheets. Please note that this will result in additional costs.
Before you order personalised labels for bottles or other customised labels from us for the first time, please call us at 0203 588 1080 or write an email to info@label.co.uk so we can discuss your wishes and ideas.
Our Reference Customers
We implement every project with commitment, passion and the best quality. Satisfied customers are our highest priority and at the same time our best reference. If you want to find out what it is like to work with us, take a look at our customer stories. Here, previous customers talk about their businesses and their experiences with label.co.uk.
You Might also Be Interested in:
Tools and Services
If you have questions regarding personalisation or any other topic related to label printing, we would be happy to advise you. You can call our customer service from Monday to Friday between 9.00 a.m. and 5.00 p.m. at 0203 588 1080 or write an email at info@label.co.uk. 
If you wish to see a press-proof before placing a full custom label order you can book our proofing services.
In order to review and test our materials & printing quality most comprehensively, we recommend requesting a complimentary sample book or see the list of our standard labels online.
Questions?
We're




here to

help!