Hello Brands & Businesses!
Pet & Animal Food Labels on Rolls for Organisations of All Shapes & Sizes
Industry-Approved Materials
Any Shape, Any Size Labels
High-Quality Print
Premium Finishing
Multi-Versioned Print Runs
Fast Turnaround
Free UK & EU Delivery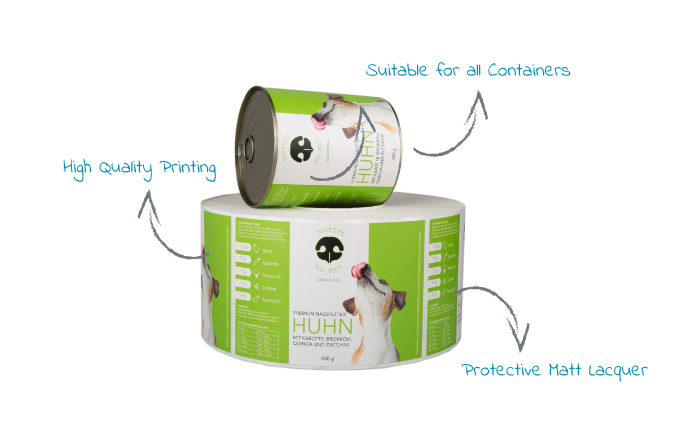 Animal Food Labels Individually designed and printed
The British love their pets and the pet food industry is booming, the competition in the market is growing. At the same time, the design of the packaging is becoming more important, also for pet food. Attractively designed packaging and labels set your product apart from the competition and convince the customer at first glance. On this page you can find out which materials are suitable for a pet and animal food label, which requirements a label must meet and which design options you have.
At label.co.uk, you can choose between wet-glue and adhesive labels, depending on the type of packaging for which you need your pet and animal food label.  With the classic wet-glue label, a layer of glue must be applied in an extra step. This step is not necessary with the roll adhesive label, as it is printed on a carrier material that is already self-adhesive.
Our roll labels are permanently adhesive as standard and therefore stick to almost any substrate and container. Would you like the label to be easy to remove again without leaving any residue? No problem: At label.co.uk, you can obtain removable labels as well as alkali-soluble labels.
Also, whether you want to apply the label to the product by machine or manually has an influence on the choice of the right label. If you stick the label onto the product by hand, our practical labels on A4 sheets may be particularly suitable.
Of course, all our finishing options are also available for pet food labels. Whether hot foil stamping in copper, blind embossing or a protective lacquer in matt or glossy – there are no limits to creativity at label.co.uk
Mandatory information on labels for pet food
The law requires that the label contains certain key pieces of information including:
Name and Product Description

Composition (ingredients list)

Analytical Constituents (information about nutrient levels)

Additives

Best Before Date and Batch Code

Producer or Distributor Name (and how to contact them for further information)

Feeding Instructions (how to use the product)

Weight and/or Quantity
For the latest guidelines on what should be included on your label click here. for the European Pet Food Industry, here for the Pet Food Manufacturers Association or here for the Food Standards Agency
In the labelling of animal feed, the information on the label is often variable, such as different best-before dates or the ingredients. Label.co.uk offers the possibility of designing labels according to your wishes and pre-printing them on special material. If you wish, you can then print these with your own in-house thermal transfer printer and apply the variable information on the respective product individually to the pet food label afterwards.
Useful Information
Questions?
We're




here to

help!