Your Advantages with label.co.uk
any shape, any size labels
industry-approved materials
several varieties in one job
high-quality printing
numerous finishing touches
fast turnaround
free delivery (UK & EU)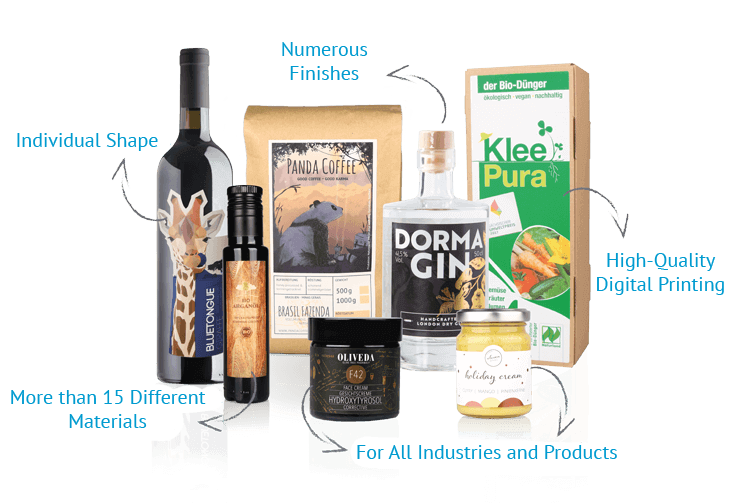 Labels as Individual as Your Products
The packaging of a product is extremely important in the act of deciding for or against a purchase. Within fractions of a second, a customer decides whether to buy the product or leave it on the shelf. A significant part of the packaging is the label. It is the first point of contact a customer has with a product. In order to stand out from the competition on the shelf, an individual design of the label is crucial.
Individual – But How?
A label can be customised in many ways. From an unusual shape to a special material to a hot foil in an unusual colour. At label.co.uk (almost) anything is possible:
Individual Material
At label.co.uk you can choose from over 15 standard materials. The variety is sheer endless: Glossy paper, matt film, cotton or grass paper, transparent or metallic glossy materials and many more. Label.co.uk offers the right material for every industry and application. How about a transparent label with a no-label look, for example? Or a label made of particularly tear-resistant Tyvek? Special materials are also part of our portfolio. Simply contact our customer service. We will be happy to activate further materials in your customer account.
Individual Shapes
The shape of the label also has an impact on the effect of your product. You want to give your label or sticker a more classic look? Then an angular or round shape could be the right one. Do you want your label to stand out and have its very own, unusual shape? Then of course you can also create any other shape for your label.
Custom Design
No templates are used at label.co.uk. You decide how and with which design your label is printed. All we need is your print data in PDF format and we will then print the label entirely according to your wishes and specifications.
Creating correct print data can sometimes be difficult. That's why we have put together some tools and services to help you create the print data. From video tutorials and step-by-step instructions to a test print of your design – we are happy to help.
Individual Finishes
Additional finishing makes your label look special and takes it to the next level. At label.co.uk, you can choose from a variety of finishing touches. Feel free to contact our customer service about our finishing options. We will find the right solution for your needs.
Personalisation
Personalisation is also a great way to individualise a label. Big brands like Coca-Cola or Ferreo have already done it. Different names on each label, an individual QR code or unique designs with HP Mosaic. Make your label truly unique and eye-catching.
Rolls or Sheets?
At label.co.uk you have the choice: We produce your labels on rolls or on sheets.
Production of labels on rolls is particularly suitable if you label your product by machine. With roll labels, you can also decide on the roll and roll core diameter, the winding direction and the number of labels per roll.
Printing the labels on sheets makes sense if you apply the label to your product manually. Of course, you can also apply roll labels by hand.
Die Cut or Laser?
At label.co.uk, customers can also choose whether their labels are to be punched out following a conventional method using a die-cutting plate or whether the contour cut should be made using a laser. Both methods have their advantages. For more information on the two techniques you can of course contact our customer service.
Removable or Permanent?
You decide: Do you want your labels to stick to a product permanently or do you want to be able to remove them again? Depending on which application you choose, a different adhesive is used. Our labels are permanently adhesive as a standard. However, we can also produce removable labels on request.
Individual Consultation
Although me mainly operate online, personal and detailed advice for our customers is particularly important to us. Every label and every customer is unique and requires advice tailored to their specific requirements.
Our customer service team is well trained and always happy to assist you. Use one of our communication channels to contact them. Click on the "How can we help you" bubble in the lower left corner on each of our web pages. You can use it to write a message that will be shortly answered by one of our customer service employees. You can also call us at 0203 588 1080 or write an email to info@label.co.uk.
Tools and Services
In order to review and test our materials & printing quality most comprehensively, we recommend requesting a complimentary sample book or see the list of our standard labels online.
If you have questions regarding custom labels or any other topic related to label printing, we would be happy to advise you. You can call our customer service from Monday to Friday between 9.00 a.m. and 5.00 p.m. at 0203 588 1080 or write an email at info@label.co.uk. 
Our design service is a unique opportunity for you to create a stunning look for your label. The talented designers at label.co.uk are happy to help you implement your ideas!
Questions?
We're




here to

help!