Your Advantages with label.co.uk
numerous materials
individual shapes and sizes
free delivery in UK and EU
order online
variety of finishing touches
choose colour and design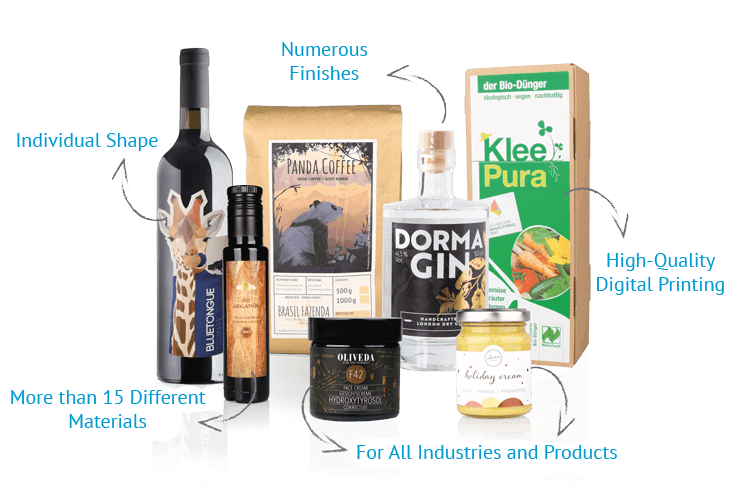 Label Converting
Printing custom labels on rolls generally combines two areas of production: digital label printing and label converting. This page concentrates on showing the processes that follow the custom label printing element of your adhesive labels and explains a number of the finishing options available.
Custom Cutting Tools
We specialise in printing custom labels to fit any type of packaging. Regardless of the shape or size that you require, we can help! The size and shape of a label is determined by the data that is embedded in your label design. We simply extract this data to produce your cutting tool! Rounded corners, bottle neck labels and tamper proof labels are no problem.
Protective Varnishes
A clear protective varnish is applied to the labels at the end of the production process before cutting in order to extend the durability of your custom labels.
It protects the print work from minor scuffs and to a certain extent from liquid contamination. All of the above mean it's the perfect solution for products such as food and drink labels, for example, meaning even thick and textured paper labels can withstand the impact of daily use, all the while maintaining their important functions.
Protective varnishes are available in either a gloss or a matt finish.
Film Lamination
The film lamination process, as the name suggests, adds a protective plastic film layer to our self-adhesive labels. This has various advantages relating to their look, feel, and durability.
As with the protective varnish, film lamination is available in gloss or matt, but creates a particularly strong effect that varnishes can't replicate. Both provide a slightly more premium feel to labels too, due to the added thickness they give the material.
Gloss film lamination is particularly effective for premium and high-impact labels due to the super glossy look it creates. This proves especially popular for sports nutrition labels, as well as for paint and chemical product labels.
Matt film lamination has the same protective qualities of its glossy twin, but creates a silk finish to labels, providing a soft yet striking aesthetic. This has proven popular for a wide variety of self-adhesive labels from beer through to cosmetics product labels.
Custom Roll Configurations
Roll configurations are very important if you are to apply your custom printed labels via a label application machine or filling line.
Hot Foil Stamping
Hot foil stamping is a process that can be used on printed labels on rolls in order to add a luxury feel to a label. Hot foil stamping is commonly seen paired with premium materials and used on luxury food, beverage and cosmetics products.
Tools and Services
Our design service is a unique opportunity for you to create a stunning look for your label. The talented designers at label.co.uk are happy to help you implement your ideas!
If you have questions about the technical aspects of creating correct printing files, take a look at our tutorials. We have composed a collection of videos, texts and images that explain in detail how to create printing data. 
Are you worried about complicated customs procedures while buying outside the UK? With label.co.uk you don't have to! We take care of everything! Visit our customs regulations webpage to find all the most important information for you!
Questions?
We're




here to

help!