Your Advantages with label.co.uk
fit for bottles of all shapes and sizes
high-quality printing
numerous papers and foils
free delivery in UK and EU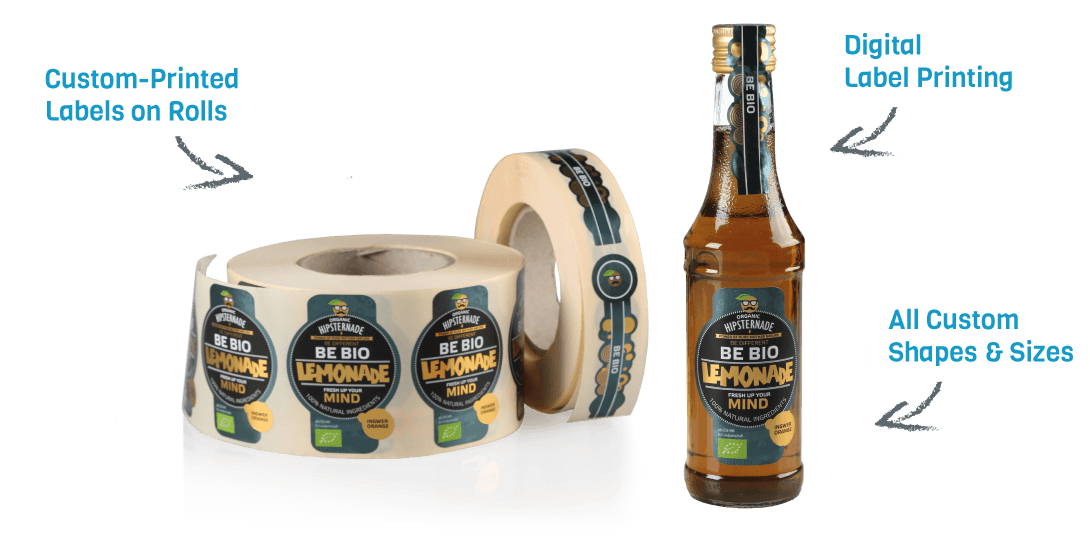 Looking for a Bottle Label? You've Come to the Right Place!
Whether for beer, wine, spirits or lemonade – labels for bottles of all types, shapes and sizes are part of our expertise. Specialised in modern digital printing, we produce your bottle labels quickly and professionally. Express production for your adhesive labels is also feasible for us, depending on the order situation.
Bottle Labels – Self-Adhesive or Wet-Glue?
At label.co.uk you basically have the choice between roll labels and wet-glue labels: Roll labels, as the name suggests, are supplied on a roll with the backing paper. The automated or manual removal of the label from the backing paper is based on pulling the backing paper away to the back. The label can then be applied to the product. Our roll labels for bottles are available on paper, refined paper or also as a film label in matt, glossy or transparent. The adhesive layer for printed labels is self-adhesive, so an additional gluing process is not necessary as with classic wet glue labels. Roll labels are ideally suited for machine processing and can therefore also be used in automated or semi-automated production lines. Of course, roll labels can also be applied to the bottle by hand.
Labels to Make Your Products Look Phenomenal
Printed bottle labels inform, decorate and carry not only your product's name but also the necessary data on properties and contents, such as information on the filling quantity or ingredients. Our labels for bottles show great adhesive strength on most bottle materials. Do you have special requirements for your bottle labels? No problem: at label.co.uk you can also get labels with special characteristics and properties, for example with special water resistance, increased adhesive strength or as a removable label. As a professional label manufacturer, it is not only new customers who benefit from our experience in label printing. We make sure that your labels can withstand a lot, so that they keep their shape even when wet, cold or exposed to friction.
However, it's not just the aesthetics of your bottle labels that should convince customers to make a purchase. Bottle labelling also serves to convey information. For example, it is important to comply with the legally required information on filling capacity, alcohol content and ingredients.
Chest Labels, Back Labels and More
Neck bow and chest label, belly label and back label. Bottlers and beverage producers often have different types of labels printed. The neck bow and chest label – also called the belly label – are mainly used for sales promotion and optimal brand presentation. In contrast, the back label is used to print the legally prescribed information on your bottle labels, such as filling quantity, ingredients, fruit content, alcohol content, best-before date and manufacturer information.
Choice of Materials for Your Bottle Labels
Choosing the right material is crucial because not all materials are suitable for all bottle shapes and sizes. The materials listed in the calculator are among our stocked standard materials. In addition to these, we can offer you numerous others. Simply get in touch with us. You can reach us by phone at 0203 588 1080 or by email at nfo@label.co.uk. You will only find our standard options in our calculator. In addition to these, we can offer you many other materials and also finishes in a personal quotation – from dark green hot foil to fluorescent colours to relief varnish. Simply contact us. We will be happy to advise you!
Our Free Sample Book
Get an initial overview of our standard papers and films for adhesive roll labels. We will be happy to send you our free sample book with our standard materials and finishes. Order your sample book now!
Have Your Label Bottles Designed by Us
You don't have any idea yet how your label should look? Then we have the solution: No matter what type, shape, or size of bottle you need a label for, with our label design service, you have the opportunity to have a label designed according to your preferences. Simply let us know what you have in mind, and we will create your label.
Artwork Assistant
Our print template offers you the possibility to create a correct and error-free printing file with step-by-step instructions.
Proof Print
Want to make sure everything looks as planned? Choose one of our trial print packages and we'll check your data for any errors.
You Might also Be Interested in:
Tools and Services
Questions?
We're




here to

help!