Hello Brands & Businesses!
Custom Bottle Labels on Rolls for Organisations of All Shapes & Sizes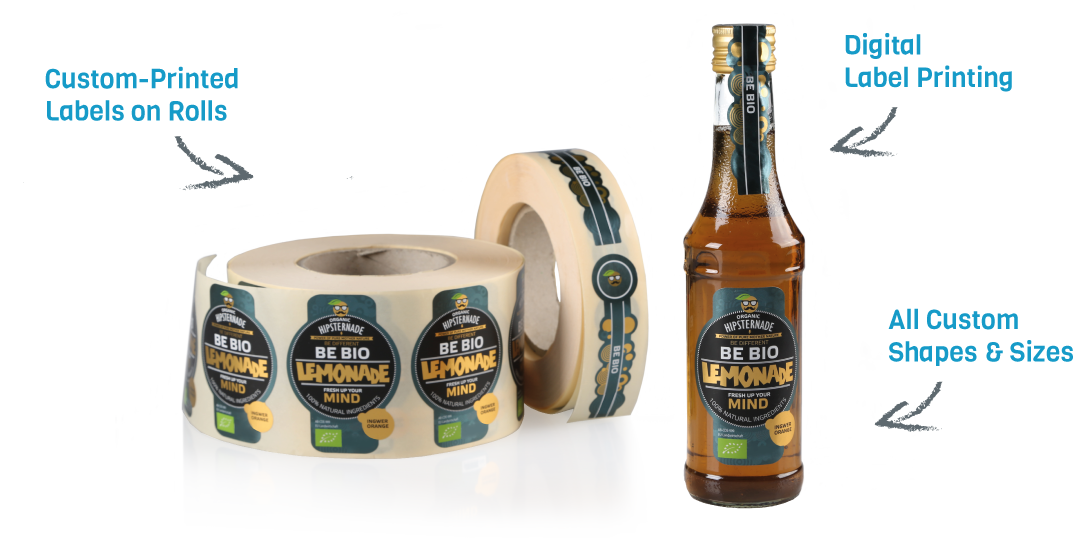 Custom Bottle Labels; Overview
Whether via exposure to liquids or logistic processes, modern business and retail environments constantly challenge your brand's custom printed packaging labels. It is therefore evermore important that your chosen printed label supplier understands the challenges involved when producing professional bottle labelling solutions.
As the UK's Online Roll Label Manufacturer, we custom print bottle labels for businesses & brand owners of all shapes and sizes; from new, younger businesses requiring multi-versioned runs of product labels to larger multi-nationals looking to test and bring new products to market.
We provide printed labels on rolls to businesses across a multitude of industries; from food and beverage to chemical and nutraceutical. Our labels both shelf and industry ready; logistics and refrigeration processes are not a problem
B2B, Custom Printed Labels on Rolls
As a B2B label printing company, we manufacture self-adhesive labels on rolls. The main reason we have chosen to focus our business on roll labels is due to the fact that roll label production allows for full customisation; in terms of aesthetics and function of the label.
For example, packaging labels are often required to be different shapes and sizes to fit relevant pack formats; taking beer labels and craft beer labels as an example, there is a size difference between 330ml and 500ml bottles. On top of this there are the brand owners who wish to differentiate their products by using custom-shaped labels and premium finishes such as hot foil stamping. Such flexibility is mostly not achievable when producing custom labels on sheets.
Approved & Industry-Ready Materials & Substrates
We stock a range of fully certified and industry-approved materials each with it's own aesthetics and functionality. Depending in which environment your bottle labels will used, we recommend different materials.
Requesting a Sample Book is a logical step; here you can test our materials in the intended environment as well as review the quality of our print and premium finishing.
Synonymous with both wine labels and the spirits industry are textured, matt papers; premium, high quality feel.  The cosmetics and chemical industries lean more towards polypropylene (PP) films; water, oil and chemical resistant.
Flexible, Digital Label Printing
We utilize the highest quality digital label printing technology on the market; HP Indigo Technology. Printing professional labels digitally has been a game changer not only for our business but our industry as a whole. It has meant that we are now able to print quantities of labels anywhere from 1000 labels and up! What's more, so long as the shape and size of your custom labels remain the same, we're able to print all your label designs/SKUs in one print run – there is no need for expensive printing plates and increased set-up costs.
How Are Printed Roll Labels Best Applied?
Many of our customers apply their custom bottle labels via machine as it is by far the the most efficient method; cleaner and faster than other methods. Should you be looking to either overprint your labels or apply them via machine then we'd recommend reading our Label Application page.
What is the Next Step?
We pride ourselves on offering friendly, professional customer service and bespoke advice. Please do not hesitate to get in touch with our team; we are here to help.
Please feel free to leave us a message in our contact form.
We are also available during our regular business hours between 9.00 am and 5.00 pm, Mon – Friday.
Tel: 0203 588 1080
E-Mail: info@label.co.uk
Bottle Labels FAQs:
Types Of Bottle Labels:
Tools & Resources:
Bottle Labels Summary:
Any Shape, Any Size Labels
Industry & Machine Ready
Custom Roll Sizes
label.co.uk Summary:
Trusted Label Manufacturer
Free UK & EU Delivery
5-7 Working Day Turnaround