Your Advantages with label.co.uk
high-quality printing
individual shape and design
all colours and formats
exclusive look
free delivery in the EU and UK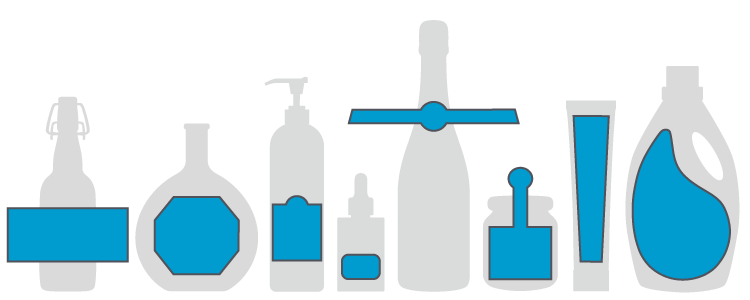 Order Your Packaging Labels Online
Our online calculator is very easy to use: with just a few mouse clicks to the perfect packaging labels. To convince yourself of our printing quality beforehand, you can even request a proof print service. In addition, our reliable customer service is available to you by phone or email if you have any questions. Especially for individual orders, you are welcome to send us your ideas and the corresponding printing data in advance by email. If necessary, we will discuss everything with you.
Very important: We supply a unique packaging label for your product.
Individual Labels: Every Design One of a Kind
The worldwide production figures and diversity of labels have been steadily increasing for years, which is why a convincing visual appearance of your label plays an increasingly important role. Whether in the cosmetics, food or chemical industry, labels are not only used for information and warning purposes, but also emphasise the special characteristics of your product. Individuality and uniqueness are central characteristics of a successful packaging label. Your wishes and ideas are the focus of our creative design service.
Ideal Materials for Demanding Products
In addition to aesthetic requirements, functionality is a high priority at label.co.uk. For this reason, you can choose from labels on A4 sheets, self-adhesive labels and roll labels. Label.co.uk also makes it possible to individually combine your labels' shape, material, print run and finishes. To complement our wide range of standard materials, our professional customer service team can offer further choices on request. Packaging material (e.g. glass, plastic, or different types of paper) as well as the product content, have different requirements. That is why we have suitable materials for all areas of application. We offer lye-soluble labels, removable labels, scratch-resistant labels, sustainable labels and much more. Of course, we place special emphasis on impeccable printing quality, because: We Love Labels.
Ideal Production Method for Your Packaging Labels: Labels on Rolls vs. Labels on A4 Sheets
Roll labels or rather labels on A4 sheets? Whether the respective production methods are suitable for your packaging labels or not depends on the areas of application.
On the one hand, it depends on the type of further processing: Roll labels are usually processed by machine. In addition, when printing on a roll, the winding direction, the roll core and roll diameter, as well as the number of labels per roll, can be freely determined according to your needs. In contrast to this, further processing of the labels on A4 sheets is not done via a machine. This production variant comes into action when packaging labels are applied by hand.
Secondly, the run size must be taken into account: Roll labels are ideal for the production of larger quantities of labels. For smaller runs, we generally recommend packaging label production on A4 sheets. However, each order should be evaluated individually to decide which production type makes the most sense.
Finally, there are restrictions regarding the choice of material for your packaging labels: If you opt for printing on A4 sheets, not all materials are available without restrictions. For labels on rolls, you can choose from our entire range of standard materials. Nevertheless, with both types of production it is possible for you to make individual decisions regarding shape, size and design. If you have any questions, our customer service will be happy to help you.
Curious? Get your own impression and order our free sample book now.
What We Care about: Maximum Customer Satisfaction
That is why individuality, flexibility and quality are elementary components of label.co.uk's corporate philosophy. Testimonials from our customers can be found in the customer stories section.
With regard to correct labelling and legal conformity of packaging labels, we would like to refer to some general conditions: Food labelling, EAN barcode regulations, and the Health Claim Regulation. As a modern B2B label manufacturer, label.co.uk implements fast and effective solutions in response to changing legal requirements by means of a flexible design service and express production. If you have any questions, please do not hesitate to contact our customer service.
Where Does the Concept of the Packaging Label Come from?
The history of the label is made up of various cultural contexts and stages of development. The word origin of the term 'label' can be attributed to the French language and translated means: Ribbon, fringe on clothing. However, the label concept as we know it today originates from ancient Egypt. The ancient Egyptian idea of the roll seal (a cylindrical object with engraving) was further developed by Roman culture. Thanks to the Romans, the seal became a pendant that was hung on various containers to identify the contents. This laid the foundation for today's packaging label industry.
Further Questions?
Are you unsure how your project can be implemented or do you have general questions about our services? Contact us and share your ideas with us. You are welcome to request our sample book free of charge or view our standard materials online. If you know exactly what you need and would like to check the print quality, book our proofing service.
We look forward to hearing from you!
Formats
Minimum size: 20 mm width x 20 mm height
Maximum size: 585 mm width x 308 mm height
round – rectangular – individual shape
Our Materials
At label.co.uk we offer you a large variety of materials to print your packaging labels on. It is important to us to meet our customers needs. That's why we have textured papers, films and different sustainable materials for you in stock. If you want to know more about our materials and their features you can look at our material guide or order our free sample book. 
If you want to have your packaging labels produced on a very specific material that you cannot find in our calculator or in our material guide, you can contact us. On request we can order certain materials for you.
Finishing Touches
Because stickers and labels are our specialty we can give your packaging labels on rolls a luxurious finishing touch. Just choose between our array of different refinements. Whether it's hot foil stamping or a protective varnish: at label.co.uk you can make your labels both robust and elegant at the same time.
You Might also Be Interested in:
Tools and Services
Our design service is a unique opportunity for you to create a stunning look for your label. The talented designers at label.co.uk are happy to help you implement your ideas!
Are you worried about complicated customs procedures while buying outside the UK? With label.co.uk you don't have to! We take care of everything! Visit our customs regulations webpage to find all the most important information for you!
Questions?
We're




here to

help!