Your advantages with label.co.uk
beer labels for bottles
beer labels for cans
craft beer labels
large variety of materials
custom shapes & sizes
premium look and feel
sophisticated finishes
free delivery in UK & EU
cost-effective (even for small quantities)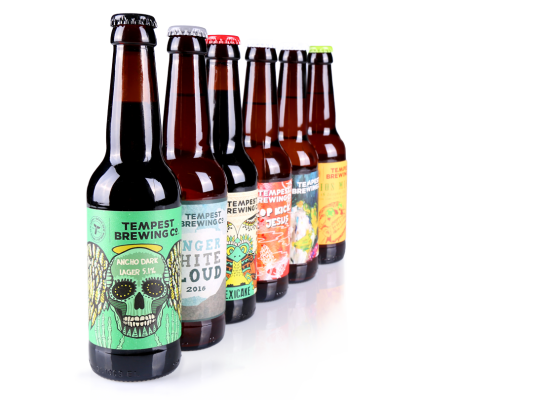 Customised Beer Labels in Best Quality
We understand that brewing beer is a craft. It takes a lot of passion and precision to get the results you desire. Therefore, you should look for a label that shows the same dedication to its craft. Label.co.uk helps you print a label that represents your time, effort and resources. With increasing competition a high-value product, great label design, premium material and upholding functionality are a must. Whether you are brewing Ale, Porter, Lager, Craft Beer or Stout we are your label printing company.
Stand Out from the Competition
Competition on the beer market is fierce. Some manufacturers therefore opt for a unique format when designing their beer bottles in order to stand out from their competitors. But this also incurs considerable costs. The alternative: originally designed bottle labels. Individual labels for beer are printed quickly thanks to modern digital printing technology and are considerably cheaper than a completely new bottle design. Plus: an original design here refers not only to the print image and design of the label, but beer labels can be punched out in a completely individual shape. Make your beer label a real eye-catcher and choose additional finishes such as die-cutting, hot foil stamping or relief varnishing. We turn your ideas into reality!
Which Labels Can Adorn a Beer Bottle
Your packaging and it's design are the first step toward telling your potential customers what to expect from your products. The design is the first thing that catches the eye and the material gives an impression of the quality you are delivering with your products. For beer bottles – whether it's plastic or glass – you have the option to attach three different kind of labels on them.
Neck Label: Nice to have, but not essential. It's a small label around the neck of your bottle. Good for indicating the uniqueness of your beverages to customers.
Back Label: It's arguably the most important label. The back label contains all the valid consumption data like the alcoholic strength, filling quantity, producer, or expiration date.
Front Label: This one is most crucial for the performance at the point-of-sale. Your front label is the one that catches the customers' eyes first.
Wrap-Around Label: This type of label combines both the front and back label into one; suitable for both 330ml & 500ml beer bottles and popular amongst craft breweries.
Beer Labels: Special Strains
Labels for beer bottles are usually exposed to more stress and have to meet higher requirements than other can or bottle labels. For example, they have to withstand changing temperatures, cold and condensation without wrinkling or even peeling off the beer bottle. The latter, however, should then be easy to clean when cleaning returnable bottles without leaving any residue. There are two main things we do that keep beer labels looking fine even after two months in the fridge. The first is using a protective varnish on all of our labels (suitable for printing your BBE dates etc.) and secondly offering a range of materials that are designed to withstand such conditions.
Tools and Services
Questions?
We're




here to

help!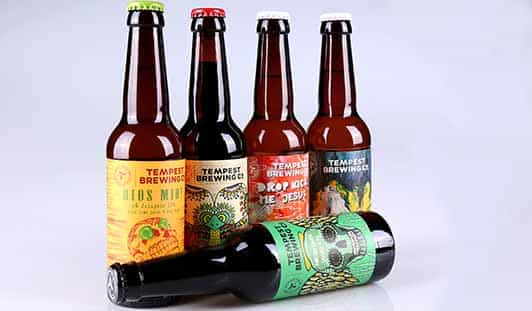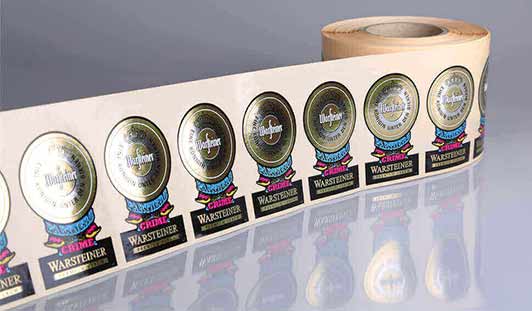 What Are the Advantages of Labels on Rolls
At label.co.uk you basically have the choice between adhesive roll labels and wet glue labels. Roll labels can be applied to the beer bottles more cleanly by machine than wet glue labels. This is because wet-glue labels require an additional work step before they are applied to the bottle, in which glue is applied to the label. This is not necessary with adhesive roll labels, as they are already provided with an adhesive.
Can Labels for Your Beer
Beer is increasingly being filled and sold in cans. At label.co.uk, you can also get the right can labels for this type of packaging. In order to appeal to customers at first glance and convince them of the product, these labels for beer cans are often designed in a particularly eye-catching ways: bright, flashy colours, an eye-catching design and logo or a particularly shimmering metallic paper. Give free reign to your creativity and design your label completely individually.
Craft Beer
Small home breweries with direct tap service brew beer varieties that often stand out from the mass market in terms of taste, offer special flavours and therefore also appeal to an individual and thoroughly discerning audience. Craft beer labels often also stand out from other, classic beer labels with a particularly smart and unusual design.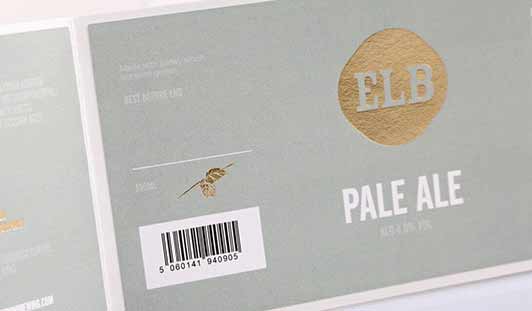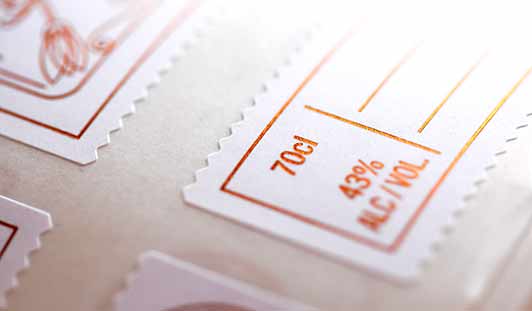 Which Shapes are Possible
Our Materials
Ordering Process
What's the Next Step
You Might also Be Interested in: