Hello Brands & Businesses!
Custom Labels on Rolls for Organisations of All Shapes & Sizes
What is Hot Foil Stamping?
Hot foil stamping is a premium process that can be used on printed labels on rolls in order to add a luxury feel to a label. Hot foil stamping is commonly seen paired with premium materials and used on luxury food, beverage and cosmetic products.
These are two of our favourite processes, because they have such potential to improve the perceived quality – and value – of a product at relatively little cost. It also does our artist's hearts proud to produce something really attractive.
Before we begin, we should point out that hot foil stamping is NOT the same process as embossing. They are often used at the same time, and the results are lovely, but there are 2 different processes at work, and either can be used on its own.
So, let's get right to it, and explore each of these processes in turn.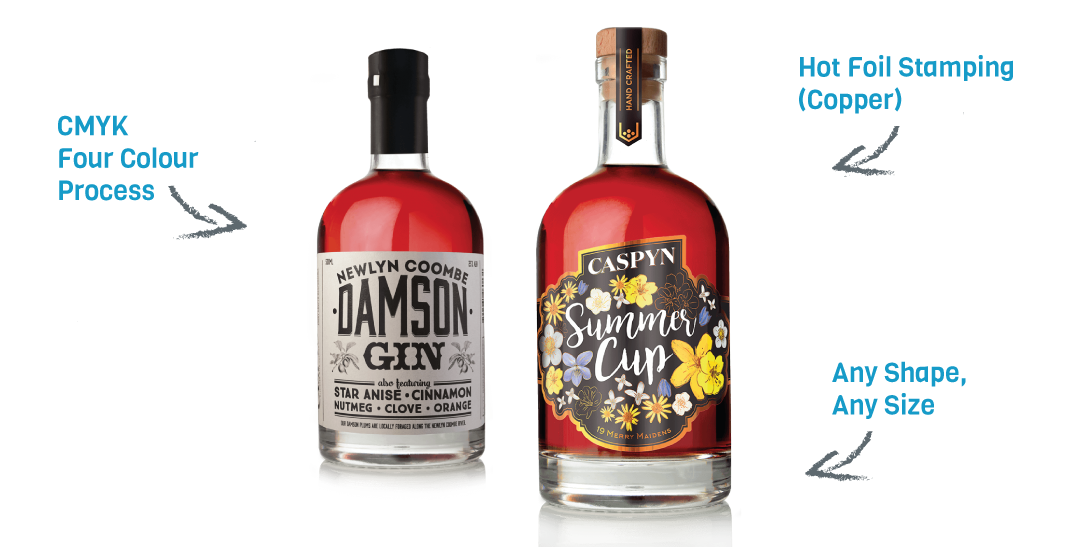 Hot Foil Stamping aka Foil Blocking
Hot foil stamping uses a specially cut metal die, heat and pressure to affix a thin film of foil in a specific pattern or as text to the label. Typically the foils is gold or silver, but nearly any colour is available, metallic or non-metallic.
The process, originally called 'foil blocking' is actually centuries old, but the development of extremely thin foil laid out on polyester rolls in the 1930s led to the modern, less expensive and less labour-intensive version of the process used today.
Metallic Foils – These are the most 'traditional' kinds of foil blocking, and are still some of the most popular. Any metallic colours you see on a product label are probably hot stamped metallic foils, as they simply give a better lustre and shine than lithography, or any other method of laying down metallic colours.
Pigmented (Non-Metallic) Foils – These are opaque or semi-opaque foils in 'chromatic', non-metallic colours. Black and white foils are very popular, often used to provide a dramatic contrast against the rest of the label. Though they don't have the same visual flair as metallic foils, pigmented foils still convey added quality.
Hot Foil Stamping - A Few Tips on How To Do It Well
• It is an inkless process, and the foil is not affected at all by the label's base colour. This makes it especially eye-catching against a dark or even black label.
• Many different finishes can be achieved with hot foil stamping. The traditional metallic options are joined by gloss, matte, pearlescent, marbled and even 3-D holographic foils.
• Multi-colour foil printing requires multiple runs through the press with a different set of dies, and therefore can be more expensive.
Hot Foil FAQs
We recommend the minimum line thickness for any hot foil element should be 0.2mm. It's always worth sending a copy of your proposed artwork file to the Customer Service team for a definitive answer; info@label.co.uk
Tools & Resources
Questions?
We're




here to

help!

Custom Labels Summary:
Any Shape, Any Size Labels
Industry & Machine Ready
Custom Roll Sizes
label.co.uk Summary:
Trusted Label Manufacturer
Free UK & EU Delivery
5-7 Working Day Turnaround