To ensure that your order runs as smoothly as possible, we ask you to use the following information as a guide. You can create professional print data that meet our requirements using graphics programmes such as Adobe Illustrator, InDesign or ArtPro.
Are you unsure whether your data has been created correctly? Not a problem! We will take care of your files! With our artwork service you can choose between different service options that include varying scopes of corrections. What do you need to do? Select the package and upload the print data. We'll take care of the rest! Our graphics team will check and correct your print data. You will receive a report on the errors, and the corrections made.  Head to the artwork services now.
The Most Important Things
File format: PDF
Fonts converted to paths
Minimum resolution: 250 dpi
Standard resolution for images: 300 dpi
Standard resolution for line graphics: 1,200 dpi
Bleed: 2.5 mm all around
Safety margin inside: 2 mm
Colour space: CMYK
Programs for Data Creation
We recommend the Adobe programmes InDesign and Illustrator for professional data creation.
Creating Print Data with Adobe Programmes
In the print output PDF/X-1a: select 2003 (or high-quality print), bleed 2.5 mm (around the entire format). From the created cutting line to the first element to be printed, 2 mm space is required all around for printing reasons. Other information such as registration marks, crop marks, control strips etc. are not required. All layers must be included in the final print file. This means that all "special layers" such as hot foil, HPI-white or cutting lines are included in the printable PDF. They must not be sent separately.
Size of the artwork file: In the file, an artboard must be created in the exact final size of the label. Always make sure that the label is centred on the artboard.
The size to be ordered is the final size of the label.
The bleed must be set to 2.5 mm. In Adobe Illustrator, this can be set in 'Document settings'.
Add a cutting line in the size and shape of the label, set the line in a spot colour with swatch name cutter and set the line to overprint.
For each label design all design elements must be included on one artboard. Special elements such as cutting line, hot foil, embossing and/or opaque white must also be placed on the same artboard, preferably as different layers. Please do not submit these layers as separate files or on different artboards.
Do you have different designs of the same size? Then these can be combined in one PDF file, provided that each design is placed on its own artboard.
Do not include information such as Trim Marks, Registration Marks and Colour Bars in the PDF file.
Artboard
The artboard defines the print area and must be created in the final format. In addition, 2.5 mm bleed must be set all around in the document settings. In order to save the bleed in the PDF, check the box "Use bleed settings of the document" in "Marks and bleed".
Cutting Line
The cutting line (0.2 mm line width) must be created as a stroke and given an extra spot colour with the name cutter. The cutting line needs to be set to overprint. Cutting can only be done around the label, cutting out is not possible.
Please note: Rectangular labels are cut out with a corner radius of 0.5 mm as a standard.
Any (rectangular) cutting line with corners above 0.5 mm is considered to be a 'custom shape' and will have to be ordered as such.
Hot Foil Stamping
The embossing area must be created as an extra spot colour with the name foil. All hot foil areas must be set to overprint and should have a line thickness of at least 0.2 mm. Recesses within the hot foil elements as well as spaces in between must also have a line thickness of at least 0.4 mm. Hot foil stamping is only possible over a wide area, gradation is not possible!
In our tutorial we explain step by step how you can easily apply hot foil.
Special (Pantone®) Colours
Please set special colours as spot colours in the print data, otherwise we cannot take them into consideration. Only the Pantone references of Coated (Pantone® C) and Uncoated (Pantone® U) will be accepted. Please also note that the special colour reference requires the original Pantone code otherwise the file will be rejected. By default, all orders on label.co.uk are printed in the four-colour process (CMYK). By specifying Pantone colours, these will be simulated as closely as possible. On request, we can use OVG orange, purple and green inks to reproduce the original shade as closely as possible. Please note that there is usually no 1:1 match and that not all colours can be simulated in digital printing (e.g. metallic tones or neon colours).
Printing with the original colour is also possible, but involves additional costs. We will be happy to verify your request in terms of quantity and colour and provide you with a corresponding offer.
HPI White/Opaque White
The printing of HPI-white (opaque white) under coloured printing serves to prevent the four-colour printing from shining through. It is applied, for example, on transparent foil, silver-coloured glossy paper and grass paper.
The colour HPI-white must be created as an extra spot colour with the name HPI-White and set to overprint. Assign the HPI-white spot colour in a colour (not white) so that it is quite distinct where the HPI-white is applied.
Do set the HPI-white to overprint if it is used as an underlayer for colour printing.
Do not set the HPI-white to overprint when printing white text or elements.
Place all the HPI-white elements in one layer and place this layer above the layers with the design.
Black
The colour black must be created as 100% black (k) and should neither be overprinted nor glossed with cyan or any other colour other then K. For a particularly dark black, we also recommend to order 'double black (double-hit)' print. Our customer service team can activate this function in your account.
Printing in Silver
The colour silver must be created as a spot colour with the name Silver. If you want to use the silver to simulate various metallic colours, then the spot colour Silver must also be set to overprint.
Conversion from RGB to CMYK
If you supply us with RGB data, we will convert it into the CMYK colour space without consultation. However, this conversion may result in colour shifts for which we cannot accept any liability.
Ordering without a Data Check
Under certain circumstances it is up to our graphic designers / media designers to enlarge or reduce your transmitted data by up to 2 mm. This is done to avoid white flash or bleed of content.
You Might also Be Interested in: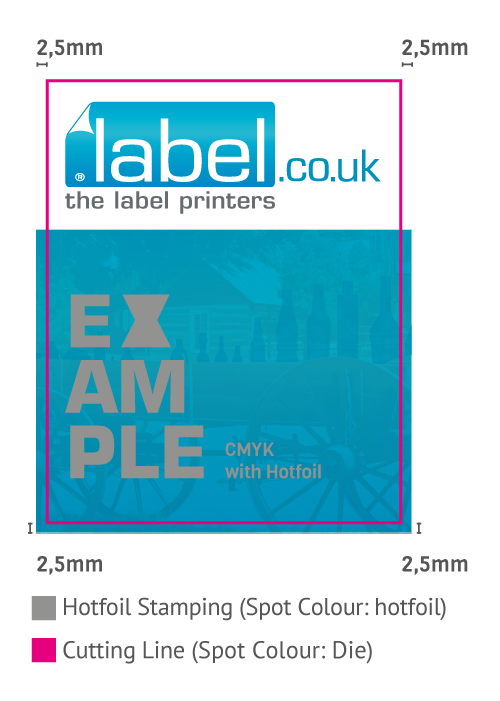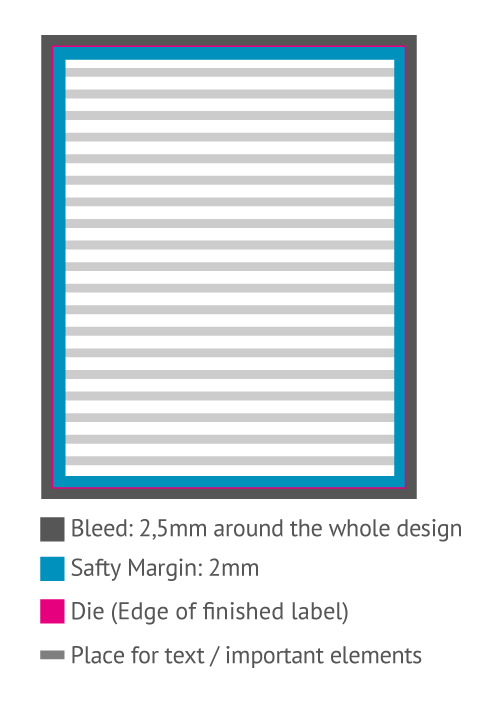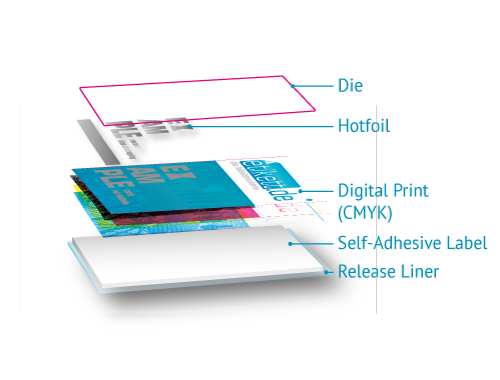 We recommend a font size of at least 7 pt and a high contrast to the background. Fonts in grey or white and fonts that are too small can look blurred.
Our tip: Print out your design at home to test it. This way you can see whether all fonts, barcodes and other elements are legible.