In order to ensure that your order runs as smoothly as possible, we ask you to use the following information as a guide. You can create professional print data that meet our requirements using graphics programmes such as Adobe Illustrator, InDesign or ArtPro.
Are you unsure whether your data has been created correctly? Not a problem! We will take care of your files! In our print data workshop you have the option of choosing our Smart (from £30 plus VAT) or Pro (from £65 plus VAT) correction packages, depending on the scope.  What do you need to do? Select the package and upload the print data. We'll take care of the rest!  Our graphics team will check and correct your print data. You will receive a report on the errors and the corrections made.  Head to the print data workshop now.
The Most Important Things
File format: PDF
Fonts converted to paths
Minimum resolution: 250 dpi
Standard resolution for images: 300 dpi
Standard resolution for line graphics: 1,200 dpi
Bleed: 2.5 mm all around
Safety margin inside: 2 mm
Colour space: CMYK
Programs for Data Creation
We recommend the Adobe programmes InDesign and Illustrator for professional data creation.
Creating print data with Adobe programs
In the print output PDF/X-1a: select 2003 (or high-quality print), bleed 2.5 mm (around the entire format). From the created punch to the first element to be printed, 2 mm space is required all around for printing reasons. Other information such as registration marks, crop marks, control strips etc. are not required. All layers must be included in the final print file. This means that all "special layers" such as hot foil, opaque white or punching contours are included in the printable PDF. They must not be sent separately.
Cutting Line
The cutting line (0.2 mm line width) must be created as an extra spot color with the name cutter in the PDF and set to overprint. Cutting can only be done around the label, cutting out is not possible. Please note: Corner labels are cut out with a corner radius of 0.5 mm as standard. Anything above this must be created by the customer as a separate shape with its own die-cutting contour.
Hot Foil Stamping
The embossing area must be created as an extra colour channel with the name foil. All embossing areas must be overprinted and should have a line thickness of at least 0.2 mm. Recesses within the hot foil stamping as well as spaces in between must also have a line thickness of at least 0.4 mm. Hot foil stamping is only possible over a wide area, gradation is not possible!
In our tutorial we explain step by step how you can easily apply the hot foil.
Special Colours
Special colours can only be processed by us if they are stored as an extra colour channel in the file. The original Pantone designation is mandatory for the designation of the special colour. We only accept original Pantone Pantone® C and Pantone® U colours. Please specify this in the print file as a spot colour with the official Pantone colour name. Metallic colours cannot be printed and must be converted to CMYK.
The colours on your labels from the Pantone® colour space are built up from up to seven special colours, which are simulated using special inks in digital offset printing.  Of course we can also produce in true colour on request, contact us!
Opaque White/HPI White
The colour opaque white must be created as an extra colour channel with the name HPI-White and set to overprint. Colours in CMYK are not opaque on transparent foil and glossy silver paper. In this case, the material shines through. To counteract this, the solid colour HPI-White must also be applied over the entire surface and set to overprint.
Conversion from RGB to CMYK data
If you supply us with RGB data, we will convert it into the CMYK colour space without consultation. However, this conversion may result in colour shifts for which we cannot accept any liability.
Order without Data Check
Under certain circumstances it is up to our graphic designers / media designers to enlarge or reduce your transmitted data by up to 2 mm. This is done to avoid white flash or bleed of content.
Silver Printing
The colour silver must be created as a spot colour with the name Silver. If you want to simulate various metallic colours with the silver, the solid colour Silver must also be set to overprint.
Black
The colour black must be created as 100% black (k) and should neither be overprinted nor glossed with cyan. For a particularly dark black, we also recommend printing double black (double-hit).
Final Format
The print data must be created in final format plus 2.5 mm bleed all around. The bleed does not have to be specified during the order process, it will be automatically calculated later.
Drawing Area
The drawing area defines the print area and must be created in the final format. In addition, 2.5 mm bleed must be set all around in the document settings. In order to save the bleed in the PDF, check the box "Use bleed settings of the document" in "Marks and bleed".
You might also be interested in:
Questions?
We're




here to

help!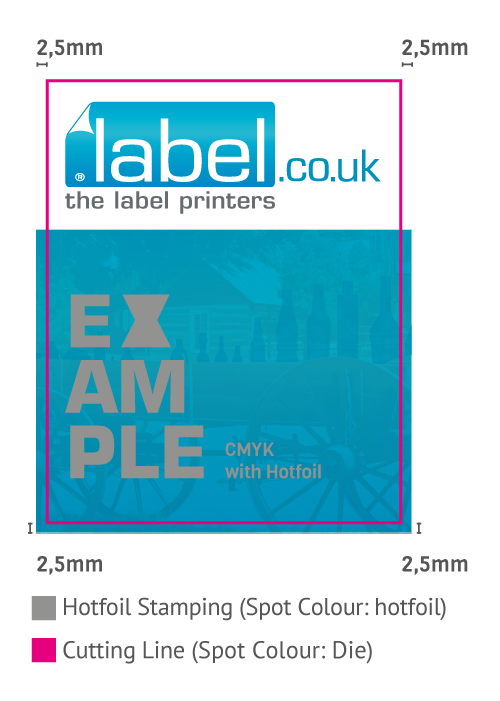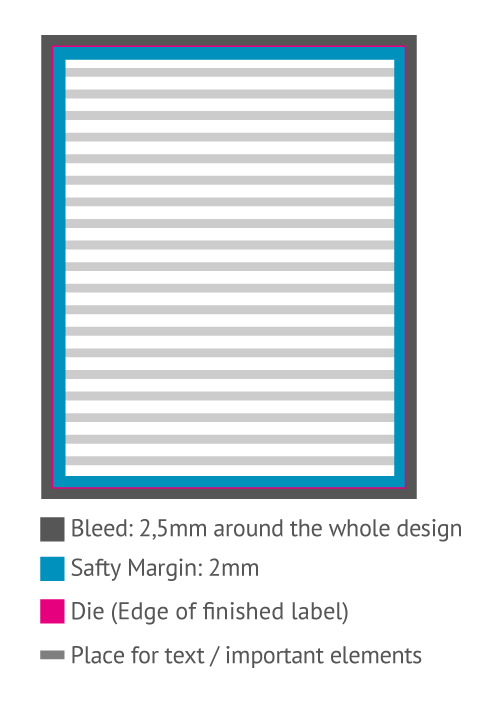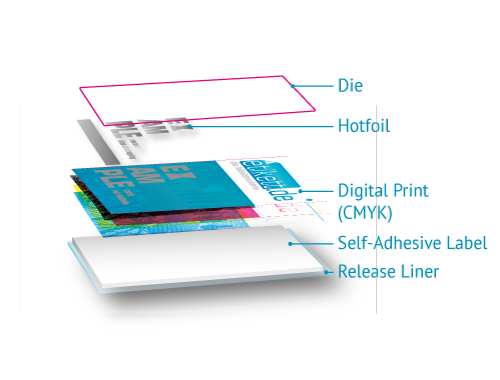 We recommend a font size of at least 7 pt and a high contrast to the background. Fonts in grey or white and fonts that are too small can look blurred.
Our tip: Print out your design at home to test it. This way you can see whether all fonts and elements are legible.