Advantages
longevity
flexibly applicable
low printing costs
easy handling
consistent printing quality
pre-printing professional labels
print barcodes, date of filling & BBE subsequently
Disadvantages
only single-colour printing
single-coloured, gridded printing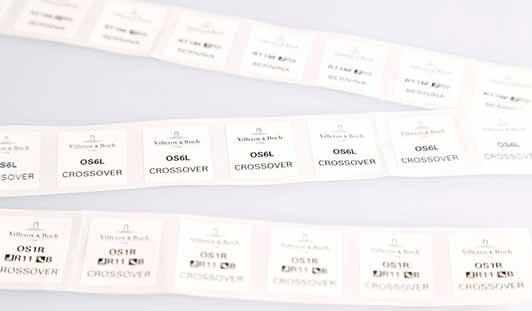 Who Uses Thermal Transfer Labels?
At label.co.uk, our core business is centred around producing custom printed product labels that are ready for application. Manufacturers and distributers are also able to take our custom self adhesive labels and run them through thermal transfer printers. Thus, they can add additional data such as BBE dates, sell by dates, batch numbers and even lines of text that identify individual SKUs (Stock keeping units).
How does Thermal Transfer Printing Work?
The process of thermal transfer printing is whereby heat transfers the colour pigment of a thermal transfer ribbon onto the label substrate; generally in the form of a roll label. This print method is ideal for printing barcodes, bottling data or best before dates. For thermal transfer printing you need a special thermal transfer printing machine with a high-quality thermal transfer ribbon. The printing technology only allows for one colour to be printed at a time – the colour of the ribbon used.
Thermal transfer printing is of a much higher quality and lasts longer than direct thermal printing (read on to find out more about direct thermal printing.) Before you choose to print labels via thermal transfer, we recommend you perform testing. There are many factors that influence the print result. For example, the font should not be too small, the label material must be suitable for the process and the temperature must be right in order to achieve a high-quality printing image. If the temperature is too low, the transfer will not be successful. However, excessive heat also leads to a poor print registration.
Uses for Thermal Transfer Labels
Thermal transfer labels can be found in many industries and application fields, whether on bottles, jars, glasses or as classic address labels. You can use thermal transfer labels to label up food products, equipment or other products. In order to apply the appropriate EAN code, the best-before date, or the filling data to your labels, we recommend producing high-quality roll labels as pre-printed "master labels" from a professional label printer. Then time and product sensitive data can be overprinted with the thermal transfer printer. The choice of paper or film depends strongly on the final use of the labels and your quality requirements. You can choose from polyethylene film, polypropylene film and various papers.
Differences to Direct Thermal Printing
For direct thermal printing, a special paper with colour pigments is employed. A specific printer/technology must also be used. A print-head inside the printer moves over the paper and heats it to create an image. Due to a chemical reaction that takes place at the heated areas the aforementioned, special paper turns black. In contrast to thermal transfer printing, direct thermal printing can only be used for monochrome black printing. In addition, the print result is very sensitive to UV radiation and fades quickly.
Can I Use Labels from label.co.uk in My Thermal Transfer Printer?
Not all of our standard materials and finishes can be used within the thermal transfer printing process. Some of the materials we stock are heat-resistant. However, this only applies to thermal transfer printing, not to direct thermal printing, for which there is only one specific material. normally cannot use a protective varnish as it starts to burn and smell under the heat. To ensure that thermal transfer labels you have the option of specifying the required roll core diameter (76 mm, 40 mm, 25 mm), the maximum roll diameter as well as the number of labels per roll and the winding direction during the ordering process. If you have any questions, please do not hesitate to contact our customer service.
You can reach us Monday to Friday by telephone on 0203 588 1080 or by e-mail at info@label.co.uk. We will be happy to advise you!
You Might also Be Interested in: