Your Advantages with label.co.uk
ideal for machine processing
free sample book
free in form & design
convenient online ordering
high quality digital printing
front and back label available in one order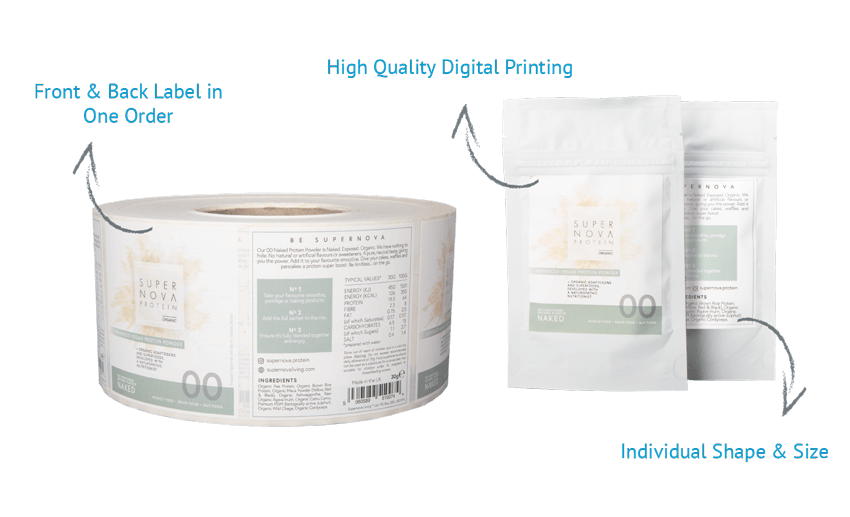 What are Alternating Labels?
Alternating means that front and back labels are printed alternately or consecutively on the roll in one job. This method is particularly suitable if your products are processed mechanically, that is if front and back labels are applied simultaneously in one pass.
What is the Process?
#1  Create Print File – To print your labels alternately, you must create the front and back labels on a common drawing area. The best way to do this is to use a design program such as Adobe Illustrator.
#2  Define width and height – Add the two widths of the front and back label  This gives you the final width of the entire document. You must also include an intermediate cut, which varies from customer to customer.  The height of the document is determined by the highest height of the front and back label.
Example
Your front label is 90 mm wide and your back label is 80 mm wide.
Calculation of the width: 90 mm+80 mm+5 mm (intermediate cut) = 175 mm
Your front label is 100 mm high, your back label 90 mm high. The height of the document should therefore be 100 mm (highest height).
#3  Label Alignment – The orientation of labels side by side depends on how they will be applied to the product in the subsequent finishing process.
#4  Sample File – For better understanding you can download our PDF sample file. This file shows how front and back labels are created and aligned on a drawing area.
Please note: Since alternating labels are created in one print file, they are considered one label design. For example, if you enter 1,000 pieces in terms of quantity in our online calculator you will receive 1,000 front and 1,000 back labels, as created in the print file.
Example of a Printing File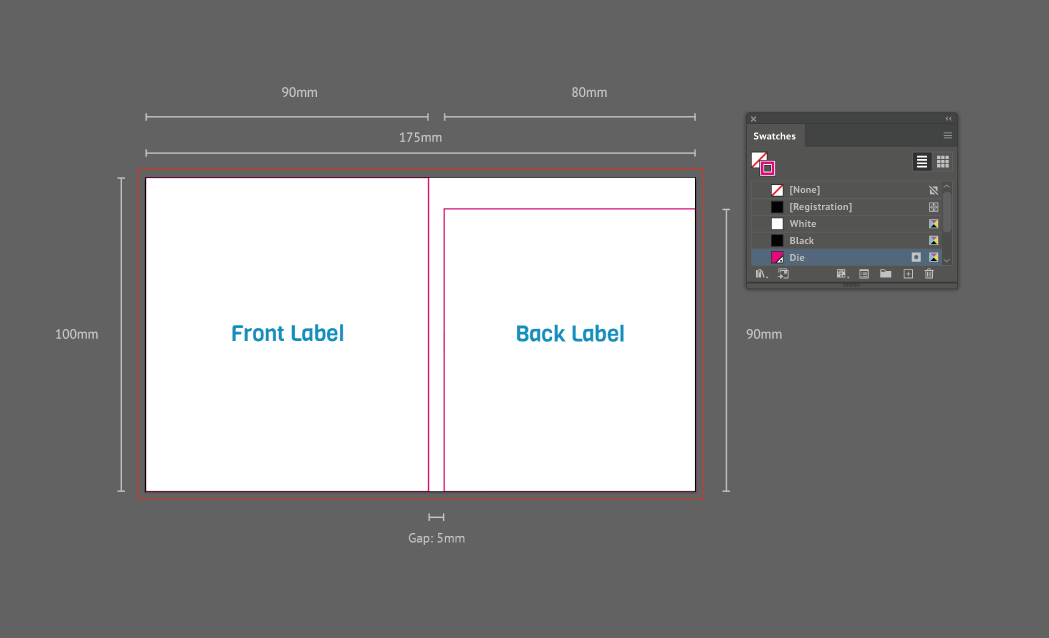 Creating Correct Printing Data
Correct print data is the be-all and end-all when printing labels. To ensure that nothing goes wrong when creating your print data, our artwork centre will help you.
There you will find, for example, our artwork correction services, where we check and professionally adjust your print data. The design service offers you the possibility to have a professional label designed by one of our graphic designers. With the artwork assistant you can create a correct PDF template for your print file and in our tutorials we explain, among other things, how to apply hot foil correctly. You can find a leaflet with all the important information on the correct creation of print data under the tab print data delivery.
If you still have questions about print data, you can of course contact our customer service at any time.
Sophisticated and Colour-Intensive Finishes
Calculate and Order Online
We Are Happy to Help You
We will be happy to assist you in creating the correct printing data or navigating the ordering process. You can call our customer service form Monday to Friday between 9.00 a.m. and 5.00 p.m. at 0203 588 1080 or write an email to info@label.co.uk.
Tools and Services
Label artwork always has been and always will be a key part of the label printing process. For businesses who do not have resources to ensure their artwork is print-ready, we have a range of artwork services 
Our design service is a unique opportunity for you to create a stunning look for your label. The talented designers at label.co.uk are happy to help you implement your ideas!
In order to review and test our materials & print quality most comprehensively, we recommend requesting a complimentary sample book or viewing the list of our standard labels online.
Questions?
We're




here to

help!