Your Advantages with label.co.uk
all shapes and sizes
numerous finishes
fast turnaround
multi-variety print runs
order alternating labels
free delivery in EU & UK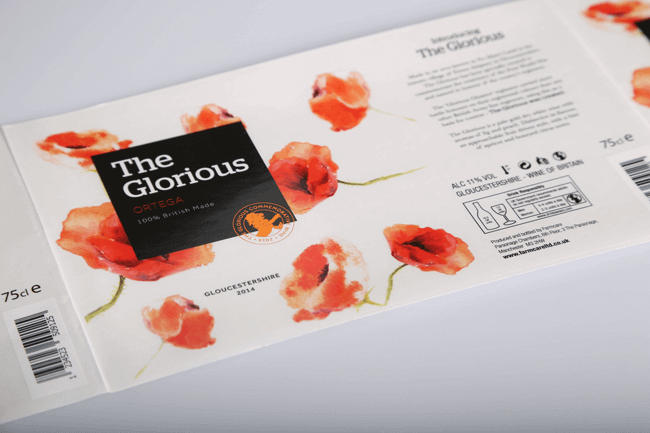 Labels for Wine in Bottles – Correct Labelling is Regulated by Law
Months of work go into every bottle of wine. And this hard work deserves a great label. Apart from the design, however, it must also be taken into account that in the United Kingdom the labelling of wine containers is strictly regulated. The mandatory elements of declaration on your wine bottle label can differ immensely depending on which kind of wine you are producing and selling.
There are distinct differences between labelling still wines and sparkling wines. Please make sure to include all the necessary information on your label and comply with all the requirements.
Starting in 2024 a set of new reforms to the UK's wine sector will be implemented. Changes will include removing rules on bottle shapes, giving producers the freedom to use different shapes. This gives you the creative freedom to explore all kinds of label shapes on your wine bottles. Further, the requirement for imported wines to have an importer's address on the label will be abolished. The Food Business Operator (FBO) responsible for ensuring all legal requirements are met will still need to be identified on the label, as is the standard requirement for food. The reforms include many other changes, but those are the most important in relation to labelling your wine.
Mandatory Information on Your Label Includes:
Provenance expression – for instance, country of origin
Relevant expression for wines with Protected Designation of Origin or Protected Geographical Indication (unless an approved Traditional Expression is used)
Type of wine – e.g. sparkling wine
Bottler's details for still wine and the vendor's or producer's details for sparkling varieties
Importer details for third country wine
Allergens warning statement if sulphur dioxide content exceeds 10mg per litre or egg residues exceed 0.25mg per litre
You can find all further information on the correct labelling of wine on the food standards agency's website.
Front Label, Back Label, Main Label…
Many quality wines usually carry three labels: the presentation label on the front, a back label on the back and a neck band. However, it is not compulsory to put these three labels on your bottle of wine. You can also put all the data and information on one label. In addition, there is the term main label. The main label must contain the information required by law and must be easy to read. If this information is on the back label, this is legally the main label.
Which Type of Label is it Going to be?
There are generally two main types of labels: wet glue and self-adhesive. The latter have the advantage that they can be used immediately and applied to the wine bottle without any additional work step thanks to their adhesive layer on the back. Our self-adhesive roll labels can be processed excellently both by machine and manually. If you wish, you can also order self-adhesive labels that can be removed again.
You have a choice of different paper types for your wine labels – from standard goods to special papers with metallic effects. Our standard range also includes films made of polyethylene (PE film) or polypropylene (PP film).
Our Materials
At label.co.uk we offer you a large variety of materials to print wine your labels on. It is important to us to meet our customers needs. That's why we have textured papers, films and different sustainable materials for you in stock. If you want to have your labels produced on a very specific material that you cannot find in our calculator or in our material guide, you can contact us. On request we can order certain materials for you.
Finishing Touches
Because stickers and labels are our specialty we can give your adhesive labels on rolls a luxurious finishing touch. Just choose between our array of different refinements. Whether it's hot foil stamping or a protective varnish: at label.co.uk you can make your labels both robust and elegant at the same time.
Mechanical Processing
If you want to process your adhesive roll labels by machine, it is important that you know which winding direction you need for your machines.
To ensure that nothing stands in the way of the successful labelling of your wine bottles, it is important to choose the right winding direction. In principle, we distinguish between two primary winding directions:
internal winding
outer winding
The printed side is therefore on the inside or outside.
It is also important to distinguish between the possible position of the wine labels on the roll:
bottom edge leading
top edge
left edge leading
right edge leading
Personalised Labels
Customers today want to be addressed as individually and personally as possible. Our personalised labels give you the opportunity to make your wine labels as individual as you wish. Whether different names, QR codes or barcodes – with label.co.uk there are no limits to your creativity.
Protective Varnish
A protective varnish in matt or glossy protects your label from abrasion and makes it water-repellent. In addition, it gives the label a noble look and is basically suitable for all materials.
Tools and Services
In order to review and test our materials & print quality most comprehensively, we recommend requesting a complimentary sample book or viewing the list of our standard labels online.
If you have questions about the technical aspects of creating correct printing files, take a look at our tutorials. We have composed a collection of videos, texts and images that explain in detail how to create printing data. 
If you wish to see a press-proof before placing a full custom label order you can book our proofing services.
Questions?
We're




here to

help!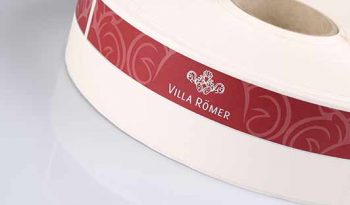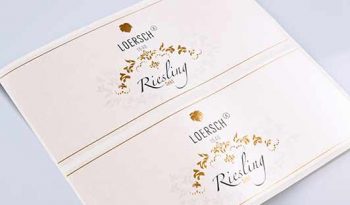 Design Service
Fine wines and sparkling wines require high-quality packaging to give the buyer a positive first impression of the contents. In addition to the appropriate bottle design, this includes first and foremost an individual label in order to stand out from the products of other competitors and to present one's own corporate design to the consumer. Whether white wine, red wine, rosé or sparkling wine in organic or conventional form – especially for winegrowers, wine shops, and wineries labels are indispensable not only for aesthetic but also legal reasons. Use professional and appealing labels to increase your sales and the recognition value of your products!
You still have no idea what your wine label should look like? That's no problem either! With our design service, you can have labels designed entirely according to your wishes and requirements by our graphic designers. Find out more now: Design service.
Do You Have Any Questions?
Do you still have questions about our materials, finishes or the ordering and printing process? Then simply contact us. We will be happy to clarify any questions and advise you on all aspects of your new wine labels.
As a specialist for label printing, we know what is important for wine labels and are able to implement your ideas. We are convinced that you, as a winegrower, should devote your time to the vines and grapes from which you press your fine wines. And we make sure that you get the wine labels you want.
You Might also Be Interested in: