Hello Brands & Businesses!
Kombucha Labels on Rolls for Organisations of All Shapes & Sizes
White Ink Available
Any Shape, Any Size Labels
High-Quality Print
Premium Finishing
Fast Turnaround
Free UK & EU Delivery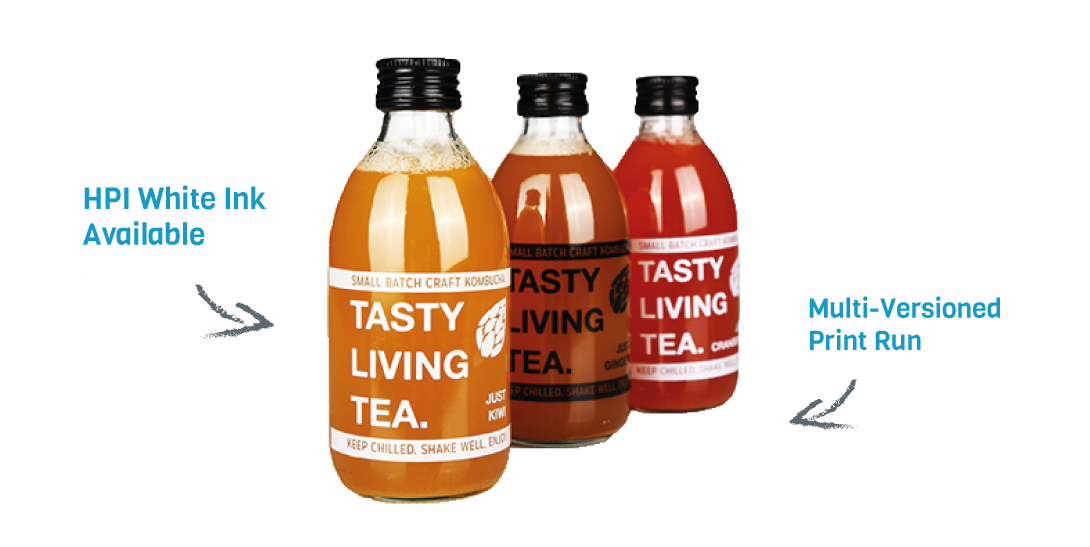 Superfoods & Super Label Printing: The Kombucha Trend
When it comes to the latest food trends, there is no way around Kombucha. Kom- what? Kombucha.  This is a fermented tea drink that consists essentially of tea, sugar and microorganisms. Kombucha is currently conquering the European market. Of course, this raises the question of how to address health-conscious consumers correctly by designing packaging and labels.
What is Kombucha?
According to myths and legends, Kombucha originated in ancient China over 2000 years ago. However, nobody knows exactly when and where the drink was created. However, cultures have always swear by the drink, because it is considered a true miracle cure and is supposed to give immortality and health.
Today Kombucha joins the ranks of trendy drinks, power drinks and superfoods. Kombucha is particularly popular with health-conscious consumers who want to do something good for their bodies and pay attention to their health and well-being. The vitamins and vital substances contained in Kombucha are said to have a positive effect on the function of the intestines, liver, brain and metabolism.
A Niche Product Becomes Mainstream
In the USA, Kombucha has long since become an integral part of every supermarket. In 2017, the beverage generated 556 million US dollars in sales and the market continues to grow steadily. In Europe, too, the potential of the tea drink is gradually being recognized: a steady upward trend is expected and the niche product from small breweries is slowly but surely becoming mainstream.
Kombucha tastes slightly sweet-sour and contains a little carbon dioxide, which causes a slight tingling sensation when drunk. Depending on the manufacturer, a very low alcohol content is also contained in the product. A new trend forecast by experts is also based on this alcohol content. They predict that in the near future Kombucha beverages with a higher alcohol content will also be found in supermarkets, so-called Hard Kombucha. In the USA, the first of these products are already on the market, such as KYLA Hard Kombucha with 4.5% alcohol content or Kombrewcha with 3.2% alcohol content, which is supposed to remind the taste of cider. The first bars are also experimenting with Kombucha cocktails.
Label design of Kombucha products
As a label manufacturer, we are naturally particularly interested in the topics of packaging and label design in this Kombucha trend.  Kombucha is a healthy trend product.  So the labels must not only be informative, but also appealing. Extraordinary, high-quality and sustainable materials, such as cotton or grass paper, and additional finishes help the product to immediately catch the customer's eye.
Clean Labelling and No Label Look
Since the beverage is intended primarily for a health-conscious target group, the packaging and label must of course be designed accordingly. This is where so-called clean labelling comes in. This is advertising that makes it clear which ingredients the product does not contain. For example, formulations such as "no preservatives", "no artificial ingredients" or "no colorants".  The aim is to make it clear to health-conscious customers that only natural and functional ingredients are contained in the product. At the same time, further information on the product should be provided and front and back labels should be designed in such a way that they fit together well and support each other. This creates transparency and consequently trust, which in turn increases the chance that the product will end up in the customer's shopping cart.
Another way to make the product appealing is the so-called No Label Look. Labels in the No Label Look are designed in such a way that the customer can look directly into the product. A transparent film is printed with some design elements, whereby the majority remains free and thus transparent. This creates the transparent look and the impression that the design is printed directly on the container.
Whether for kombucha, kimchi or coconut water – the packaging of trend products all have one thing in common: they should convey the character of the product to the outside world, convince the customer of the "inner values" and make it clear to him that the product is just right for him. And label.co.uk helps you to find the perfect, high-quality label for your Kombucha product.
Good to Know:
Label artwork always has been and always will be a key part of the label printing process. For business who do not have resources to ensure their artwork is print-ready, we have a range of Artwork Services available.
There are many reasons as to why your business may need to see a press-proof before placing a full custom label order. We've developed a range of cost-effective proofing services.
Standard lead times are 5-7 working days. However, we understand that from time to time businesses require their custom roll labels faster. Our Express Production ensures production within 24-48hrs.
Questions?
We're




here to

help!