Your Advantages with label.co.uk
calculate & order online
sustainable & environmentally friendly
processing without chemicals
food safe
free from allergens
recyclable/compostable*
48-hour express production
free shipping within the UK and EU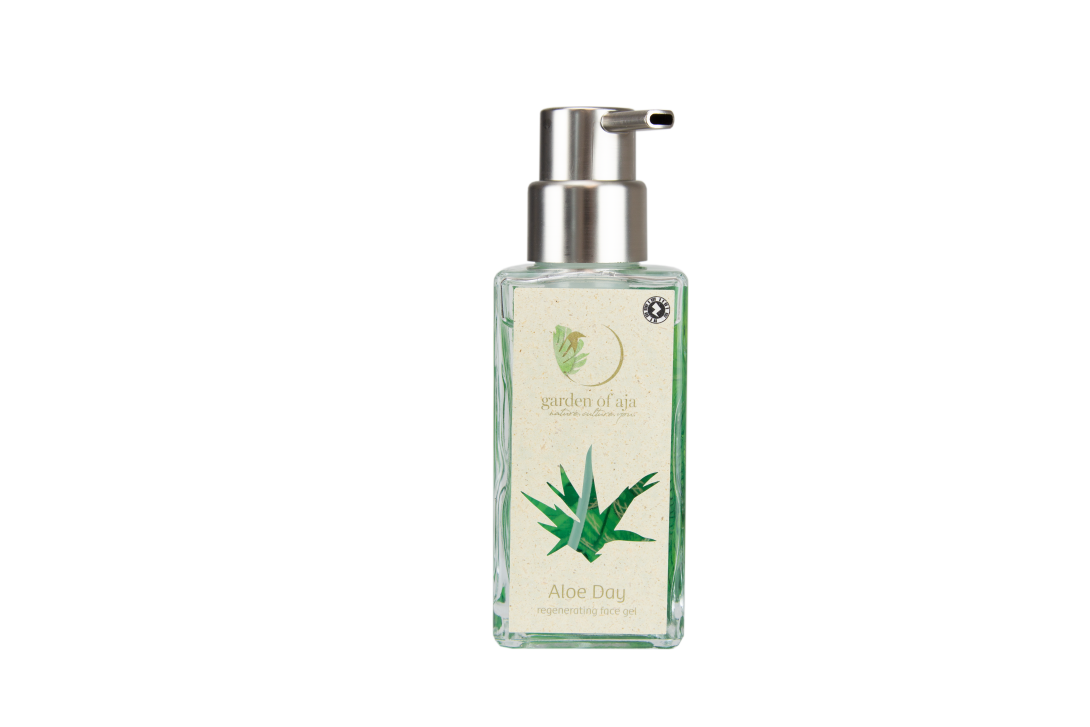 What is Grass Paper?
Sustainability and environmental aspects are playing an increasingly important role in consumers' purchasing decisions.  Economical use of resources is particularly important. According to a study, 70% of customers attach importance to the sustainability of products or companies.  Now this desire for sustainability and protection of the environment can also be implemented in the label industry:
The new grass paper consists of 30% sun-dried grass fibre (hay) and 70% FSC-certified paper. The label is FSC-mix certified.  Grass paper is made from the rapidly renewable raw material grass, thus reducing the consumption of wood and making it particularly sustainable.  Grass paper also offers further advantages in production compared to conventional paper: Short transport distances and native meadows near the paper mills reduce CO2 emissions by up to 50%.  Water consumption is also reduced by up to 50%.  The processing of grass paper works purely mechanically and without chemicals.  At the same time the material can be used and processed like conventional paper.
How is Grass Paper Produced?
The basic principle of grass paper is that harvested grass is first dried and thus becomes hay.  It is then ground and pressed into pellets.  The pellets are then dissolved in water in the factory.  Now the material can be further processed – depending on its later use and application – e.g. into packaging, cartons, gift wrap or even labels.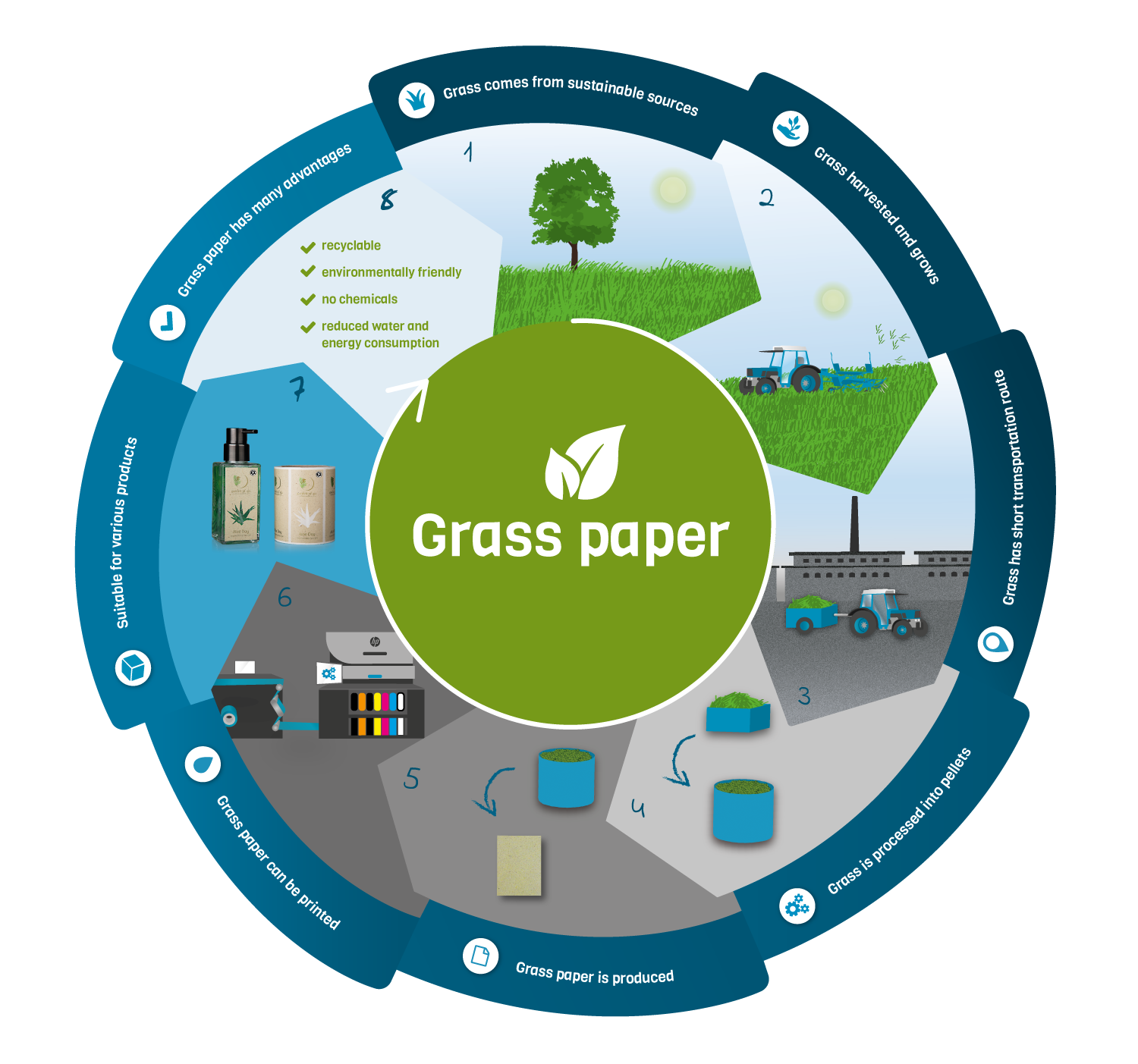 Innovative, Sustainable and Food Safe
What is particularly interesting is that grass paper is free of pollutants and allergens.  This means that it is suitable for direct contact with food and can be stuck directly onto fruit, vegetables or other foods. It is therefore particularly apt for products in the food, cosmetics or spirits industries.  Grass paper is ideal for companies that place value on sustainable and recyclable materials and want to set an example of responsible use of our resources.  As a natural raw material, grass paper is available almost everywhere and grows back several times a year.  It is therefore the ideal raw material for labels.
Please note: As grass paper is a natural product, batches may vary slightly in colour and structure. Due to the structure of the material, fine lettering and elements may break off. If the print is applied over a large area, it is possible that outlines will be lost
Design & Refinement
Not only the production of grass paper is special. The look and feel also give this material a unique touch: relatively raw and coarse structure, individual grass fibres are still visible, slightly yellowish material.  In principle, this material can also be individually enhanced with hot foils or protective lacquer.  However, the idea behind the development of grass paper is to develop an environmentally friendly and resource-saving material that will enable ecologically responsible action in the packaging and label industry. Additional refinement would contradict this basic idea.
However, there are no limits to your creativity when it comes to shape and size.  Whether round, square or in individual shapes – all shapes are possible with grass paper.  Since the material is naturally rather yellowish, we recommend the use of opaque white for a beautiful white.
Our Sustainable Materials
Our production is optimised as far as possible according to ecological aspects. In doing so, we print CO2-reduced thanks to our HP Indigo, obtain energy from regenerative sources and focus on paperless communication.
We offer our customers FSC®-certified papers and recyclable and recycled papers and films on request. Learn more about our sustainable labels.
Our Free Sample Book
We will be happy to send you a free sample book with pre-cut labels made of grass paper for you to view. This way you can see the material and our print quality for yourself. Would you like sample labels of other materials? Please contact our customer service and we will put together an individual sample book for you.
*The basic material grass paper can be described as compostable.   Although the finished label with adhesive layer does not meet the 90% compostable content required by DIN EN 13432 for the issue of a certificate, the proportion is about 81%. For more detailed information on the compostability of grass paper labels, please contact our customer service team.
Tools and Services
Our design service is a unique opportunity for you to create a stunning look for your label. The talented designers at label.co.uk are happy to help you implement your ideas!
If you have questions about the technical aspects of creating correct printing files, take a look at our tutorials. We have composed a collection of videos, texts and images that explain in detail how to create printing data. 
Are you worried about complicated customs procedures while buying outside the UK? With label.co.uk you don't have to! We take care of everything! Visit our customs regulations webpage to find all the most important information for you!
Questions?
We're




here to

help!