Hello Brands & Businesses!
High Volume Label Production with the
HP Indigo 8000 Digital Press
48 Hr Express Production
Any Shape, Any Size Labels
Easy Personalisation thanks to Digital Printing

Digital Printing Enables High Volume Print Runs in Top Quality
At label.co.uk your labels are produced in digital printing. The print file is transferred directly to the printing machine. Printing plates and long lead times are a thing of the past. Digital printing is particularly convincing due to short production times, brilliant colors, high resolution, simple personalization and print quality at offset level. This offers a multitude of advantages and possibilities for modern label production.
Large Runs in Outstanding Quality
One of these possibilities is the efficient production of different run sizes. The HP Indigo 8000 Digital Press is capable of printing high volume runs of around 3000 metres or more. With its two printing towers, the press produces twice as fast as the Indigo 6600 and 6800, enabling production in the shortest possible time and also serving express customers with large runs. At the same time, the flexibility of digital printing is of course maintained and fast job changes and personalisation are also possible with the HP Indigo 8000.
The HP Indigo 8000 Digital Press completes our portfolio and equips label.co.uk for the future. The new press will enable us to serve both short-run start-ups and large customers – cost-effectively and with excellent quality.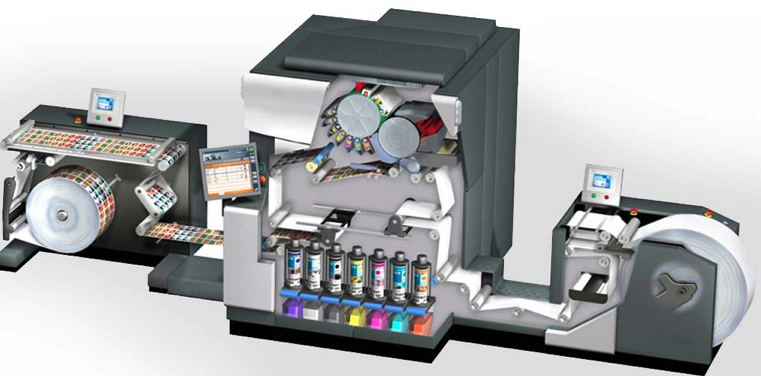 Simply Order Your High Volume Runs Online
At label.co.uk you can order your roll labels via our online calculator. Here you can enter your desired parameters and immediately find out the price of your labels. In the next step, you can either have the offer sent to you by e-mail or order your labels directly.
Good to Know:
In some companies it is common that several small orders are needed per day or week. With label.co.uk, you have a printing partner at your side who can also meet this demand for short runs: thanks to our automated label ordering system, we can also produce small runs cost-effectively and with high quality.
Creating correct print data can sometimes be complicated. But don't worry: In our tutorials you will find videos and step-by-step instructions on topics such as hot foil or bleed correctly.
Before you have your large print run printed, a data check may not be a bad idea: Our print data workshop checks your print data for possible errors, corrects them and sends you an error report. This way you can be sure that your print data is correct and that everything looks as it should in the end.
Questions?
We're




here to

help!