Your Advantages with label.co.uk
sharp printing image
calculate and order online
fit for thermal transfer printing
various materials and colours
convenient personalisation with digital printing
free delivery in EU and UK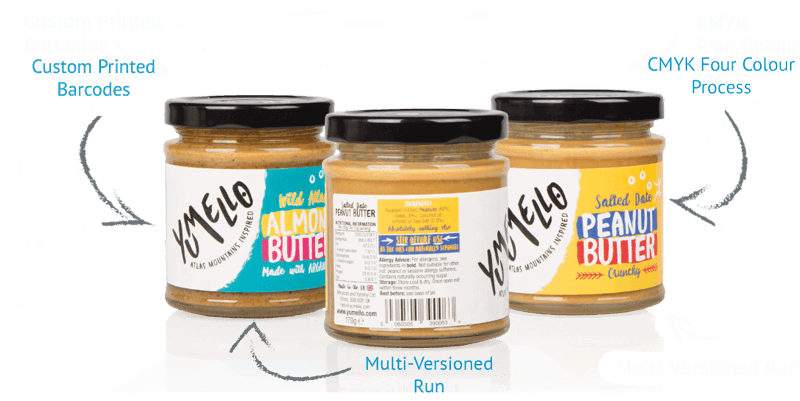 Custom Printed Labels with Barcodes
At label.co.uk we can print a range of barcodes and QR codes as standard on your roll labels, product labels and promotional stickers. Barcodes can be sent to us either directly as part of your artwork or as a separate table. For your labels with barcodes we have numerous papers and films as well as various adhesives with different properties at our disposal – permanent adhesive, removable (without residue), washable, & freezer-grade.
In the case of consecutive numbering of your barcode labels, it is sufficient to give us the number range. In the case of irregular numbering, please send us a table with the corresponding data. Barcode labels, whether with EAN 13, Code 128, Code 39 or QR codes, are no problem for us thanks to digital label printing technologies.
What is a Barcode?
A barcode is a machine-readable collection of data.  Barcodes are usually used to describe the details of your product. If a barcode is not printed correctly, it cannot be scanned automatically. This can lead to difficulties and high trade costs.  An ideal barcode label is therefore one that represents the data correctly, is printed in the correct size and shape and is machine readable without problems!
We generally recommend a minimum width of 32mm and a height of 20mm. Please keep in mind, space/quiet zone should also be allowed for around the barcode.
Different types of barcodes:
GTIN
EAN 13
EAN 5
GS1-128
QR Code
GS1 Datamatrix
When Do You Need Barcodes?
Generally, if you distribute a product, then you need barcodes on your labels.  However, many online retailers also require that the products have unique barcodes.
A barcode is simply the visual representation of a unique numeric trade code. You need to tell us your unique trade code and we can then easily create your barcodes and print them on your labels. You need a GTIN (Global Trade Item Number) from GS1 UK. The GTIN consists of base number, individual number and check digit.  New companies can register here for their retail barcodes, https://www.gs1uk.org/
Can label.co.uk Print Multi-Coloured Barcode Labels?
In short, yes, but we do not recommend it to you! Barcode labels require as much contrast as possible to make them easier to read. A black barcode on a white background is the most proven combination. Generally it can be said that the background of the barcode should be very bright, but not metallically reflective, and the bars should be dark and rich in contrast compared to the chosen background. Please also note that you should place light zones around the barcode and leave a safety distance of at least 8 mm from the edge.  Read all details about size, colour and placement of your barcode here: GS1 UK
Transparency by Amazon
Protect your brand and customers from counterfeits. Transparency is a product serialisation service that helps identify individual units and proactively prevent counterfeits from reaching customers. Find out more about Transparency by Amazon. 
FAQ
In our Frequently Asked Questions you can find the answers to (almost) all questions regarding labels, materials or the ordering process at label.co.uk. Should you have further questions please contact our costumer service team. We are happy to help you!
Further Useful Links
Tools & Services
If you wish to see a press-proof before placing a full custom label order you can book our proofing services.
Label artwork always has been and always will be a key part of the label printing process. For businesses who do not have resources to ensure their artwork is print-ready, we have a range of artwork services available.
Questions?
We're




here to

help!