Hello Brands & Businesses!
Small Labels on Rolls for Organisations of All Shapes & Sizes
Wide Choice of Materials
Round, Square or Bespoke
Individual Design
Premium Finishing
Free UK & EU Delivery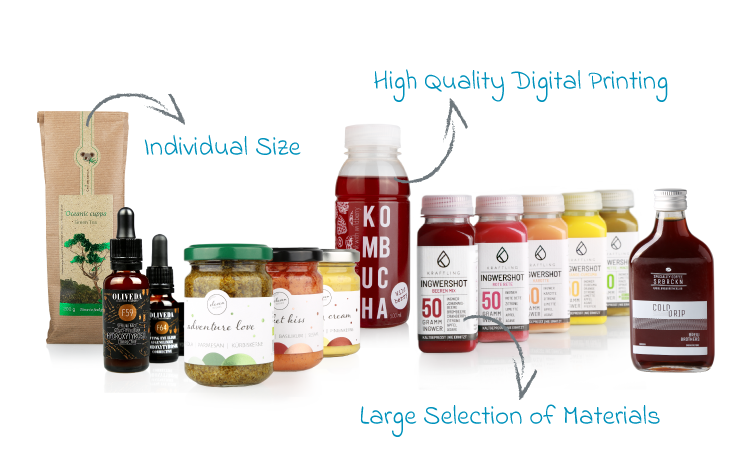 Small Labels for all Industries & Products
Whether facial oil, cream, vape oil, ginger shots or pesto – many products from the most diverse industries are packaged in small bottles, jars or tins.  Even these small packages require a label that is not only visually appealing, but also sticks reliably and doesn't unroll. At the same time, the label must also be large enough for all information on ingredients and manufacturer can be printed legibly on the label. We therefore recommend a minimum size of 20 x 20 mm.
Small Format Labels - The Materials
Especially important for small packages: The label must stick reliably and must not unroll from the product. We therefore recommend not to choose materials with heavy grammage, such as our natural paper with structure or cotton paper.
The best way to find out which material is suitable for your product and your individual application is to use our free sample book. It contains pre-cut and partially finished sample labels made from our standard materials. You can easily peel these off, stick them on your product and test whether the suitability of the material.
We will be happy to advise you on a suitable material for your desired format. Simply contact us by e-mail at info@label.co.uk or by phone at 020 3588 1080. We are sure to find the optimum solution for your individual application.
Free in Form & Design
Even small labels can be designed individually and freely according to your ideas: For example, choose round, square or completely free-form. Various designs such as sealing labels and neck loops. are also not a problem.  From shape to print and possible refinements – the choice is yours.
Small labels can also be personalised and individualised, for example with a unique QR code or another name on each label. Digital printing makes this possible, as there is no need to make a printing plate.  Therefore, the print file is transferred directly to the machine so that every label can look different.
Further Information:
Questions?
We're




here to

help!