Your Advantages with label.co.uk
fit for all businesses and products
great variety of materials
labels in all shapes and sizes
choose your own design
express production and delivery
high-quality finishes
free delivery in the EU and UK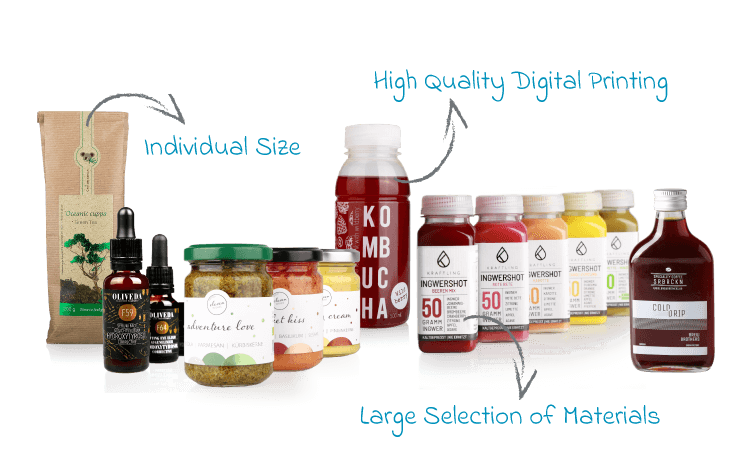 Small Labels for All Industries & Products
Whether facial oil, cream, vape oil, ginger shots or pesto – many products from the most diverse industries are packaged in small bottles, jars or tins. These small packages require small labels that are not only visually appealing, but also stick reliably and don't unroll. At the same time, even small labels must be large enough for all information on ingredients and manufacturer to be printed legibly on the label. We therefore recommend a minimum size of 20 x 20 mm.
Small Format Labels - The Materials
Especially important for small packages: The label must stick reliably and must not unroll from the product. We therefore recommend not to choose materials with heavy grammage, such as our natural, textured paper or cotton paper for your small labels.
The best way to find out which material is suitable for your product and your individual application is to use our free sample book. It contains pre-cut and partially finished sample labels made from our standard materials. You can easily peel these off, stick them on your product and test the suitability of the material.
We will be happy to advise you on an approriate material for the desired format of your small labels. Simply contact us by email at info@label.co.uk or by phone at 0044(0) 2035881080. We are sure to find the optimum solution for your individual application.
Free in Form & Design
Even small labels can be designed individually and freely according to your ideas: For example, choose round, square or an individual form. Various designs such as sealing labels and neck loops. are also not a problem.  From shape to print and possible refinements – it's all up to you.
Small labels can also be personalised and individualised, for example with a unique QR code or different names on each label. Digital printing makes this possible, as there is no need to make a printing plate.  Therefore, the print file is transferred directly to the machine so that every label can look different.
Release Varnish
For labels on cylindrical packaging, the release varnish is an efficient and useful alternative to multi-layer labels. This varnish gives you a much larger print area than the packaging of your product would usually allow. This means you can print as much information as you want on your label without having to worry about little space or the size of the text.
Release varnish is an invisible silicone-based varnish that is applied after printing. It allows the label to wrap around itself without permanently sticking. This means that the overlapping elements can be stuck to each other and peeled off again and again.
Foils as well as other smooth materials are best suited for the use of release varnish. By using a transparent printing material, you can combine the advantages of release varnish with those of sandwich printing. This way you create even more printing area on your label.
To learn more about the optimal application, please contact our customer service and let us advise you. You can reach us by phone from Monday to Friday between 9.00 a.m. and 5.00 p.m. at 0203 588 1080 or by email at info@label.co.uk.
Tools and Services
Our design service is a unique opportunity for you to create a stunning look for your label. The talented designers at label.co.uk are happy to help you implement your ideas!
In order to review and test our materials & print quality most comprehensively, we recommend requesting a complimentary sample book or viewing the list of our standard labels online.
Label artwork always has been and always will be a key part of the label printing process. For businesses who do not have resources to ensure their artwork is print-ready, we have a range of artwork services available.
Questions?
We're




here to

help!