Your Advantages with label.co.uk
certified papers
food-safe colours
free in shape and design
free delivery (EU and UK)
special eye-catcher for your baked goods
individually printed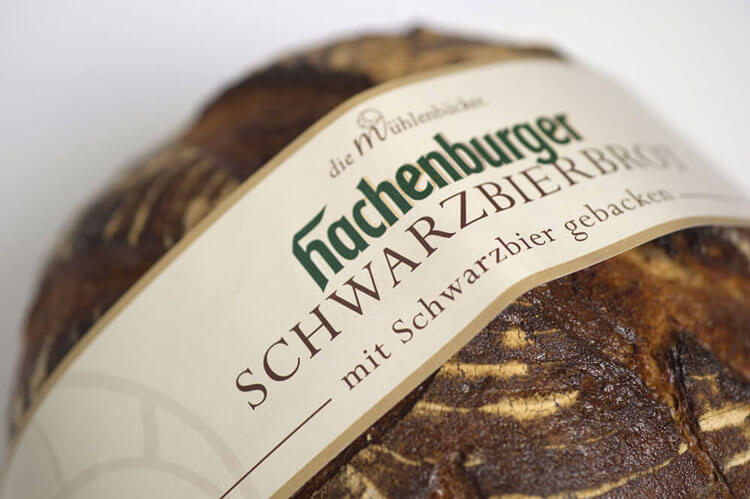 What Is a Bread Label?
Bread labels typically look like sleeves that wrap your bread and make it stand out from the competition. You can print your company logo, information about the bread itself or other motifs on this sleeve. Make your bread an eye-catcher and present your baking skills in the best way possible.
Make Your Products Unique
Your bakery's breads and baked goods offer culinary enjoyment of the highest quality to your customers day after day. With printed bread labels, you give this quality a special expression. Our bread labels are not only suitable for loaves of bread. Since you can freely choose and adapt the shape of the sleeves, sandwiches, baguettes and pastries can also be wrapped excellently.
label.co.uk offers you different, high-quality papers with which you can ideally showcase the character of your baked goods. These materials make your products special and help them stand out on the shop counter.
Of course, we produce all bread sleeves with food-safe colours and on certified paper. We will gladly hand out these certificates to you.
What Comes Next?
Every loaf of bread is unique, as is the printing of the corresponding bread labels. That's why we create your offer individually. Use our contact form to put in a request for your labels from us. We will also be happy to advise you on the phone (0203 588 1080) or by email to info@label.co.uk – quickly, easily and competently.
Tools and Services
In order to review and test our materials & printing quality most comprehensively, we recommend requesting a complimentary sample book in addition to viewing the list of our standard materials online.
Our design service is a unique opportunity for you to create a stunning look for your label. The talented designers at label.co.uk are happy to help you implement your ideas!
Label artwork always has been and always will be a key part of the label printing process. For businesses who do not have the resources to ensure their artwork is print-ready, we have a range of artwork services available.
Questions?
We're




here to

help!