Hello Brands & Businesses!
Craft Beer Labels for Brands and Businesses of all Shapes & Sizes
Individual Craft Beer Labels
Free Sample Book
Free-form design
Wide Range of Materials
Produce Several Varieties in one Order
Free UK & EU Delivery
Unique labels for your Craft Beer
Craft Beer labels are characterised by eye-catching and creative designs. To design a label for Craft Beer, you need to know your product and your brand very well. Only if you know what's inside the bottle can you communicate the product's characteristics to the outside world and communicate the label to the customer.
Is the taste of the beer fancy and crazy? Then the label should also be fancy. Is the beer expensive? Then the label should be additionally refined to reflect this high quality.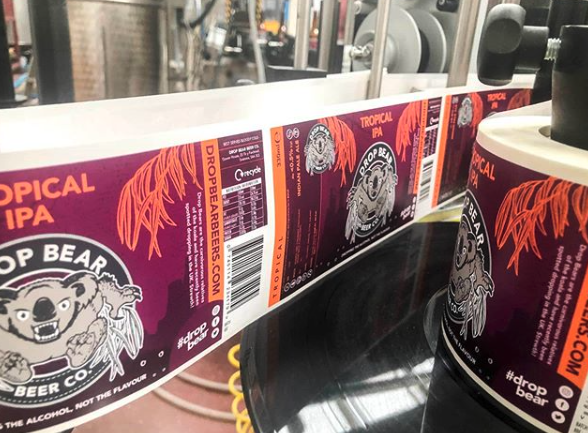 Craft Beer Conquers the Beer Market
Craft Beer is no longer only known to true beer connoisseurs. Originally, the craft beer trend originated in the USA.  Slowly but surely the drink is now finding its way to Europe and The UK.  
Small, independent breweries, called microbreweries, are making it their business to brew fancy and creative beers that clearly distinguish themselves from the mass market.  At the same time, the beer is brewed according to traditional brewing philosophies.  Characteristics for Craft Beer are unusual flavours through different combinations of natural aromas such as coffee, chocolate or citrus fruits and instead of using traditional hops, rice or corn is now often used to cut down costs
Special Shapes and High-Quality Materials
At label.co.uk, there are many different ways to make your craft beer label unique. Starting with the choice of material, the shape of your label or special refinements – make your craft beer label a real eye-catcher. For example, how about a metallic label made of aluminium-vaporised paper, a hot foil in dark green or partial varnish over your logo?
Whether simple, elegant, playful or crazy – with label.co.uk as your printing partner for your Craft Beer labels, you can be sure that your labels are printed in high quality and delivered quickly and reliably. 
Additional Personalisation is the Trend
At label.co.uk your Craft Beer labels are printed digitally. This not only enables the cost-efficient production of short runs and fast job changes, but also individual personalisation of the individual labels. For example, a different name or an individual code can be printed on each bottle. Or copy the big names like Coca-Cola and Nutella and make each label unique.  Thanks to the technology of HP Mosaic, this is no longer a problem. As you can see, the possibilities for personalisation are endless.
If you would like to order personalised labels for the first time, please contact our customer service team where we will then discuss your ideas and find a solution to implement them.
Our Materials
Request a Sample Book completely free of charge. In addition to the various papers and films that we offer, we're sure you'll be convinced of our print quality as well as impressed with the effects and uses of hot foils, film laminations and protective varnishes. You will also receive die-cut sample labels which you can apply to your products for testing purposes.
Find out more here
Bring your Designs to Life with our Proofing Service
Like what you see already? Not sure if you want to go ahead with a full print run?  No problem.  Our test and proof service allows you to print a short run of labels in exactly the same specification as the final print would come out using the same tools and printers.
Find out more here
Further information:
Questions?
We're




here to

help!