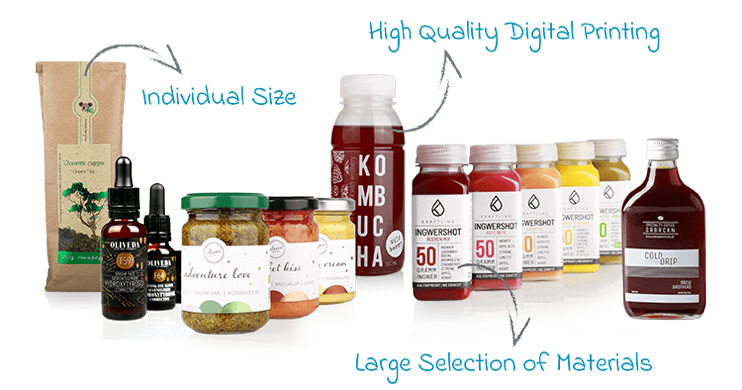 Have Your Labels Printed Online – with label.co.uk
Labels serve as your products' business card. Especially in times of digitalisation, when many things are purchased online, the appearance of products in stationary trade is becoming increasingly important. With the packaging, you can convey the quality and exclusivity of your products. Whether with noble hot foil stamping, on metallic paper or with striking typography – with an appealing label that meets the taste of your potential customers, you leave an excellent first impression. Thanks to digital printing, you can also produce numerous varieties and variants of a label – for specific regions, marketing purposes or in different languages – without much extra cost.
For label.co.uk, printing labels means providing you with customised solutions and personalised roll labels in any shape and size at any time. The advantage of roll labels is that they can be processed both automatically and manually. You can easily order our roll labels via the calculator or in your customer menu. Of course, we have many other papers and foils to choose from in addition to the standard materials. Simply send us your requirements and wishes by email to info@label.co.uk or fill out the contact form. No matter what size, shape, colour or finishing you need for your label and product – we will be happy to provide you with an individual offer!
Printing Online – Is that Possible?
It is at label.co.uk. The central element is our online calculator: Here you can quickly and easily calculate your adhesive roll labels and order them immediately. Not only do you see the price for your labels right away, but in the next step you can also specify the requirements of your order, such as winding direction, inner core size, and outer diameter of the rolls. So, order your individual adhesive labels quickly and easily online in just a few steps.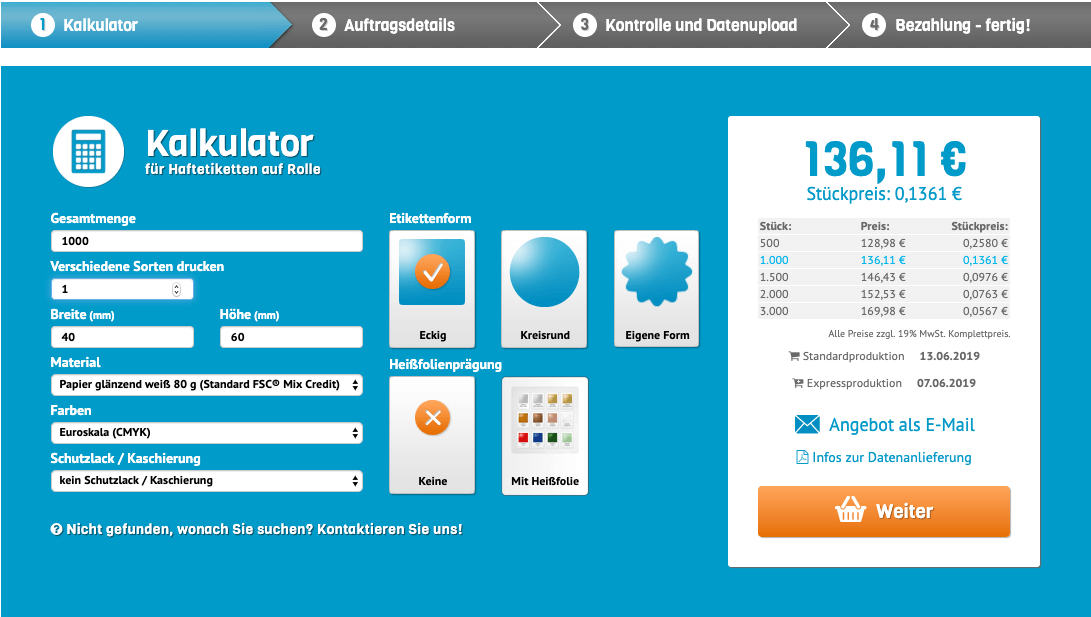 Order Online – Quick and Easy
The online calculator offers you a selection of our standard materials and finishes. Once you have registered at label.co.uk, we will be happy to activate further materials and extras for you. Simply contact our customer service and we will be happy to adapt the calculator to your individual wishes and requirements.
You can also check the current status of your online order via your personal customer account, so you are always up to date on the progress of your order. Here you can also find an overview of all your current and previous orders. With just one click, you can repeat an order without having to create a new order. We will also inform you by email when the production of your labels has started and when the labels have been dispatched. The tracking code you receive from us allows you to follow the shipment live.
Exclusive Refinements for Your Labels
Because stickers and labels are our specialty we can give your adhesive labels on rolls a luxurious finishing touch. Just choose between our array of different refinements. Whether it's hot foil stamping or a protective varnish: at label.co.uk you can make your labels both robust and elegant at the same time.
What's Next?
#1 Order our free sample book with the papers and finishes stored in the calculator. Simply fill out the form and convince yourself of our materials and print quality in a few days.
#2 You can go directly to the overview of our proofing prints. Before you order a full print run, you can be sure that your labels will look the way your graphic designers have planned.
#3 Go directly to the calculator. Look through different print runs, finishes, and material options. Use the transparent price calculation to put together your own individual offer.
Tips on How to Get Ideal Printing Results
Make sure that the print file is correct and ready for printing. Only a perfect print file will ensure that you get a satisfactory print result.
Choose the material on which you want to print your labels carefully. Because depending on the product and the environment it is exposed to during storage, specific requirements must be met by the material (such as resistance to moisture, contact with oil, direct contact with food, etc.).
Contact us! If you have any questions or uncertainties regarding material selection, label design, or printing in general, we will be happy to inform you and answer your questions competently and reliably. We may be an online label printer, but professional customer service and contact are very important to us and a cornerstone of our success.
We Are Happy to Advise You!
Although we are an online label printing company where many processes are automated and online, we place very high value on friendly and competent customer service and direct communication with our customers. You don't know exactly what you need and would like advice? No problem, we will be happy to help you. Do you have special wishes or requirements? Do not hesitate to contact us. We are sure to find a solution. You can reach us Monday to Friday between 9.00 a.m. and 5.00 p.m. by phone at 0203 588 1080 or by email at info@label.co.uk.
You Might also Be Interested in:
Tools and Services
Label artwork always has been and always will be a key part of the label printing process. For businesses who do not have resources to ensure their artwork is print-ready, we have a range of artwork services available.
Labels tend to look different in print than they do on-screen. Use our proofing service to make sure that everything looks just the way you want it to.
Our design service is a unique opportunity for you to create a stunning look for your label. The talented designers at label.co.uk are happy to help you implement your ideas!
Questions?
We're




here to

help!