Your Advantages with label.co.uk
high printing quality
cost-efficient for small runs
free delivery in the UK & EU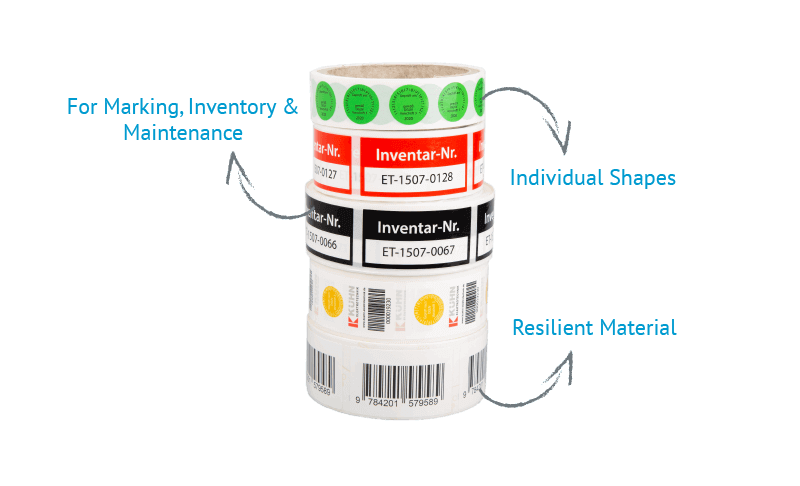 Marking and Labelling
Labels are as different as the products they decorate. This means, the demands of industry and consumers on products, their quality and labelling could not be more versatile. Industrial labels have a wide range of applications and can be used, for example, as inventory labels, for inspection and maintenance, for type and product identification or as shipping labels. Particularly in the industrial sector, exact print reproduction – even under the toughest conditions – as well as permanent adhesive strength are important. When choosing the right material, it also depends on which requirements the label has to fulfil.
Special Labels for Industrial Purposes
Is the label exposed to particularly high or low temperatures? Does it come into contact with moisture or oils during storage or use? Then it must be particularly hard-wearing. Label.co.uk also offers special solutions for this, such as robust film labels, water-repellent labels and labels with deep-freeze adhesive.
Also frequently requested in the industry are labels with special barcodes or QR codes, often including numbering. In professional terms these are referred to as QR codes, EAN codes, DataMatrix codes, or EPC codes. We can create all of these codes and also offer sequential numbering, ensuring that each adhesive label contains a different code or number. Our state-of-the-art machinery, including the latest generation of digital printing machines, is advantageous in this regard, as traditional printing plates would make the production of industrial labels very complex and costly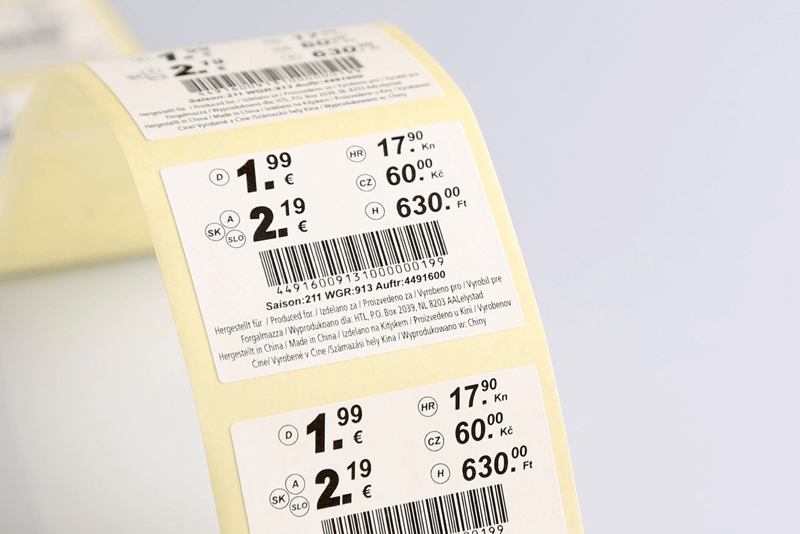 Thermal Transfer Printing for Industrial Labels
Industrial labels are mainly used for labelling all kinds of products. When it comes to fresh products, the best-before date often has to be printed individually. We offer you the possibility to design, pre-print and deliver high-quality roll labels according to your ideas. You can then print a best-before date, EAN code or other filling data on them individually with your thermal transfer printer. Of course, you can also order blank labels at label.co.uk and print them yourself with your thermal transfer or direct thermal printer. Our customer service will be happy to explain to you which materials are suitable for this and what options you have in terms of design. We will answer your questions!
Use Our Proofing Service
For all those who are still undecided about which material your label should be made of or which finishing would look particularly good, etikett.de offers a test printing service. This allows you to get an impression of the print result of your labels in advance, see and feel the material live and convince yourself of our print quality. Request your test print here.
Of course, you can also contact our customer service on 0203 588 1080 or by email at info@label.co.uk. We will be happy to answer your questions and help you!
You Might also Be Interested in:
Tools and Services
Label artwork always has been and always will be a key part of the label printing process. For businesses who do not have resources to ensure their artwork is print-ready, we have a range of artwork services available.
If you have questions about the technical aspects of creating correct printing files, take a look at our tutorials. We have composed a collection of videos, texts and images that explain in detail how to create printing data
Are you worried about complicated customs procedures while buying outside the UK? With label.co.uk you don't have to! We take care of everything! Visit our customs regulations webpage to find all the most important information for you!
Questions?
We're




here to

help!