Your Advantages with label.co.uk
self-adhesive roll labels
labels for all industries & products
personal customer service
individually designed according to your wishes
free choice of shape, size & colour
free shipping (EU & UK)
cost-efficient even for small print runs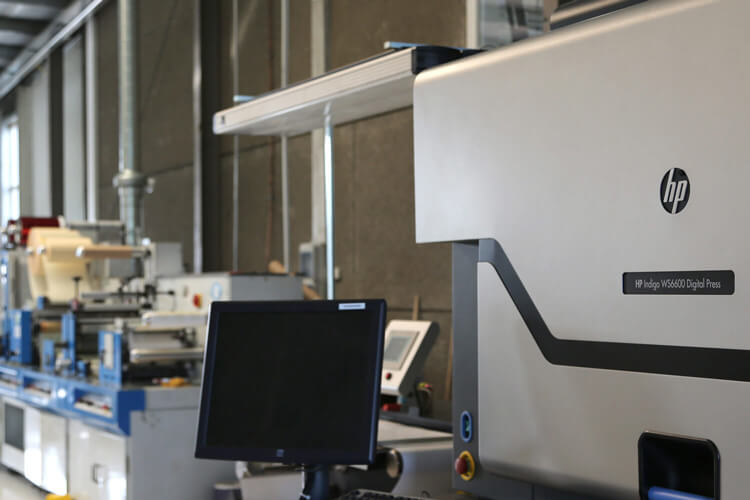 Printing Labels with label.co.uk
label.co.uk is your B2B online print shop for roll-fed self-adhesive and wet-glue labels. At label.co.uk, we print your labels quickly, in high quality, and at favourable prices. As a customer, you choose the shape and size of your labels, the material you want us to use, and what the design should look like. We print your labels entirely according to your individual requirements.
High-Quality Digital Printing
At label.co.uk, we use digital printing to produce you labels. To do this, digital printing machines from HP are used. Digital printing means that the print file is transferred directly from the PC to the printing machine. Thanks to this technology, it is no longer necessary to use chemically treated printing plates. At the same time, digital printing is in no way inferior to classic offset printing in terms of print quality and convinces with brilliant colours, a high resolution, and sharp-edged font reproduction.
A major advantage of digital printing is the cost-effective production of short runs. Ideal for all customers who need many different varieties, consecutive numbering or printing on demand. This is also where personalisation comes into play. The digital print file allows each label to be completely customised and personalised easily and cost-effectively with, for example, additional printing of names, numbers, barcodes or QR-codes: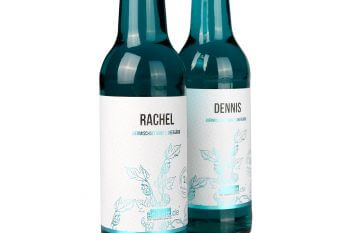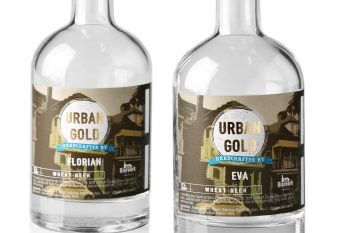 A Guide to: Printing Labels Online
Printing labels online? Though this might sounds strange at first, it actually works: At label.co.uk, the entire process – from ordering, to processing the print data, to sending the order to production – takes place online. And this is how it works:
#1 Our sample book – Our sample book is a good initial source of information. In it you can find all papers and finishes available in the calculator. This way you are sure to find the ideal material for your requirements and your product. Just order a free sample book and convince yourself of our materials and printing quality.
#2 Create printing data – Once you have decided on a material, it's time to design your label. To ensure that your printing data is created correctly and can be processed by us, please use our information sheet on data delivery.
#3 Calculate & order online – Our online calculator shows you the exact price for your labels: Simply enter the parameters of your labels, such as size, shape, material and finishing touches, and the price will be displayed as well as an estimated delivery date. In the next step, you can continue with the ordering process and upload the printing data right online.
Label Printing Made Easy – with label.co.uk
As a professional online print shop, we want to make ordering as easy as possible for our customers. That's why we have developed some additional services that help you complete your order smoothly:
#1 Tutorials – Our tutorials explain to you step by step, for example, the correct implementation of hot foil or the bleed in your printing file. You can either watch the respective tutorials as videos or download them as PDFs. This way you always have the important information at hand and can start straight away.
#2 Artwork assistant – The artwork assistant goes one step further and actively supports you in creating your printing file: Here too, simply follow the step-by-step instructions and fill in the required data/parameters. You will then receive the print file in AI format as an e-mail and can process it immediately with a graphics programme such as Adobe Illustrator.
#3 Artwork services – You already have a label design and a finished printing file, but you are not sure if everything was created correctly? No problem! Among other things, our artwork services include checking your printing data for errors and correcting them. Book a package now and avoid delays or unwanted surprises.
#4 Design service – Do you need a new label design or would you like to have your old design revised? Then our design service is just right for you: With our design service you can have a great label designed by a professional graphic designer at a fixed price and freely according to your wishes and specifications.
Roll Labels or Sheet Labels?
Roll labels are self-adhesive labels produced in roll form. This makes machine processing particularly easy, but is also suitable for further manual processing. Roll labels are often also referred to as self-adhesive labels on rolls and are used in almost every application and industry.
Labels on A4 sheets are the counterpart to roll labels. As the name suggests, they are produced on an A4 sheet and are particularly suitable for short runs. Sheet labels can simply be peeled off the backing material and applied to the product by hand. Labels on A4 sheets are not suitable for machine processing.
We have compared the two production variations in detail on our blog: Roll label vs. A4 sheet
Finishing Touches
Since stickers and labels are our speciality, we can give your roll adhesive labels a luxurious finishing touch. Simply choose from our many finishing touches. Whether hot stamping or varnishing, with label.co.uk you can make your labels durable and elegant at the same time.
High-Quality Production and Personalised Customer Service
Satisfied customers are our ultimate goal. Even though we are an online print shop, personal and competent customer service is especially important to us. We want to give you the best possible advice before, during and even after ordering your labels and help you with any questions you may have.
You can contact our customer service at any time: Simply write an email to info@label.co.uk or call us from Monday to Friday between 9.00 a.m. and 5.00 p.m. at 0203 588 1080.
Tools and Services
In order to review and test our materials & printing quality most comprehensively, we recommend requesting a complimentary sample book or viewing the list of our standard labels online.
If you have questions about the technical aspects of creating correct printing files, take a look at our tutorials. We have composed a collection of videos, texts and images that explain in detail how to create printing data. 
Are you worried about complicated customs procedures while buying outside the UK? With label.co.uk you don't have to! We take care of everything! Visit our customs regulations webpage to find all the most important information for you!
Questions?
We're




here to

help!