Advantages
acute printing image
soft colour gradients
high UV-resistance
very high printing quality
high printing speed
generally high wear resistance
water- and weather- resistant (depending on ink)
Disadvantages
long drying periods
high set up costs
only worthwhile for high volume print runs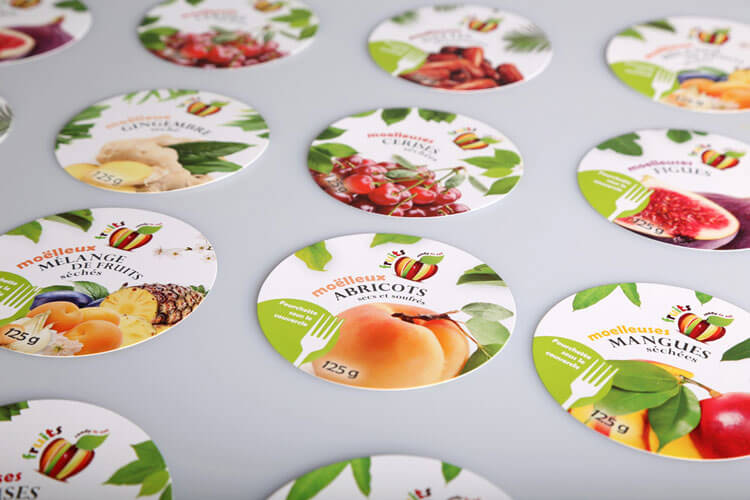 Digital Printing
By default, we produce your roll labels using digital printing. There are many advantages to the principles of modern digital printing. Therefore, over the past years, we have specialized in this printing method and are proud to have HP as our leading partner.
How Does Offset Printing Work?
But now to offset printing. This is an indirect flat printing process based on the chemical repulsion of water and oil. The different surface properties ensure that the printing ink only adheres to the desired areas. The areas that are not to be printed are wetted with water so that they repel the oil-based ink. The individual colours are printed onto the label in a step-by-step process. In offset printing, paper and plastic can be used as substrates.
Which Printing Method Is Right for Me?
We print your stickers and labels – removable, permanent adhesive, or wet adhesive. The intended use determines the required properties of your labels and the materials that are suitable. Whether it's foil-laminated aluminum labels, preprints for your thermal transfer printer, or finished roll labels on matte coated paper, we offer a wide range of options. Not sure which solution is ideal for your specific needs? No problem. Simply contact us either by email at info@label.co.uk or reach us by phone Monday to Friday between 9.00 am and 5.00 pm at 0203 588 1080. We are happy advise you and will surely find the perfect solution for your project.
Tools and Services
In order to review and test our materials & print quality most comprehensively, we recommend requesting a complimentary sample book or viewing the list of our standard labels online.
Our design service is a unique opportunity for you to create a stunning look for your label. The talented designers at label.co.uk are happy to help you implement your ideas!
Questions?
We're




here to

help!