Film Lamination
Custom Labels on Rolls for Organisations of All Shapes & Sizes
A Premium Finish
Gloss & Matt Available
Protects Against Abrasion
High-Quality Print
Fast Turnaround
Free UK & EU Delivery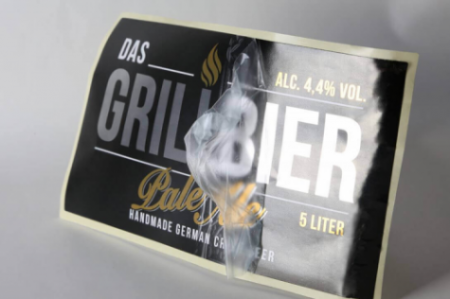 What is Film Lamination?
Applying a film lamination is a process whereby an additional film material is placed over the printed label substrate/material. For example, we print your label designs on a white polypropylene film and apply a film lamination over the top to create the final finish/aesthetic. A film lamination is applied across the entire label, one cannot select areas of a label to be laminated.
Why Use Film Lamination?
Applying a film lamination has various advantages relating to look, feel, and durability. As with the UV protective varnish, film lamination is available in gloss or matt and creates a particularly strong effect that varnishes cannot replicate. Both provide a slightly more premium feel to labels too, due to the added thickness they give the material. Although not sold as a "protective" finish, a lamination will protect the printed label against abrasion as well as water, oil and light chemicals.
Two Film Lamination Finishes; Gloss & Matt
Gloss film lamination is particularly effective for premium and high-impact labels due to the super glossy look it creates. This proves especially popular for sports nutrition labels, as well as for paint and chemical product labels.
Matt film lamination has the same protective qualities of its glossy twin, but creates a silk finish to labels, providing a soft yet striking aesthetic. This has proven popular for a wide variety of self-adhesive labels from beer through to cosmetic product labels.
Film Lamination; Important Notes
Should your brand or business be looking to apply secondary information to the finished label via thermal transfer printing then a film lamination will not be suitable. We have found that many thermal transfer machines and processes are not suitable and the ink/detail simply smudge.
Be aware that some international label manufacturers refer to polypropylene (aka vinyl labels) as a "laminate" and that this is simply a term for a material and not the film lamination process detailed on this page.
In addition, describing label finishes can be a very subjective process; we recommend that you request a Sample Book and review our materials, processes and print-quality for yourself/with your team as necessary.
Tools & Resources
Label artwork always has been and always will be a key part of the label printing process and producing custom labels is no different. For businesses who do not have resources to ensure their artwork is print-ready, we have a range of Artwork Services available.
Questions?
We're




here to

help!