Your Advantages with label.co.uk
special effects
innovative printing techniques
free shipping (EU and UK)
high-quality digital printing
wide range of finishes
for all industries & containers
alternative to printing on the back
What Is Sandwich Printing?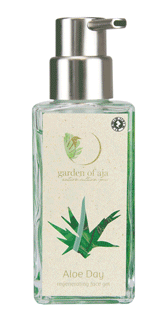 In sandwich printing, we print several layers of ink on a transparent label in such a way that the inside of the back label can be seen through the bottle and its contents. This effect is achieved thanks to a transparent front label that is made of PP film and implemented in the so-called no-label-look. Or, alternatively, through a cut-out in the front label through which one can look into the bottle – as in our example on the left.
A transparent sandwich printing label (also called a "double-sided label") creates a unique effect that tells the story of your product in a very special way. This special production method is particularly popular for manufacturers in the spirits industry. Sandwich printing labels can of course also be finished with an additional hot foil. You can embellish the front layer with a foil in the colour of your choice. But please be aware that all hot foil colour contains a silver backing. For this reason only silver hot foil colour is possible on the back of your labels.
How Does Sandwich Printing Work?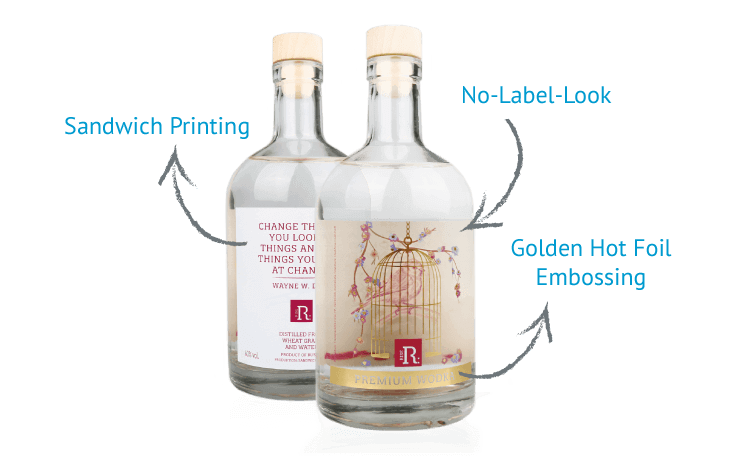 With the sandwich label shown above, that was not only created by our own talented design team but which also won the HP Inkspiration Award 2018, we want to illustrate in concrete terms how sandwich printing is implemented:
#1 On the front is a no-label-look label on transparent PP film.
#2 Sandwich printing was used for the back label: two Euroscale layers were separated by a double-printed layer of opaque white (HPI White).
Please note: Depending on the design you want, the HPI white layers may not be 100% opaque. In any case, please contact our customer service for detailed advice on the possibilities and limitations of sandwich printing.
#3 The front label gives the impression of looking through a cage.  This was embossed onto the transparent material of the label using golden hot foil. The cage thus frames the image of a bird on the first layer of sandwich printing on the back label. The legal information is separated from the bird by the HPI white layer and can be read from behind.
>>Click to zoom in<<
Request Sandwich Printing
Sandwich printing is a special technique that cannot be ordered via the calculator. We therefore ask you to contact our customer service. We will be happy to discuss your ideas and advise you on the implementation.
Tools and Services
If you have questions regarding sandwich printing or any other topic related to label printing, we would be happy to advise you. You can call our customer service from Monday to Friday between 9.00 a.m. and 5.00 p.m. at 0203 588 1080 or write an email at info@label.co.uk. 
Look at our guidelines for label design to find all the information you need to make your artwork print-ready. Use our artwork templates and create print-ready artwork.
Our design service is a unique opportunity for you to create a stunning look for your label. The talented designers at label.co.uk are happy to help you implement your ideas!
Questions?
We're




here to

help!