Your Advantages with label.co.uk
tamper proof labels
all shapes and size
elegant refinements
large selection of materials
individual consultation
high-quality digital printing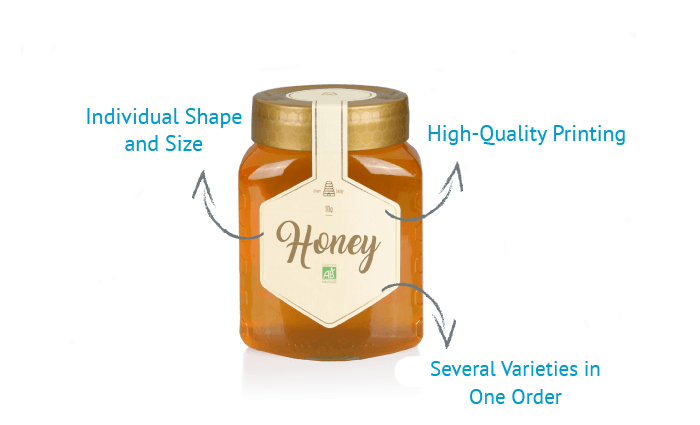 What is a Tamper Proof or Sealing Label?
Tamper Proof or Sealing labels serve as a guarantee seal for the protection of the product. Terms such as freshness seal, closure label or guarantee seal are often used synonymously. With this type of label, the front or main label is joined to the sealing label to obtain a so-called guarantee seal. This creates a connection between the two parts of the label. If it is intact, it is guaranteed that the container has not been opened or tampered with since packing and sealing. However, if it is broken, it can no longer be guaranteed that the product is in perfect condition.
Where is this Type of Label Used?
Seal labels are used wherever freshness and closed packaging are a top priority. For example, for food packaging made of glass, such as jam or honey jars. But a sealing label can also be applied to other forms of packaging: Whether it's bottles, cans or jars – the seal label always guarantees freshness and quality to your customers. Please feel free to get in contact with our customer service team, we are sure to find an optimal solution for your packaging.
Are you specifically looking for information about our honey labels? Then you will certainly find what you are looking for here. Learn about the requirements of the Honey Association and the Honey (England) Regulations 2015, which must be complied with when designing and printing a honey label, or about various design options and finishes for your very own individual honey label.
How to Measure Your Tamper Proof Label
When ordering your Tamper Proof labels, you will be required to input the width and height of the label. Here we show you what the measurement is supposed to look like depending on the type of label: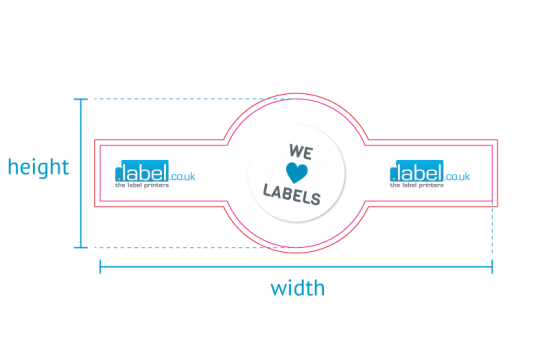 What Materials are Used for a Sealing Label?
Paper is usually used for food labels. However, a tamper proof seal label can be made of any material you like. However, care should be taken to ensure that the material used for the label is not too strong, so that the consumer can easily open the packaging and the web tears. If, for example, a jar of honey is to be sealed, a paper label is usually sufficient. To make it easier for you to choose the right material, you can order our free sample book with sample labels made of our standard materials. 
Free Hand in Design
Whether round, square or in a freely designed form, there are no limits to your creativity when creating your tamper proof seal label. In addition to the choice of shape and material, you also have a wide range of finishes such as hot-foil stamping or a protective lacquer to choose from when designing your tamper proof seal label. Your label should of course not only seal the product, but also leave a lasting visual impression on the customer and fully convince them at the point of sale.
We are Happy to Support You
Our customer service team is happy to help you choose the right material for your tamper proof seal labels. Together we will find the ideal material for your ideas. You can reach us from Monday to Friday either by telephone on 020 3588 1080 or by email at info@label.co.uk. 
Tools and Services
In order to review and test our materials & print quality most comprehensively, we recommend requesting a complimentary sample book or viewing the list of our standard labels online.
Our design service is a unique opportunity for you to create a stunning look for your label. The talented designers at label.co.uk are happy to help you implement your ideas!
Questions?
We're




here to

help!