Hello Brands & Businesses!
Takeaway Labels on Rolls or A4 Sheets for Organisations of All Shapes & Sizes
Premium-Quality Materials
Any Shape, Any Size Labels
High-Quality Print
Premium Finishing
Free UK & EU Delivery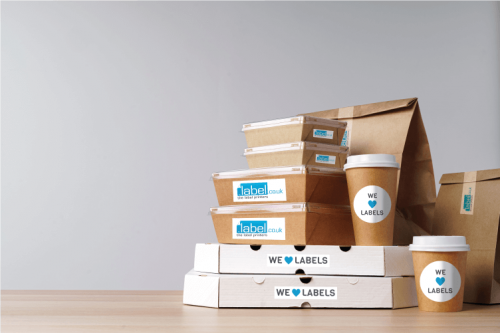 Takeaway Labels
This past year during the global pandemic, businesses have had to adapt to changing needs from their customers.  This has made takeaway food and drink more popular than ever.
Looking for your brand to be carried on your cup of coffee or salad to go?  Label.co.uk have the expertise in place to assist.  We have ready-made designs in place for your labels and stickers that can be branded with your logo or company name, type of contents, allergens etc.
Artwork and Design Services
We have helped many businesses with their orders from initial concept designs to specialist bespoke orders and shapes.
We have services at your disposal ranging from Artwork checking, proofing service enabling you to experiment with various designs.
Are your label artwork files print-ready? Are your label artwork files set up in a way that will allow us to produce high-quality results for your brand and business? Let's avoid any unwanted surprises!
We'll help you ensure your label artwork is print-ready. Depending on your choice of material and label finishing, you are able to choose from two service options; Smart or Pro
More information can be found here
Special Services
Do you want to make your labels or stickers stand out?  Hot foil stamping is a premium process that can be used on printed labels on rolls in order to add a luxury feel to a label. Hot foil stamping is commonly seen paired with premium materials and used on luxury food, beverage and cosmetic products.
More information can be found here along with our tutorial.
What Label Materials to Use?
There are many factors to consider when deciding on your labels for your takeaway containers:
Does it need to withstand hot food or drink temperatures?
Does it need to withstand cold or frozen temperatures?
Does it need to be waterproof for markets/fairs (typical British weather!)?
Does it need to be written on (Customer name or special order etc)?
Our Recommendation
For labels that are to be in contact with food/drink or touched a lot, we would recommend our PP Film for it's waterproof/smudge-proof qualities.
What is Film Lamination?
Applying a film lamination is a process whereby an additional film material is placed over the printed label substrate/material. For example, we print your label designs on a white polypropylene film and apply a film lamination over the top to create the final finish/aesthetic. A film lamination is applied across the entire label, one cannot select areas of a label to be laminated.
For full information click here
More Information:
Questions?
We're




here to

help!