Hello Brands & Businesses!
Large Labels on Rolls for Organisations of All Shapes & Sizes
Large Selection of Materials
Suitable for all Industries
High-Quality Digital Printing
Round, Angular or in Free Form
Bespoke Designs Available
Free Shipping (EU)
48h Express Production (on request)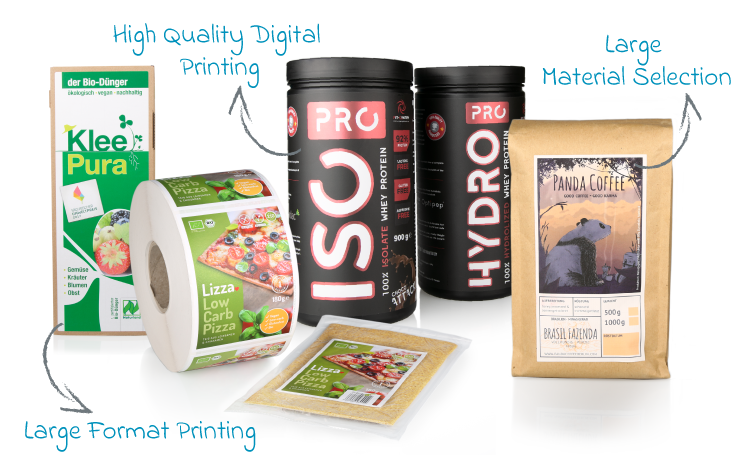 Large Labels - for all Industries and Products
Their packaging is as varied as the products themselves: Especially chemical products such as fertilizers, food supplements such as protein powder or industrial products are often sold in larger containers. At label.co.uk you will also find the right label for these large product varieties.
These Formats are Available:

#1 Printing without hot foil stamping: 585 x 308 mm (WxH)

#2 Printing with hot foil stamping: 330 x 330 mm (WxH)

#3 For larger formats please send a separate request to info@label.co.uk where we can help you find a solution.
Large Adhesive Labels - Free in Form & Design
Regardless of the size of your labels, you decide how your label should look.  Choose, for example, between an angular, round or completely individual in shape and from a variety of different papers and foils: Whether metallic material, paper with structure or transparent foil – you decide. Additional refinements such as protective varnish, embossing or film lamination are also not a problem, even with large-format labels.
Cost-Efficient & High Quality thanks to Digital Printing
At label.co.uk your labels are produced in digital print.  This means that the print file (PDF) is transferred directly from the computer to the printer.  Chemical printing plates are now a thing of the past.  At the same time, digital printing is in no way inferior in quality to classic offset printing and is particularly impressive due to its fast output times and low waste.
The most important requirement for digital printing is the print file.  It must be correctly applied so that the printing press can correctly recognize and convert all elements of the label, such as hot foil or embossing. In our data delivery information sheet, we have summarised all the important information on how to create the print file correctly for you. Download here
We are Happy to Advise you
If you have any questions about our large labels, labels in general, our materials or print data, please feel free to contact us at any time.  We are happy to advise you and answer any questions you may have.
Further Information:
Are you unsure which material is the right one for your brand or which finishing would be particularly suitable for your label?  Then order our free sample book.  It includes pre-cut sample labels on all our standard materials, examples of various finishes and practical tips on creating correct print data.
Want to make sure that your label looks the way you want it to?  Then select a test print in advance:  We can print your label under original printing conditions.  This allows you to test the material, hot foil and print and make any necessary changes before you order the entire run.
Questions?
We're




here to

help!