Your Advantages with label.co.uk
large variety of materials
free design choices
numerous tools and services
high-quality digital printing
several varieties in one run
various finishing touches
free delivery (UK and EU)
conveniently order online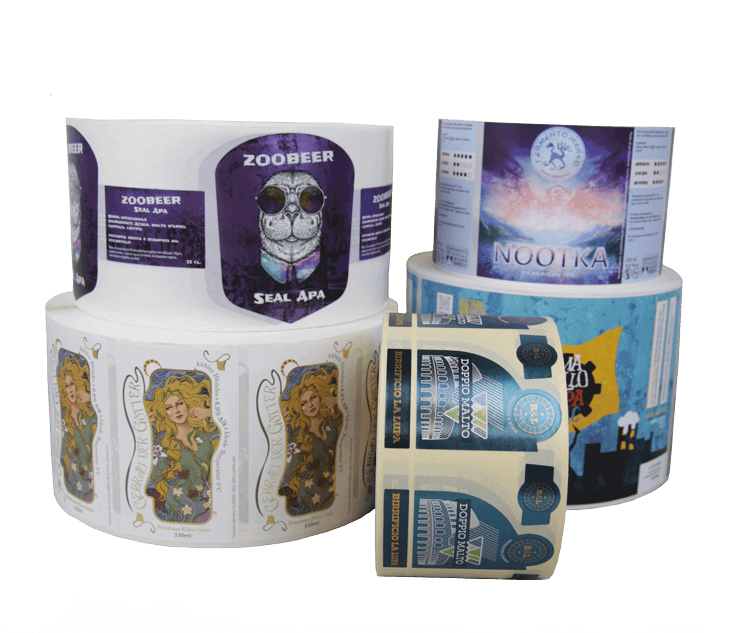 We Are Your Partner for High-Quality Labels
Label.co.uk is a well-established label printing company with the latest printing machinery and quality materials. We constantly try to improve our working processes as well as our machinery, to make sure we offer only the best to our customers. Therefore, our online label printing company has implemented digital printing machines since the beginning. Thanks to digital printing we are able to produce even short runs in a cost-effective way. Furthermore, digital printing machines need less set-up time than traditional ones and thus allow for quicker turnarounds. We can use this to your advantage and offer you to print several varieties of your labels, all in one order and without great effort.
How Are Self-Adhesive Labels Used?
A high proportion of the labels that we produce are applied to products via automated machinery such as labelling machines within bottling or packing lines. Roll labels are perfect for clean and speedy application. Adhesive labels can also be applied manually by either operatives at a contract packing company or by small teams within start-up companies. Whether you are applying self-adhesive labels manually or via machine, to glass bottles or other packaging, you can expect a clean and efficient process – no additional adhesive required.
Materials, Shapes and Printing
Paper is usually used in the production of food labels. Label.co.uk can however, also offer you printed films or transparent labels for the look you require as well as various finishing processes.
You have the choice between round, square or circular labels as well as a personalised shape according to your requirements. If you are looking for something unusual, we would be happy to advise you on the options. We print on paper as well as coloured and transparent films of the highest quality using both digital processes and conventional offset processes. We do not use flexographic printing or Inkjet due to quality considerations.
Freezer-Grade Labels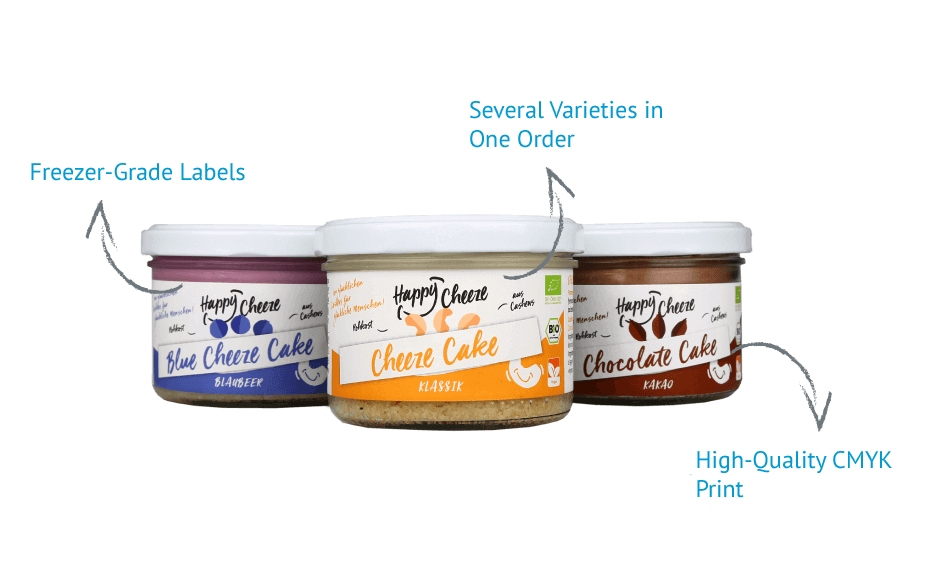 Not only must freezer labels be resistant to cold, they must also be resistant to moisture to a certain extent, because of condensation in their vicinity. Generally, freezer labels are manufactured using film or wood-free paper and a frost-resistant adhesive is applied. They are then suitable for temperatures as low as -20°C. Special food labels are also necessary for food containing oil or food preserved in oil so that product identification can be guaranteed if oil leaks out of the food packaging. If you have any questions about these topics, please contact our customer service, who will be happy to advise you. You can call from Monday to Friday between 9.00 a.m. and 5.00 p.m. at 0203 588 1080 or write an email at info@label.co.uk.
Choose Quality and Expertise
Adhesive labels (generally known as product labels) and promotional stickers can be produced in a number of ways. We specialise in printing our self adhesive, printed labels on rolls.
Why Produce Labels on Rolls?
Producing roll labels allows for simple and versatile processing and application of labels when it comes to packing or bottling – either via machine or manually. These types of labels can also be referred to as pressure sensitive labels, digital labels or just simply roll labels.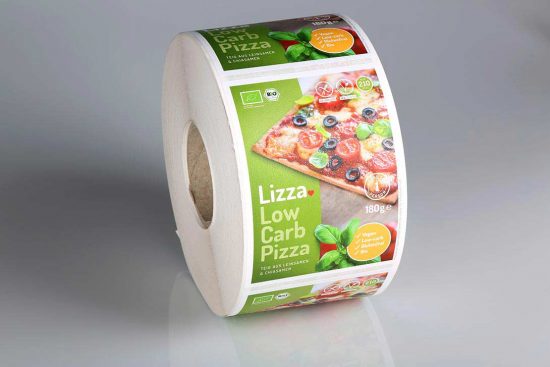 Our Online Calculator
If you know exactly what your labels are supposed to look like and how many of them you want, you can use our online calculator.  Put in all the required measurements such as shape, type of paper, finishing touches and so on. While you do this the calculator will display a quotation for your order in real-time. This way you can autonomously order your ideal labels any time and anywhere.
Tools and Services
In order to review and test our materials & print quality most comprehensively, we recommend requesting a complimentary sample book or see the list of our standard labels online.
Label artwork always has been and always will be a key part of the label printing process. For businesses who do not have resources to ensure their artwork is print-ready, we have a range of artwork services available.
Our design service is a unique opportunity for you to create a stunning look for your label. The talented designers at label.co.uk are happy to help you implement your ideas!
Questions?
We're




here to

help!