We do not shrink-wrap label rolls to help the Environment
Ever since the #FridaysForFuture movement it has been clear to everyone: we must take a closer look at the issue of environmental protection and become more active.
Businesses also have a duty. Label.co.uk is now making a contribution to protecting the environment and in future will no longer need to shrink-wrap the label rolls for shipping. In addition, in the long term the cartons are no longer to be padded with bubble wrap.
Bubble Wrap Alternative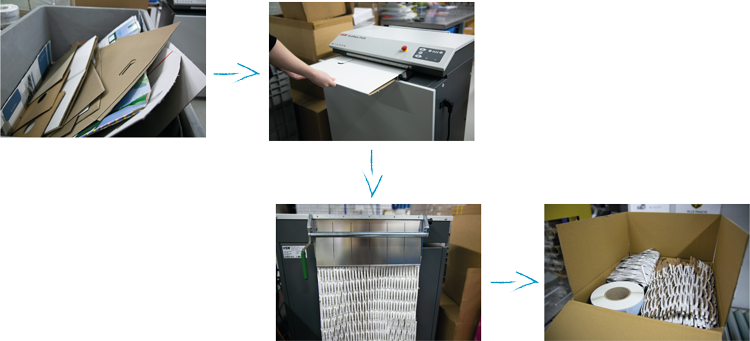 Shredded cardboard boxes will be used in the future as an alternative to the bubble wrap used so far.  These will be used to fill the spaces between the boxes or to wrap individual rolls.  A special cardboard shredder was invested in for this process.  Old cartons are sensibly recycled as filling material.
No shrink-wrap = less waste material
The decision not to shrink-wrap the label rolls is a very conscious decision in favour of the environment.  This step not only saves a lot of film material, but also energy.  Another advantage is that the upper edges of the rolls are no longer creased, as was often the case with shrink-wrapped rolls.
However, this change also has a disadvantage: the film used to protect the rolls from dirt and moisture. This protection is now no longer necessary and it can happen that the topmost labels on the roll become soiled. However, this is not a problem, as each roll contains several more labels than ordered. The soiled labels can therefore be easily disposed of without reducing the quantity ordered.
Environment and the future
In addition to these innovations, label.co.uk continues to focus on electricity from renewable sources, paperless communication and the expansion of the material portfolio to include more and more sustainable materials.
If you want to discuss our full range of label choices and available options, please get in contact with us.
Alternatively;