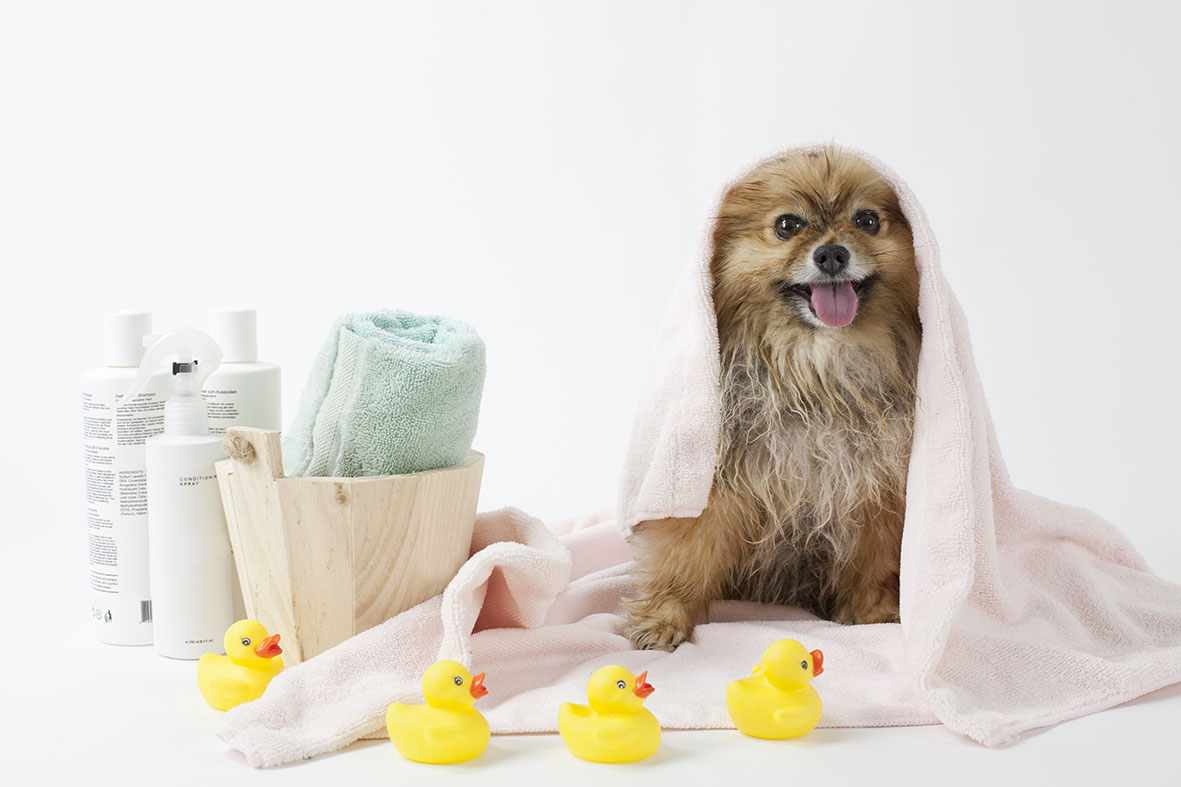 Dog Hair and Skin has many Different Qualities to that of Humans
Dogs who are bathed using human shampoos, may have clean, nice-smelling fur, but can end up developing problems like itchiness, dandruff  and increased susceptibility to infection.
The reason for this is that dogs' skin has a different pH level from that of humans that ranges around 5.5 -7.2 compared to humans at around 4.7-5.75.  So they need shampoos that can help take care of lice and parasites, as well as not contain the foaming chemicals found in human shampoos.
Even baby shampoos can cause harm as they are just not designed for Dogs.
Important Things to Consider when looking for Dog Shampoo
A dog shampoo should do several things well.  Here's what to consider when selecting a dog shampoo for your dog:
Evaluate your dog's skin and coat to determine what type of shampoo would be the best choice. Dogs with sensitive skin and smooth coat may need a mild formula with oatmeal, aloe vera or rosewater. If your dog has a furry coat, you might consider using a shampoo with a conditioner to make the coat more manageable. For dogs with dry, itchy skin prone to allergies, hypoallergenic shampoos are a great choice that will soothe and nourish their skin. If your dog has normal skin, you can opt for general purpose shampoos or the ones that provide deep cleansing, if your dog spends a lot of time outside. If you're unsure which product to use, always consult your vet.
Dogs that spend a lot of time outside may pick up unpleasant smell. Even if your dog spends most of their time inside, if you notice a particular "doggy" smell, you may consider using a deodorising shampoo.
There are plenty of shampoos that are designed to repel or kill fleas, ticks, and other parasites. However, if your dog has troubles with them, it is likely that the use of shampoo alone will not be sufficient to solve the problem, so you will need to use them together with appropriate treatments. Your vet can also recommend the appropriate shampoo to be used while your dog is undergoing such treatments.
If you have a young dog or puppy, it's a good idea to use shampoos that are specifically designed for them. These products have a mild, tearless formula that won't irritate or inflame their skin, nose, and eyes.
When choosing the best shampoo for your dog, it's important to read the label and check the ingredients. Many typical chemical-based shampoos contain artificial colors and fragrances, alcohols, detergents, animal and petroleum by-products, and many other chemicals that can cause skin irritation, inflammation, and excessive hair loss. You should try and opt for a more natural option. Natural products use more natural ingredients like oil essences, vitamins, and herbal proteins. However, even these products can feature some chemicals, so it's important to read the labels carefully.
How Can Label.co.uk Help Your Brand
Label.co.uk have many years experience and we have printed many hair care product labels.  Our Customer Services team can assist for helping choose the right papers and films for your needs.
We manufacture our no-label look adhesive labels on polypropylene film. This film adapts well to uneven surfaces or the rounded sides of jars. This means that they are practically invisible to the consumer. Such labels are often used for perfume bottles and jars of cream, as printing on film is better value than printing directly on the jar or bottle. In this case, we would recommend that you order transparent roll labels and apply them by machine in order to avoid trapped air bubbles and the associated structural formations in the adhesive layer.
For assistance with your Dog Shampoo product, contact our Customer Services team today by our contact form, email info@label.co.uk or call us on 020 3588 1080