A Question We Often Get Asked.
Can I use a Thermal Transfer Printer to Print your Labels? This is a question that we often get asked.  The answer being Yes.  You can print some of our materials yourself using a thermal transfer printer.
What is Thermal Transfer Printing?
Thermal transfer printing uses a special printer and heat transfers the colour of a thermal transfer ribbon onto the material. This process is ideal for printing barcodes or best before dates on a label.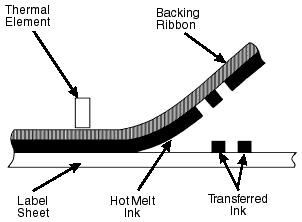 What Materials Can I Use in Thermal Transfer Printing?
Not all of our standard materials can be subsequently printed with a thermal transfer printer.
Smooth materials such as our paper matt or glossy or PP foil matt, glossy or transparent are particularly suitable.  Our protective coatings are thermotransferable, so we recommend them in any case, especially for PP foils.
To test whether a material is suitable for your printer, a test print medium is always recommended in advance, as the suitability of the materials varies from printer to printer.  Please also observe the manufacturer's instructions for your device regarding roll core, winding direction and maximum roll diameter.  If you find this information before ordering, we can configure and realize the label rolls according to your specifications.
We would be pleased to produce blank labels for you on a suitable material. Of course, we will also print your label design, which you can then easily print with important information afterwards.
For printing we recommend the printers from METO. You can find more information here
If you want to discuss our full range of label choices and available options, please get in contact with us.
Alternatively;