Print Data Quality and Delivery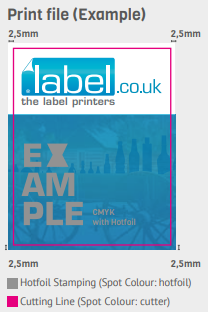 Here to Make the Process Simple
We'd like to make your ordering process as easy as possible, so we've put together a set of guidelines for getting you artwork files print ready! Meeting the requirements will help ensure that we can produce your labels to the high quality standards that we all expect, and help your designs reach their maximum potential.
We strongly recommend using programs such as Adobe Illustrator, InDesign or Artpro to produce the finished artwork – it makes all of the guidelines relatively simple.
Here to Help
Download our Information Sheet with the full details for getting your labels print ready.
Alternatively, if you require further assistance we have 2 services available to help you finish your artwork:
Smart and Pro
Both services offer the following:
Technical Data Check
Image Resolution Check
Size & Format Check
Comprehensive Report via Email
Includes 2 Sorts/Designs
Digital Proof
Works included:
Cutting Tool Creation
Print Bleed Corrections
Internal Safety Margin
Rich Black Conversion
RGB to CMYK
Font Outlining
Colour/Ink Levels Check
Conversion of JPG, PNG… into High-Res PDF
and Pro has these additional works:
Label Size Changes
HPI White Ink Set-Up
Hot Foil Set-Up
Barcode Creation
Full information and costings can be found here
We look forward to seeing your finished designs soon!
Your label.co.uk team