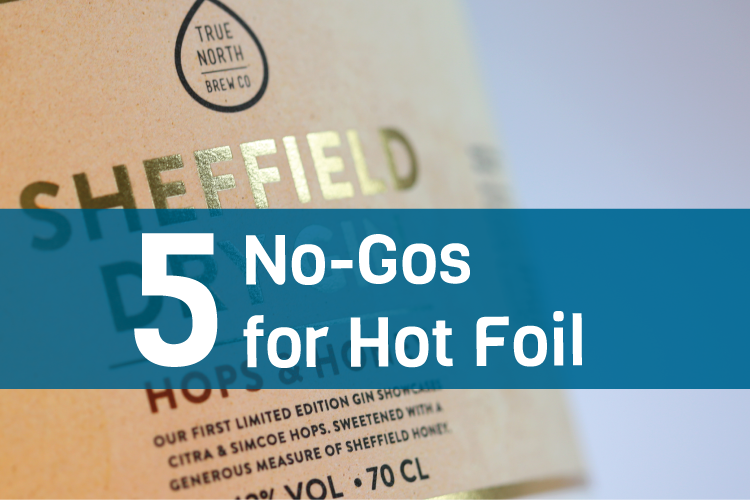 5 No-Gos For Hot Foil Use
This week we clarify some of your queries that have come to our Customer Services Team in regards to Hot Foil usage in your labels.
Here are the 5 no-gos:
#1 Line thickness too thin – You should avoid lines and fonts that are too thin. We recommend a minimum line width of 0.2 mm. Otherwise it is not guaranteed that the filigree elements are embossed cleanly and show to best advantage.
#2 Areas that are too large – If the areas embossed with hot foil are too large, the embossing may fail. This means that within the area the foil will not stick to the material in some places. When applying the hot foil, pressure is applied, but depending on the size of the area, this pressure may not be even at all points. Another tip: Do not combine hot foil with elements that are too fine, as elements can also break off due to the pressure.
#3 Material with too coarse a structure – Materials with a coarse structure (such as our uncoated paper) are not suitable for every type of finishing with hot foil. Due to the structure, the parts of the hot foil may break off if the lines are too fine or the solid surface is too large.
#4 Too many left-out/negative elements – Care should be taken with left-out/negative elements, such as letters in a full area. If they are too small or narrow, the letters may taper. This means that they will not be clearly visible after stamping. We therefore recommend a minimum thickness of 0.3 mm for left-out/negative elements.
#5 Highlight the wrong elements – Think carefully about which elements you want to highlight with a hot foil. If there are too many hot foil elements on the label, the effect may be lost, as well as if there are too few or only a few, very small elements.
We do hope that is of some assistance to you.  If you have further questions, please feel free to contact our Customer Services team directly by email or phone 020 3588 1080 where they will be happy to advise.
Perhaps you are now looking to calculate the price of your labels?  If so, click here.