Printing with Thermal printers: We have done the testing for you.
Whether best-before date, weight information or ingredient list, for many of our customers the subsequent printing of their labels is an important issue.
In order to be able to give our customers even better material recommendations for their respective applications, we carried out a field test in cooperation with Meto and tested thermal transfer printing with their PrintHybrid thermal printers.  Meto's PrintHybrid thermal printers can print labels in both direct thermal and thermal transfer. Meto_PrintHybrid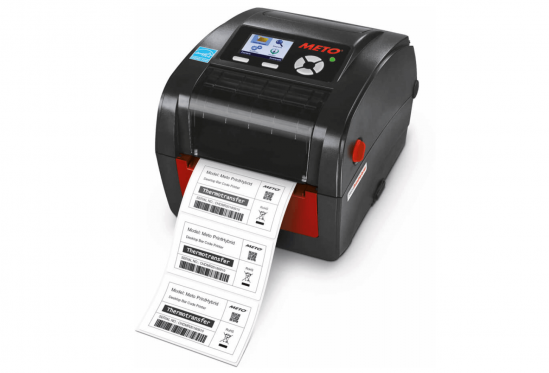 We have carried out this field test for all our standard materials, which can be selected in our calculator. Both a wax and a resin ribbon were used. The direct thermal paper was imprinted using the direct thermal method without a ribbon.
When do I use a wax and when a resin ribbon?
Which ribbon to use depends mainly on the material to be imprinted: For foils we recommend a resin ribbon, as wax would not be smudge-proof. With (open-pored) papers we recommend a wax ribbon, as resin does not hold well on porous surfaces.
Print speed and temperature also have an influence on the field test result: if the print temperature is too hot and the speed too low, there is a risk that the print head will burn through the backing/carrier – especially with foils. However, print speed and temperature can also influence the colour: If you want to achieve a black that is not quite rich, you can combine a low temperature with a fast printing speed and get a grey tone.
The Results are in:
The following table summarises which ribbon was used with which material and how the field test result turned out (click to enlarge & download)
Further Information:
If you would like further information on the materials that can be chosen at label.co.uk, please head over to this page for full information.