What's their story?

Find out in this weeks blog why The Coconut Tree use label.co.uk for their White Paper Labels.  The Coconut Tree bar and restaurant. Formed by a group of Sri Lankan friends living in London & Cheltenham. They relocated everyone to Cheltenham in 2016, added a couple extra to complete their team. What simply started off as finding a place to call home above a pub, they then sought permission to lease the bar and kitchen of 59 St Paul's Road, after a renovation project was carried out every night whilst working full time jobs, The Coconut Tree was eventually born.
Label.co.uk spoke to Rodrigo Rashinthe, Ops Director from The Coconut Tree on why they chose their labels over others.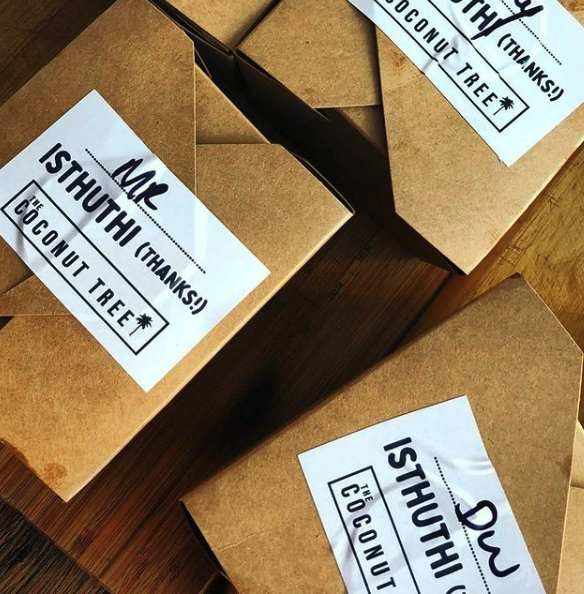 Price & Simplicity
The Coconut Tree wanted to find White Paper Labels effortlessly and tried our online calculator tool to gain a quote.
Rodrigo had some further questions so contacted label.co.uk Customer Care team and spoke to Sewwandi. Label.co.uk asked Rodrigo what their customer service was like and he replied "1000% Sewwandi"!
Sewwandi Ellewela, label.co.uk Customer Services agent commented 'Rodrigo has used us a few times now and from time to time has some extra questions. I am pleased that we are able to assist the Coconut Tree and other customers by being on hand' she continues 'We are asked many questions every day by our customers by phone and email, so I am glad we can help'
The labels that The Coconut Tree use are simple White Paper labels with Black print and such are perfect for their take-away cartons.
If you would like more information on The Coconut Tree please head over to their website, Instagram or Facebook pages.
Questions?
We're




here to

help!